二OO一年法界佛教青年會議於國殤日週末(五月廿五日晚到廿七日)假法界聖城舉行。有八十七人出席會議,包括高中、大專院校、研究所學生、年輕上班族、家長、上人座下出家在家兩眾,以及其他有興趣的成年人。會議涵蓋廣泛討論會以供選擇,星期六有「佛教的科學與工業技術」、「如何用佛法減低家庭的壓力與衝突」、「佛教的性別觀」、「認明佛教」--為第二代佛教徒,宗教和平,佛教對今日世界熱門話題的看法。星期天討論會則集中於不同的修行行門:唱出心靈的路到淨土--阿彌陀佛聖號、禮拜自心佛--拜佛的意義,打坐--淨慮,反照本有智慧,戒律--清淨身心,此外還有「介紹佛教--佛陀的故事」、「身為佛教徒與現代生活的平衡」與「為何素食」。
與會人士也參加例行早晚課、上供、打坐、體操、欣賞吉他音樂和聽柏克萊佛教說故事中心的故事。
討論會主持人與講法人有比丘恆實、比丘尼恆貴、恆是、恆揚、恆音、維荷文(果廷)博士、鮑果勒居士、阿比那博士、倪果舟居士、胡果相居士、吳適有校友等許多法界佛青於討論中發揮智慧,熱烈討論。
今年會議吸引了不同文化、種族、宗教背景的佛教徒學生,還有非佛教徒但對佛教有興趣的學習者。一位來自肯亞的天主教大學生說,「我學到佛教和天主教有很多雷同之處。」另一位學生說,「我去過別的宗教討論會,那裡的年輕人到處閒逛;我很欣賞這裡豐富的討論會、妥善安排的日常功課,我穫益良多。」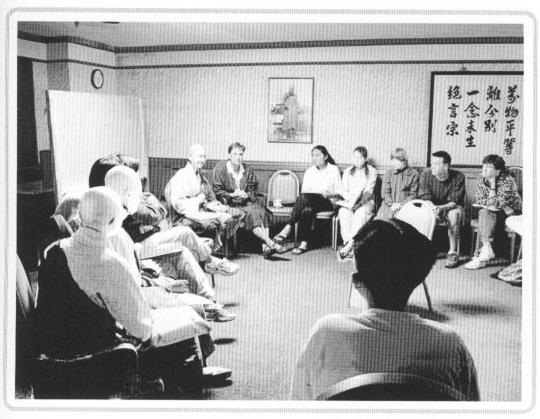 會議期間有幽默的一面--果相自述由沉迷派對,轉成佛教徒,及吃素的故事;也有感人的一面,一位年輕人流淚訴說自己照上人禮拜父母的榜樣,拜他的父親,最後父親接納他,父子關係轉為親密。
因為人人坦誠相照,加上主辦人與講法人的認真表現,還有法界聖城住眾的支持,準備住宿與素食佳餚,第三屆年會是歷年來最成功的一次。
不克前來參加者也不用擔心:還有很多未來的活動等著。法界佛青下次活動定於七月十八日-廿五日,為期二週的楞嚴研究班,由比丘尼恆持主持。她是本會(楞嚴經)英譯人,當年曾參加上人主講的一九六八年夏的《楞嚴經》研究班。欲知詳情,請看佛青網路www.drby.net
上人語錄
看破是明白,放下是解脫,解脫是自在。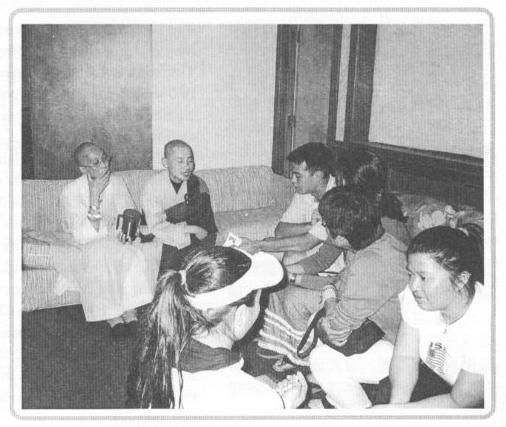 Dharma Realm Buddhist Youth Conference 2001 took place at the City of the Dharma Realm in West Sacramento on Memorial Day weekend (from the evening of Friday, May 25 to the evening of Sunday, May 27). Over 80 people, including high school, college, and graduate students, young working adults, as well as parents, teachers, Sangha members, lay disciples of the Venerable Master, and other interested folks participated in the weekend conference. The packed conference schedule included a wide variety of workshops from which to choose. Saturday workshops included Science and Technology in Buddhism, A Buddhist's Way of Reducing Family Stress and Conflict, Views on Gender within Buddhism, Discovering Buddhism - Second Generation Buddhists, Interfaith Peace, and Buddhism's Perspective on "Hot" Topics. Sunday's workshops focused on different practices: Chanting Our Way to the Pure Land-Amitabha Buddha, Bowing to the Inner Buddha-Significance of Bowing, Meditation- Quieting the Inner Voice, Reflecting True Wisdom, Precepts-Purifying the Body and Mind. There were also presentations on "Introduction to Buddhism-The Story of Shakyamuni Buddha", "How to Balance Being a Buddhist with Living a Worldly Life", and "Why Be a Vegetarian."
Participants also took part in the regular Morning, Noon, and Evening Ceremonies, guided meditations, and stretching exercises, as well as enjoying acoustic guitar music and stories told by the Berkeley Buddhist Storytelling Circle. Workshop leaders and presenters included Bhikshu Heng Sure Shi; Bhikshunis Heng Gwei Shi, Heng Shr Shi, Heng Yang Shi, Heng Yin Shi; Dr. Martin Verhoeven, Doug Powers, Dr. Snjezana Akpinar, David Rounds, Helen Woo, Franklyn Wu, Loc Huynh, Brian Conroy, and Clarelynn Rose Nunamaker. Various DRBY members facilitated the discussions.
This year's conference drew students, both Buddhist and non-Buddhist, from many cultural, ethnic, and religious backgrounds, including those who were not Buddhist but interested in finding out more about Buddhism. One Catholic college student from Kenya said, "I learned that Buddhism and Catholicism have many similarities." Another non-Buddhist said, "I thought I would be attacked for my views, but instead I was heard and respected." Another student remarked, "I've been to many church retreats where young people just hang around, and I really appreciate the rich experiences offered by the numerous workshops and the well-organized daily schedule."
There were humorous moments (such as when Helen Woo told of her transformation from a wild party girl into a devoted Buddhist and vegetarian) and touching moments (such as when one young man tearfully related his experience of trying to practice the Venerable Master's teachings by bowing to his father every day, and how his father finally opened up to him and they developed a close relationship).
Due to everyone's open-minded sincerity and the hard work of the conference organizers and presenters, as well as the support of the residents of the City of the Dharma Realm in providing lodging and delicious vegetarian meals, this third annual conference was the most successful yet.
For those who could not attend, don't worry: there are many more events lined up. The next DRBY event is a two-week Shurangama Sutra Study Retreat July 18th-25th, led by Bhikshuni Heng Chih Shi, who translated the Shurangama Sutra into English and was present at the first Shurangama Sutra Session held by the Venerable Master in the summer of 1968. For more information, visit the DRBY website at www.drby.net.
Venerable master's Dharma Words
To see things as they are is to understand;to let go of them is to be liberated;to be liberated is to be one's own master.