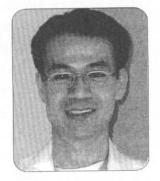 我是黃果生,住加拿大卡技利市,現職中醫針灸,父親和兄長亦是中醫。我到華嚴聖寺差不多十年了,最近才開始協助父親每星期日在華嚴寺義診。以下是關於我如何遇上上人教誨的故事。
八十年代初,我在大學念書時,從朋友處得知有位留學生有很多佛教書籍,也練習靜坐。我早在中學時代已對佛經及靜坐有興趣,可惜一直苦無門徑。一天,我終於有機會跟隨幾個人造訪這位留學生。我正瀏覽時,有人說,「《三步一拜》你覺得如何?」我回頭,見朱師兄手拿著一本書。
「我也不清楚,聽說這是美國第二次三步一拜。」女主人Cardi說。
「 聽說這一班人怪怪的,看來有些像小乘的樣子。」有人說。
「度輪嘛,就是怪怪的,他在香港時已是如此呢!」朱師兄說。
聽到這裹,我打消了看道本《三步一拜》的念頭。誰願意跟一個不正常的人學佛法呢?怎想到不希望走錯路,仍是走錯路。由於自己根性劣拙,錯失了良師及接受上人教誨的機會,十多年後才皈依上人,才知道逆流而上,必須具備信心及力量。
九十年代初移民卡技利前,那時大部份時間在外工作,只週末才返卡城。一次認識了一位朋友,講及學佛的困難,才得知市內有一所寺廟,但須有人領路,否則十分難找。
一天下午,那位朋友開車送我到那寺廟––一幢殘舊紅磚屋,進門處頗暗,隱隱看到牆上橫匾有「華嚴寺」三個手書大字,簽名是「無緣比丘」。我們從進門至拜佛後,一直不見人。四處瀏覽,發現樓下是飯堂,便沿梯而下,樓梯盡處有首偈頌,上面寫著:
真認自己錯,莫論他人非;
他非即我非,同體名大悲。
這偈頌於我如雷貫耳,一針見血,心想若果能跟這偈頌的作者學習佛法有多好!但牆上不見署名,究竟這位大德是誰呢?
當時因要趕往外埠工作,沒空逗留細察,匆匆忙忙就走了。上飛機後才發現沒抄下地址,也不知在地圖上的位置。當時以為靠記憶也可再找上吧,事實卻不然。
往後數週,我幾次自己開車找華嚴寺,卻只在附近兜圈,總找不著,就好像找尋正法般困難。兩個月後我再遇上那位朋友,他再一次為我領路,這一回我記得抄下地址及在地圖上的位置了。
自我開始對佛法感興趣,至遇上人教誨,中間空過了十多年,我今有幸得聞正法,才知正法難遇。
My name is Victor Wong and I live in Calgary, Canada. I am a Chinese physician practicing traditional Chinese medicine and acupuncture. My father and elder brother are also Chinese physicians. I have been going to the Avatamsaka Monastery for about ten years and it was only recently that I started to help my father in giving free medical services at the monastery every Sunday. I would like to relate how I encountered the Venerable Master Hsuan Hua's teaching.
In the early 1980's, when I was studying at the university, a friend told me that a student from Hong Kong had a collection of Buddhist books, and that she also practiced meditation. Since my secondary school days, I had been interested in Buddhism and meditation but I did not have the chance to learn them. Finally, one day, I had the opportunity to visit that Hong Kong student together with my friends.
As I was browsing through her books, someone asked, "Three Steps One Bow! What do you think of it?" Turning around, I saw Chu, a senior student, holding a book. The host, Cardi, said, "I am not sure. I heard that that was their second Three Steps One Bow in the USA." Then someone said, "I heard that this group of people is rather strange. Looks like they belong to the Small Vehicle." Chu said, "Tu Lun is known for his strange behavior anyway, for when he was in Hong Kong, he was also like that."
When I heard this, I decided not to read the book. Who would want to learn the Buddhadharma from a strange person? Little did I know that I would take the wrong path although I did not wish to! Due to my scant good roots, I lost the chance to learn from the Venerable Master. I had to wait for more than ten years before I had the chance to take refuge with the Venerable Master. It was only then that I realised that one needs sincerity and strength to go against the flow.
When I emigrated to Calgary, Canada in the early 1990's, I worked out of town and came home only during weekends. One day, I met a new friend and told him how difficult it was to learn Buddhism. Then he told me that there was a Buddhist temple in Calgary, but it was difficult to find for you needed someone to show you the way.
One afternoon, this friend drove me to the temple. It was an old red-brick building that used to be a warehouse. The reception area was quite dark. On the wall, one could vaguely make out the characters " 華嚴寺" (Avatamsaka Monastery) handwritten on a horizontal board. The writer was the Monk Without Conditions.
From the moment we entered the monastery until we finished bowing to the Buddha, we did not see anyone. Therefore, we decided to take a look around the place ourselves. We discovered that there was a dining hall in the basement and so we made our way down. At the foot of the stairs was a verse on the wall:
Truly recognize your own faults.
Don't discuss the faults of others.
Others' faults are just your own.
Being one with everyone is called Great Compassion.
The verse reverberated like thunder in my ears, hitting the nail on its head. I thought that if only I could learn Buddhadharma from the writer of that verse, how wonderful it would be. However, the writer's name was not written on the wall. "Who was this greatly virtuous one?" I wondered.
As I had to rush to another place for work, we did not have much time to look around further and so we left in a hurry. It was only after boarding the plane that it occurred to me that I had not written down the address, nor did I know its location on the map. I smugly thought I could rely on my memory to find the place again, but I was wrong.
Weeks later, I drove around a few times to try and look for Avatamsaka Monastery, but I couldn't find it. It was just as difficult as my search for the proper Dharma. Two months later I met that friend, and he kindly brought me to the monastery again. This time, I remembered to copy down the address and I also noted its location on the map.
Ten years had elapsed from the time I became interested in the Buddhadharma until I met the Venerable Master's teaching. Still, I consider myself very fortunate to finally have heard the proper Dharma, which is really difficult to encounter.