殺劫由來
殺劫報載王祥帆曰。昔賊匪蜂起。死亡枕藉。秀才李培德。謁二仙觀林、道長。問生靈何辜。遭此大劫。道長歎曰。世人殘忍成風。宰殺孽重。積之久久。大干天和故天降此饑饉。繼以刀兵。收錄人民。以償物命耳。
【白話註解】
殺劫報記載:王祥帆述說:『從前盜賊土匪,紛紛而起,到處燒殺,死亡遍野,屍體交橫堆積。
當時,有一秀才李培德,見此情景,感慨萬千,專誠到深山拜謁二仙觀林道長,請示:「天下生靈何罪?遭此大橫禍?」道長感歎說:「世人殘忍形成風氣,宰殺物命,罪孽深重,積怨既久,大為冒犯天和,因此上天降臨饑荒天災,接著又以刀兵人禍,收殺人民,抵償物命。」』
仁慈救劫
又嚴紹庭曰。明季有王居士。謁小洞天尊者。叩云舉世盜賊縱橫。干戈擾攘。億萬生靈。遭此浩劫。願吾師垂金臂救之。尊者曰。惟有戒殺放生可免耳。
按近年以來。環球戰爭不息。饑饉疫癘。水火盜賊。相繼而來。實一切眾生殺業所召。非天地神鬼能主持。故亟錄此兩條。以相警告。倘一人能戒殺。則一人可免。一家戒殺。則一家可免。推而至於一村、一邑、一郡、一省、一國。莫不皆然。世人動謂天心尚未厭亂。不知實人心自未厭亂也。果厭亂者。能立誓戒殺。並兼放生。則雖履行危難之地。出入刀兵之中。生值饑饉疫癘之時。終不能損其一毛一髮也。但使深信力行。其效捷如影響。古今善惡。事跡昭昭。感應歷歷。尚何疑而不決乎。
【白話註解】
嚴紹庭述說:『明朝時,有位王居士,前往拜見小洞天尊者,叩問道:「世界遍地,盜賊猖狂,戰爭擾擾,億萬生民,遭此浩大災禍,惟願吾師慈悲,垂下金臂拯救。」尊者道:「惟有戒殺放生,方可免遭浩劫。」』
按:近年以來,全球戰爭不息,饑荒災疫,水火盜賊,各種天災人禍,相繼而來,推究原因,實由一切眾生殺業所召,並非天地神鬼所降,故特錄此兩則事跡,警告世人,倘若一人能戒殺,便有一人免遭災禍,一家戒殺就能一家免遭災禍,推廣而至一村、一縣、一郡、一省、一國莫不如此。
世人往往說:「天心尚未厭惡禍亂」不知其實是人心自己,尚未厭惡災亂。如果真正厭惡災亂,能立誓戒殺並兼行放生,那麼雖然踐臨在危難境地,出入於刀兵之中,生逢饑荒災疫的年景,終究不能損傷他一毛一髮。只要能深信力行,其功效迅速,如影隨形,如響應聲。古今善惡報應,昭昭分明,感應事跡,歷歷在目,還有什麼使你疑惑不決的呢?』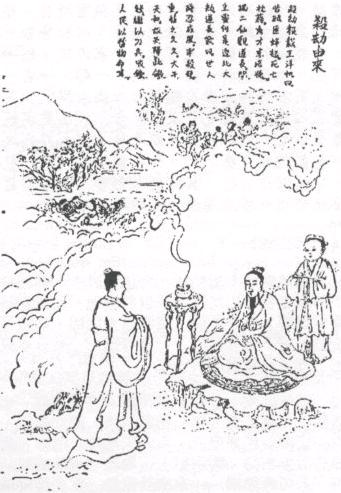 Reasons For Mass Murders
Wang Syang Fan related this story in "The Record of Mass Murders": In the past, there were many gangs of thieves and bandits who traveled the countryside, setting fires and killing people. In their wake, wherever they went there were corpses strewn about, and piled up in heaps.
At that time, a distinguished scholar named Lee Peide (Developing Virtue ) saw this distressing spectacle and felt very grieved. He decided to travel deep into the mountains to visit the two Immortals named "Contemplating Forest" and "Eternal Path (Tao)". He bowed and asked them this questions. "What offenses have living beings done that bring them such great calamities?"
Eternal Path sighed and said, "Worldly people are habitually cruel, and they enjoy taking life. Thus their offenses are deep and heavy, and they provoke a great deal of resentment that seriously disturbs the harmony of heaven. Therefore, heaven lets famines and disasters occur on earth, and wars arise as a consequence. Victims of the mass murders that you mentioned have killed many beings in the past, so they now have to repay with their own lives the debts that they have incurred."
Kindness Prevents a Disaster
Upasaka Yan Shau Ting said that "During the Ming Dynasty, there was an Upasaka named Wang. He paid a visit to the One Honored by Devas from the Heaven of Smaller Grottoes. He bowed to the Honored One, and asked the following question : "Every corner of the country is now infested with bandits and thieves. If a war were to break out, millions of people would be endangered. For the sake of the myriad living beings, I hope that the Master will extend his golden-hued arm, and utilize his kindness and compassion to extricate us from this great calamity".
The Honored One replied, "The only way for the world to avoid this disaster would be to teach the people to refrain from killing and to practice liberating lives instead."
Commentary:
For so many years, the whole world has been suffering from wars, famine, calamities, sickness, robbery and disasters of fire and flood, coming one after the other. If we investigate it deeply, we find that we experience this retribution as a result of living beings' own killing karma. Heaven and earth are not to blame, and neither are ghosts and spirits in control of this process. It has nothing to do with them.
Therefore, we want to relate these two true stories to alert people in this world to the truth that if one person can stop killing, then he or she can avoid accidents. If one family can refrain from killing, then that family can also be free of calamities. Moreover, if we could propagate this true story to a village, a county, a prefecture, a province, or even to a nation, so that they can avoid causing harm, then those villages, countries, prefectures, those provinces and even those countries can avoid catastrophes.
Many people make the claim that "Heaven is fond of sending disasters", but this is not true. Actually, it is the minds of people themselves that are fond of disasters. If you really understand this principle and want to avoid calamities, you should decide to stop killing and instead, to liberate lives. In this way, you can be saved from the slightest harm and any danger, during periods of war, famine, disaster or epidemic.
If we have deep faith and put our faith into practice, our response will follow very soon, the way a shadow follows a form, and the way an echo follows a sound. From days past until the present, the retributions for doing good and bad deeds are quite clear, without any mistakes; the true response and real evidence are right before our eyes. So what makes us still doubt, and hesitate before we begin to cherish life?