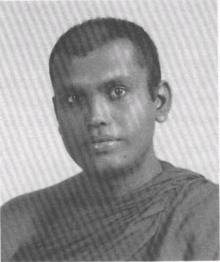 我是斯里蘭卡坎第人,出生於一九五三年十月二十八日。和一般斯里蘭卡人一樣生長在佛教的家庭。從小父母親就常帶我們去週日學校和寺廟,並鼓勵我參加佛教活動,所以當我還是個小男孩時,就已是個佛教徒。但當我向父母提出要剃度出家時,他們都不高興。在以後的幾年內,我一直繼續向他們要求,但他們總是反對。父母總向我解釋出家是多麼的辛苦,而且還說若我出家後,會被其他當地的人嘲笑。他們就像一般人們一樣,希望兒女們結婚成家,傳宗接代。
但是我一直繼續煩他們,有一天他們終於答應了,我實在太高興了。我馬上就到寺廟剃度出家。出了幾個星期家後,我依然執著於往昔的朋友和家中的享樂。最初我幾乎無法克服這些執著,有幾次我決定要還俗,但還是放棄了。雖然艱難的訓練和歷練是有益的,而我依舊還是想還俗,但到最後我還是覺得佛法比較重要。現在我知道如果做錯了決定,必將永受娑婆之苦。非常慶幸,我做了一個正確的抉擇,繼續做一個出家人。在坎第及可倫坡,研習佛法及禪定,迄今禪修一直是我練習的法門。同時我也完成了巴利文的學業並研讀梵文。
我現在是斯里將拿帝寺的主持。為了讓更多的人聽聞這百千萬劫難遭遇的佛法,我們創辦了週日學校及靜坐研習班。在每個月的最後一個週末,有全天性的節目。除此之外,我們並舉行禪修和教師訓練班及兒童營。
為了弘揚佛法,我們組織了慈善事業,在布施中提供了許多社會福利。最近我們成立一個義診所,有七位醫生,大部份是專科醫生,每星期義診兩次,有許多貧困之人來此求診。同時我們也到貧民家中送食物及生活必需品。現在計劃成立一個醫療中心及籌備一機動診療中心,可到更遠且貧困的地區,提供醫療服務。
每週三、五、六、日,有各種節目讓各地的比丘或比丘尼參與。我們也邀請南北傳的大德及僧團指導服務。最近開辦的週日學校,也都由比丘及比丘尼擔任業務執行,藉著僧寶的加持,使佛友們皆能法喜充滿。從雜誌、報刊及書籍中,得知宣化上人及弟子能犧牲自己的光陰來弘揚佛法。個人非常讚嘆並能榮幸兩次邀請萬佛聖城的法師們到此地弘法。誠心地致上我們的感激和祝福,希望上人能健康快樂,長久住世,再轉正法輪。
在大多數的出家修行者,比較少和他人分享自己的心得。如果有人肯將自己的心得與出家眾或居士們分享,我也一定隨喜參加。同時我也需要自修,主要是在因明哲學方面,尤其是阿毗曇論,雖難理解,但我仍十分歡喜去研讀。修禪也一直是我的法門。當然戒更是一切出家人所必須遵守的,即便是微細戒也是要持的。為了嚴持戒律,每個月我會利用幾天專心反省我的行為。如果在持戒上有進步,是會令我歡喜的。個人相信禪修對出家眾或居士們都有很大的幫助,且深信唯有透過禪定,才能得到真正的覺醒。
I am from Kandy, Sri Lanka, and was born on October 28, 1953. My whole family was Buddhist and like most Sri Lankans, my parents sent us children to Sunday School and to the temple. Thus I was a Buddhist from the start, and as a small boy I was given lots of encouragement for joining temple activities. But then when I asked my parents for permission to ordain, they were not happy. For a number of years I continued to request permission, and they were always against me. They explained all the bitter parts of the monk's life, and they told me that if I ordained, I would be scorned by the other local families. Like many people, my parents wished for their sons to get married and to carry on their family name.
But I kept on troubling them. One fine day they gave their permission and I was very happy. I went right to the temple and I ordained. I left the household, but after a number of days and weeks, my mind was attached to both friends and the comforts of home. At first I was nearly unable to overcome the attachments. Several times I decided to disrobe and return to lay life, but I didn't do it. Even though hard training and all its experiences are wonderful, I still considered disrobing. But in the end I felt that the Dharma was more important. I now realize that if I made that mistake, I would have gone back to Samsaric suffering. Now I know better, and I am glad I made the right choice. l am happy to remain as a Buddhist monk. I did much studying in Kandy and Colombo, received training in meditation and cultivation, which I still practice. I managed to complete a diploma course in Pali and I also studied Sanskrit.
Now I am here as chief reverend incumbent, of the Sri Jayand Buddhist Temple. During my stay as incumbent, I decided that we had to do things differently, so that lots of people could learn the Noble Teaching. We started a Sunday School and hold classes on meditation, with discussions, and every month on the last Saturday, we have a whole day program. Besides that, we also hold a Dharma Retreat, a teacher's training program, and a children's camp.
Our goal is to propagate Buddhism, and to share and help each other, we organized the welfare organization. So we are able to provide lots of welfare services. We recently started a free medical unit, and run a clinic twice a week and it is all free. Any number of poor people come to get the services and see the doctors. Most of the seven doctors are specialists, they give free treatment to the people. We go to houses to give food items and other necessities, and we hope to organize a medical camp. In the future we plan to have a mobile clinic unit to go to poor areas. We are organizing that now.
We hold various classes, on Wednesday, Friday, Saturday and Sunday, where we try to involve monks and nuns from other places. We invite any Venerables from Mahayana or Theravada sides, all the Sangha Community, to any function in this temple. We are now organizing a Sunday School committee run by all the monks and nuns, with their blessings, to share our Dharma knowledge with other Buddhist members. I feel fortunate to have sponsored the City of Ten Thousand Buddhas twice to come to our place. I learned about you from magazines, articles, and booklets. I am really happy that Master Hsuan Hua and his disciples are sacrificing their time to propagate the Dharma. In that respect I am grateful to Master Hsuan Hua. We appreciate it and we wish you all a long life to carry on this activity. Good health and happiness to you!
As for cultivation of the Dharma, often monks prefer to cultivate on their own, without sharing their knowledge with other Buddhist members. If one can share this knowledge with lay devotees or with monks or nuns, then I prefer to share it with others. At the same time I need to practice on my own, and mainly I read and move towards the philosophical aspects. I am very interested as well in the Abhidhamma, even though I find it hard to understand. I also like to practice meditation.
All monks and nuns, of course, have to maintain our precepts. We should keep the Sila even in the minor aspects. I try to advance in my precepts, so I spend several days each month reflecting on my conduct, and if I have improved, if I can see then there is some improvement in my precepts, then I rejoice. And I believe that meditation is a great help for monks, nuns, and lay people. Realization only comes through meditation. I believe it deeply.