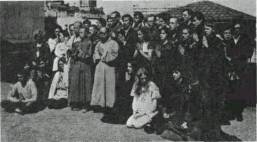 On the last day of the Ch'an Seven, Professor Lewis Lancaster, Professor of Buddhism from Berkeley, joined in a festive graduation ceremony and issued diplomas to the many students who completed the work of the 1970 98 Day Lecture and Cultivation Session, held at the Buddhist Lecture Hall, 125 Waverly Place. A complete report of these activities will appear in a forthcoming issue.
---
Previous translations of The Sixth Patriarch's Sutra, in spite of their eloquence, have occasionally missed the original intention and have not penetrated the meaning. As a remedy for these failings, members of the Buddhist Text Translation Society are working together to make a complete and accurate translation. The cultivating Bhiksus and Bhiksunis, laymen, and students and scholars of Chinese are carefully editing the work and its detailed commentary. If you want to investigate the genuine Buddhadharma, this is the Sutra to study. Even though others may have lectured this Sutra, this is the first time the mind seal Dharma-door of the Great Master, the Sixth Patriarch, has been opened and spoken clearly for the benefit of all who hear. Those who wish to cultivate, to actually do the work, do not want to miss this publication of the best translation and commentary ever compiled. Those, who have not digested it, have not adequately investigated the Buddhadharma.
Those who wish to subscribe for advance copies may do so at the rate of $10 per book. After publication in 1971 the books will be sold for $20 each. Write: Sutra Printing, S.A.B.A., 125 Waverly Place, San Francisco, California, 94108,
---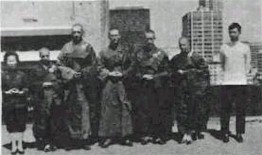 Upasika Tsang Hsu I Chun(臧徐君儀), a university graduate, teacher, and disciple of Master Tao Yuan(道源)of Hai Hui Temple(海會寺), Keelung, Taiwan, is presently vacationing in the U.S. and stopped at the Buddhist Lecture Hall to pay her respects. She is an accomplished student of the Buddha Dharma, and has been a Dharma protector for many years.
Her husband, Tsang Kuang En(臧廣恩), received his PhD from Chiao Yu(教育) University in Japan, and now teaches at Ch'an Yeh(產業) University, also in Japan. Mrs. Tsang holds five precepts, which she received from Master Tao Yuan. In this picture she is shown with her son, Tsang Ta Ch'ien(臧大千)(far rt.), and (l. to rt.) Dharma Masters Heng Ch'ih, B.T.T.S.; Heng Ching, V.B.S. Director of Translations; Heng Ch'ien, V.B.S. Director of Publications; Heng Shou, V.B.S. Director of Administration; and Heng Yin, B.T.T.S.
---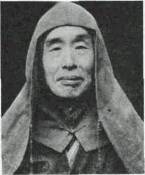 When Sakyamuni Buddha was about to complete the stillness, he instructed the assembled Bhiksus to take the precepts as their master after his extinction. In modern times, few have been able to follow these instructions. Of these, the highest is Vinaya Master Hung I(弘一). This Dharma Master left home when he was 39, and from that time devoted his superior intelligence and essential energy to the stern cultivation of the precept path. His example of sincerity and true cultivation is very rare in the world.
---
After successful completion of the first Series of Vajra Bodhi Sea, the staff would like to thank the many subscribers and patrons for their generous assistance. We realize that the first days for any new publication are precarious, and so we are especially grateful for the continuous contributions of money, publicity, effort and encouragement. We consider the good feeling generated through your support of Vajra Bodhi Sea one of the more valuable results of our work. Thank you.
Coming Features:
Ch'an Master Lai Kuo's Dharma Talks
Amitabha Sutra --- new translation
OM MANI PADME HUM
A new series on The Heart Sutra
1970 Lecture and Cultivation Session
Buddhist Poetry
Continuation of the Thirty-Seven Limbs of Enlightenment
and much more.
Vajra Bodhi Sea, in order to make the good Dharma widely known, will publish the biographies of eminent Sangha members and lay Buddhists around the world. The editors welcome contributions, which are not restricted to biographies alone. Any articles, translations, poems, and stories of interest to Buddhist readers will be gladly received and considered for publication.
Donations of office equipment, especially an addressing machine, are needed to keep up with the workload. Contact Vajra Bodhi Sea.
---
Why Have You Received Complimentary Issues?
Esoterically speaking, you have good connections with the Buddhadharma. Practically speaking, the editors of Vajra Bodhi Sea have hoped that receiving a few complimentary copies would encourage you to subscribe.
Why not penetrate to the original source of the esoteric and the practical, and fulfill the potential of your good roots by subscribing. Just check the appropriate box on the enclosed reply card. It's not necessary to write a check if you would prefer to be billed.
The same business reply card can be used for a gift subscription for a friend. Upon receiving your order, we will immediately send him his first issue of Vajra Bodhi Sea along with a gift subscription notice.
A limited number of copies are printed each month. Subscriptions will be received on a first come first serve basis.
--- Climb to the Top of a Hundred Foot Pole and ---
Leap to the Buddha Fruit
---
Contributors Who Have Aided in the Spreading of the Good Dharma:
● Triple Jewel:
Upasika Kuo Hsing
$50
Upasaka Kuo Jung
$20
Upasika T'an Kuo Shih
$20
Upasaka Chang I Jen
$10
Mr. & Mrs. Munson
$10
Upasika Yvonne Grisham
$20
True-Hearted Dharma Protecting Upasika
$5
True-Hearted Dharma Protecting Master
$5
● Vajra Bodhi Sea:
Mr. & Mrs. Pat Dorney
$20
Upasaka Kuo Yu
$20
Upasaka Dewey Duffel
$30
Upasaka Roger May
$25
Upasika Judy Jastram
$25
Upasaka George Lew
$25
Bodhimandala
S.A.B.A. will establish Bodhimandala at which Buddhists of all countries will gather to practice Buddhism. People who wish to support the growth of Buddhism in the West should generously contribute. Contributors of U.S.$100,000 or more will be recognized as founders; those who give U.S. $10,000 or more as trustees; those who give us. $1,000 or more as patrons. To accomplish this task $1,500,000 is needed.
The Sino-American Buddhist Association is forming a library and invites the donation of books on Buddhism and related subjects.
---
End Birth and Death
The 98 Day Winter Meditation Session will begin on Nov. 15, 1970 and last until Feb. 20, 1971. Sitting and running meditation will begin at 3 AM and last until 12 PM everyday of the session without interruption. This Session is given only for those who wish to end birth and death, open enlightenment, and accomplish the Buddha fruit. Others need not apply. Write SABA, 125 Waverly Place, San Francisco, CA 94108 TEL: 397-3675
---
Forthcoming Buddhist Holidays
● Nov.
3
Birthday of Patriarch Bodhidharma
6
Releasing even one captive living being on this day is one billion times more meritorious than on other days, Offense incurring karma is ten million times heavier on this day.
(Note: This refers to releasing animals which would otherwise be killed and eaten.)
● Dec.
15
Birthday of Amitabha Buddha
17
Birthday of the Compassionate Bodhisattva Who Leads One to Rebirth in the Nine Grades of Lotus.
● Jan.
4
Anniversary of Sakyamuni Buddha's Enlightenment
25
Birthday of Avatamsaka Bodhisattva
28
Birthday of Maitreya Bodhisattva
---
Dr. Edward Conze
Dr. Conze's translations of the Prajnaparamita, other than his "Wisdom Books" published by Alien and Unwin, are not readily available. His translations of the shorter Sutras, however, varying in length from one to 115 pages of typescript and in price from one shilling and sixpence to two pounds and tightly bound in thick paper, may be obtained from the Buddhist Society. In addition, Dr. Conze's own and unpublished Large Commentary to the Hridaya (widely known as The Heart Sutra), with a lengthy Appendix, can be typed to order. Dr. Conze's principal object is to make the work available, and to this end prices have been kept as low as possible. Particulars may be obtained from the Buddhist Society, 58 Eccleston Square, London S.W.I., England.
---
The Following Publications Have Come to Our Attention
The Middle Way, Buddhist Society, 58 Eccleston Square. London S.W.I., England.
Maha Bodhi, Dhamma Kuti, 17/690 Buddhist Vihara, Mayo Link Road, Ajmer, Rajasthan, India.
Bodhedrum, The Bodhedrum Publications, 96 Ho-Ping St., Taichung, Taiwan, R.O.C.
Integral Yoga, Integral Yoga Institute, 500 West End Ave., New York. N.Y.. 10024.