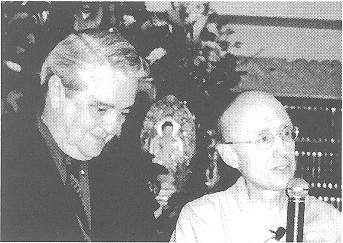 2005年3月12日柏克萊聖寺與世界宗教研究院慶祝成立十週年。慶典包括阿彌陀佛彩繪玻璃畫像開光,由恆來、恆逸、近巖、西音四位法師主持;另外也向休士頓‧史密斯教授致謝,他從個人圖書館取出600本書致贈世界宗教研究院,作為今後該院收藏休士頓‧史密斯教授藏書之始。會中也向恆實法師和馬丁‧維荷文的老師,法總的老友──亨利‧羅斯莽教授致敬。
蔣雲仲夫婦贈送該寺實心核桃木製的新門,上面有班‧樓塞先生雕的花飾,致贈儀式在顏亞日老師領導的柏克萊聖寺國樂社的伴奏中進行。義工們準備了豐富可口的素點,款待所有參加者。當天蒞臨慶典的來賓、佛友等約二百人。
這次集會使幾十個學術和宗教團體與師生歡聚一堂。新朋舊友們在此慶典熱烈的回應,足見宣公上人攜法到西方的願景,已在柏克萊生了根。

On March 12, 2005, the Berkeley Buddhist Monastery and the Institute For World Religions celebrated its tenth anniversary. Nearly 200 guests, friends and staff attended; the program included the inauguration (kai guang) of the Amitabha Buddha stained glass windows, with Dharma Masters Heng Lai, Jin Yan and Xiyin hosting the ceremony. The program honored Prof. Huston Smith, who donated 600 volumes from his own library to start the Huston Smith Collection at the Institute For World Religions, and Prof. Henry Rosemont, mentor of Heng Sure and Martin Verhoeven, and long time friend of the Dharma Realm Buddhist Association.

Prof. and Mrs. Y.C. Chiang were present to receive the appreciation of the community for their gift of the Monastery's new doors. Crafted out of solid Walnut by Ben Loeser, the doors were dedicated by a stirring program of classical Chinese music played by the Monastery's Chinese Orchestra, led by Prof. Agis Gan. Berkeley Monastery's volunteers created a delicious vegetarian snack buffet to the delight of the attendees.
The gathering reunited the dozens of groups and teachers, both academic and religious, who take part in the Monastery's larger community. Master Hsuan Hua's vision of bringing the Dharma to the West has taken root in Berkeley, judging by the enthusiastic response of young and old friends alike.