五月二日(星期日)北加州中文聯合會假聖荷西華僑相助會,舉辦盛大的中華文化常識比賽,培德中學男校勇得冠軍,女校榮獲亞軍。
聯合會自前年始,限制參賽學生的資格,希望能將中華文化真正植根於在美的亞裔子弟。幾年下來,我們經由比賽可看出此番苦心獲得了成效。
比賽時,所有題目都必須在三秒鐘之內回答,甚至可以在主持人未念完題目前搶答。所有參賽的同學,除了須熟知中國的史地文哲等常識外,還須格外的鎮定和聚精會神。十四個隊伍,在經過四個小時馬拉松式的激烈比賽後,本校男女生脫穎而出。他們沉著的表現,值得我們的喝采;同時此項榮耀也與背後默默付出的師長和大眾分享。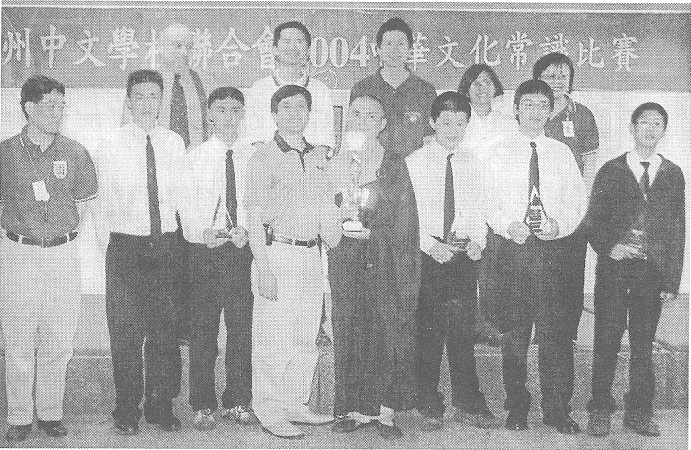 On Sunday, May 2, the Association of Northern California Chinese School (ANCCS) conducted a large scale Chinese Culture Contest at Overseas Chinese Society in San Jose. Developing Virtue Boys Secondary School won First Place and the Girl School came in second.
Starting the year before last, ANCCS began imposing more restrictions on the students qualified to participate, hoping that Chinese culture will genuinely be instilled in Asian youths growing up in the United States. Over the years we have seen that their intent has eventually borne fruit.
During the competition, each question had to be answered within three seconds, or before the emcee finished reading the question. All the participants, in addition to being familiar with Chinese history, geography, literature, philosophy, etc., had to be exceptionally calm and focused. After four hours of heated competition among the fourteen groups, the boys and girls students outscored the rival teams. Their calm and steady performance merits praise. At the same time, the honor belongs to the teachers and great assembly who supported them behind the scenes.