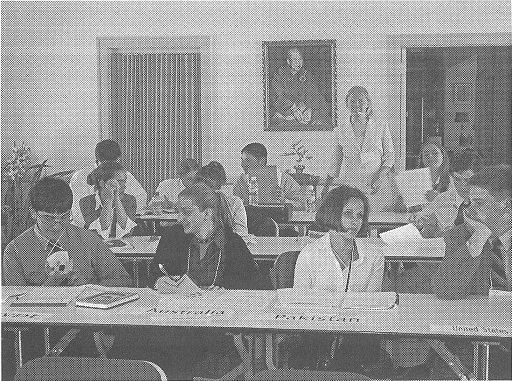 今年五月十七日,培德女中首度假萬佛聖城主辦曼都仙諾郡聯合國摩擬會議,吸引來自紅木學院、瑜伽高中和培德女高卅多位學生參加,擔任世界各國代表,會議主題為「恐怖主義的戰爭」。
會議開始由主講員也是培德女高老師,沙珍奈現身說法,介紹她訪問過的紐約聯合國、海牙、彭加、印度和其他地方。沙老師是我們的顧問,她在其他聯合國摩擬會議有長期經驗,並在三年前將柏克萊聯合國摩擬會議引進本校。整個上午聆聽各代表發言後,與會者在萬佛城君康真素齋進餐。下午12:45繼續發言,針對恐怖主義戰爭有四項解決方案,但只有一項通過。
曼都仙諾聯合國摩擬會議由培德女高四位同學創立:王慧娟、陳青遙、劉佩綬和吳星燁。她們促成此會每年開會一次,所有學校都可參加。
祕書長,王慧娟同學說:「2003年曼都仙諾聯合國摩擬會議可謂進行順利,很多代表已經參加過代表預備會,所以在正式會議中能以外交方式做精彩的辯論。至於假設危機,代表們在做解決方案時,配合恐怖主義議題同時兼顧危機而做兩部份處理。感謝參加學校與曼都仙諾郡青年會的支持,否則成立曼都仙諾聯合國摩擬會議是無法實現的;也感謝法界佛教總會讓我們在萬佛城舉辦此項活動,和住眾的支持。明年的會議,我們準備主辦委員會摩擬,這樣同學就可有機會扮演各種委員國。另外我們也計畫邀集更多學校來舉辦大型會議與聯合國摩擬會議。祕書處也將納入對策劃會議有興趣的其他學校學生。」
聯合國摩擬會議的目的在於給學生機會獲得政治知識、演講經驗、專業化、研究技巧和社交藝術。學生學習如何發展和繕寫解決方案、以外交手腕解決問題、和其他國家代表溝通以及經驗聯合國的運作方式。
On May 17, 2003, the Developing Virtue Girls' School hosted the first ever Mendocino County Model United Nations (MCMUN) at the City of Ten Thousand Buddhas. Over thirty students from Redwood Academy, Ukiah High School, and Developing Virtue Secondary School participated in the event, taking on the roles of delegates representing various countries around the world. The topic of this conference was the "War on Terrorism".
In the opening session of the conference, keynote speaker Janet Chaniot, a teacher at Developing Virtue Girls' School and a long time participant of many other Model United Nations (MUN), spoke of her experiences in MUN, trips to the real United Nations in New York, The Hague, Punjab, India and other places she has traveled to before. Ms. Chaniot was the advisor who introduced the Berkeley Model United Nations to Developing Virtue Girls' School three years ago. After caucusing and listening to speakers all morning, the delegates headed to Jyun Kang Restaurant for a buffet lunch. At 12:45, they were back inside listening to speakers. Four resolutions were made on the "War on Terrorism," but only one passed.
MCMUN was founded by four students at Developing Virtue Secondary School: Huei Chean Ong, Amy Bernacki, Peishia Liu and Shirley Wu. They aspire to make this conference an annual event open to all schools.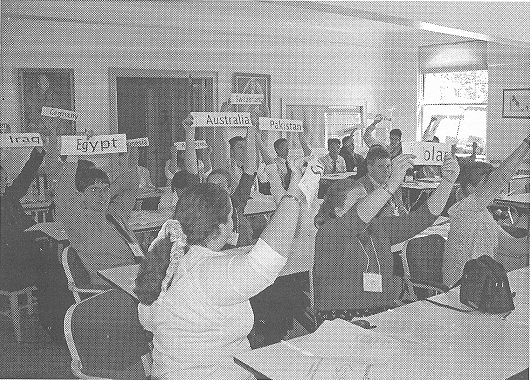 Huei Chean Ong, the Secretary-General said, "The MCMUN Conference 2003 went quite well as a pilot session. Many of the delegates had participated in our prior delegate workshop and so in the conference they debated well and worked diplomatically. As for the crisis simulations, it was great that the delegates could handle a crisis alongside the actual topic and come up with resolutions for both the crisis and actual topic (terrorism). I would like to thank the schools that participated in our first conference and the Mendocino County Youth Council for their support. This dream probably wouldn't have come true if it weren't for their wonderful support. Also thanks to Dharma Realm Buddhist Association for letting us host it in the City of Ten Thousand Buddhas and to the people in the community who supported us. For next year's conference, we are planning to host a Cabinet Simulation where students can play the roles of various Cabinet members. We also plan to host a bigger workshop and Model UN Conference with more schools. The Secretariat will also be expanded to include students from other schools who are interested in helping plan the conferences."
The purpose of the Model United Nations is to give students a chance to gain political knowledge, public speaking experience, professionalism, research skills, as well as social skills. Students learn how to develop and write resolutions, solve problems diplomatically, and communicate with delegates from other nations, as well as experience how the United Nations works.