「相與得此人身,居於華夏」:你現在既然有種種的因緣,得到人身了,又住在中國的華夏之邦。「六根無恙,四大輕安」:眼耳鼻舌身意,你六根都沒有什麼毛病,都具足;地水火風四大也都沒有不調:就是沒有什麼病痛。「具有信心,幸無魔障」:你又具足了信心,也沒有什麼魔障來障著你。「況今我等」:況且而今我們大眾「又得出家,又受具戒」:大家在一起得到出家了,又受了具足戒了。「又遇道場,又聞佛法」:又遇著萬佛城這個大道場,又有人給你講經說法。「又瞻舍利,又修懺法」:我們萬佛城也有佛的舍利,又拜大悲懺這種種的懺法。「又值善友,又具勝緣」:又遇到很多好的朋友,又具足有特別殊勝的因緣。「不於今日發此大心,更待何日」:你若不在今天發大菩提心,你還等待哪一天呢?
「惟願大眾,愍我愚誠」:省庵大師說,惟願大眾憐愍我這種愚癡的誠心。「憐我苦志」:你們同情我,可憐我這種很苦的志願。「同立此願,同發是心」:同發這四十八大願這種願心。「未發者今發」:若沒有發這種四十八願的願心的,現在就要發這四十八願的願心。「已發者增長」:已經發這四十八願的,就要這四十八願一天比一天長大。「已增長者今令相續」:已經一天比一天增長了,現在還要它接接連連相續不斷地發這種心。
「勿畏難而退怯」:你不要怕難而向後退怯。「勿視易而輕浮」:你也不要看這種事情是很容易的,而輕浮。「勿欲速而不久長」:你也不要想快,心不久長。必須要發長遠心,不要僥倖說我投機取巧就修成佛了,沒有投機取巧修成佛的。
所以各位,在這個地方我想起以前我教四十二手眼,有的人修了幾年,覺得也沒有什麼成就,就不修了;不修,這就叫退怯了,也不久長了。「勿懈怠而無勇猛」:你不要懶惰,一點勇猛心也沒有。「勿委靡而不振起」:你不要委靡不振,總拖泥帶水,當斷不斷,一點振作也沒有,要振作。「勿因循而更期待」:你也不要因循了事,苟且塞責。因循就是慢慢的,等一等,不勇猛精進;期待就是等待著,說:「我現在先不要修行,等一等,等我一切都安排好了再修行。」修道不能等的。
「勿因愚鈍而一向無心」:你不要因為自己愚癡,而不發菩提心。「勿以根淺而自鄙無分」:你不要認為自己根基淺薄,佛道遙遠難成,「我沒有份成佛的。」不要有這種的心。
這有一個譬喻。「譬諸種樹,種久則根淺而日深」:就好像種樹似的。樹剛種,它根很淺的;可是種久了,樹根一天比一天紮到地裏去了,就深了。「又如磨刀,磨久則刀鈍而成利」:又譬如磨刀,刀很鈍的,你要是把它磨得時間久了,它也變成利刃了。「豈可因淺勿種」:你不能因為這個樹根子剛一種下,它淺你就不種了。「任其自枯」:你就任這個樹自己枯槁了,乾了,不種它它就死了。「因鈍弗磨」:你因為那個刀鈍,你就不用磨石把它磨一磨。「置之無用」:你把它放到一邊,說這個刀很鈍的,就不用了。
待續
Now we have all the necessary conditions: we have this human body and live in the central country. Our six sense faculties-eyes, ears, nose, tongue, body, and mind—are intact and free of problems, and the four elements-earth, water, fire, and wind-are in harmony. None of them are imbalanced. Our faith is complete and we are fortunate to be free of demonic obstacles. We have faith, and there aren't any demonic obstacles impeding us. Moreover, we have all been able to leave the home life and also receive the complete precepts. We have found a great place for spiritual practice at the City of Ten Thousand Buddhas and heard the Buddhadharma. There are people to lecture the Sutras and speak the Dharma for us. We have seen sharira and cultivated the dharma of repentance. We have the sharira of the Buddha at the City of Ten Thousand Buddhas, and we bow the Great Compassion Repentance and other repentances. We have also met numerous good friends, and encountered especially superior conditions. If today we fail to make a great resolve, what are we waiting for? How long are we going to wait before we make a great resolve for Bodhi?
Great Master Xing An says: I only hope that the great assembly will sympathize with my simple honesty and pity my painfully earnest wish: Let us together establish these vows and together make this resolve. We should all resolve to make the forty-eight great vows. Those who haven't made it should do so now. Those who have already made it should increase it, so that the forty-eight vows grow day by day; and continue to advance. If one's vows are already growing day by day, one must continuously renew them.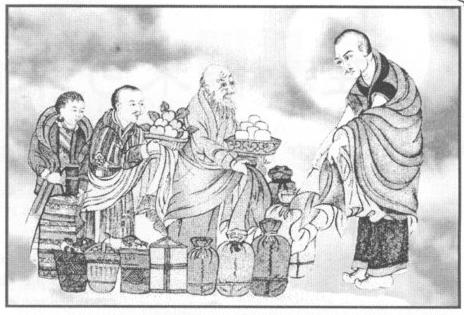 Do not fear or retreat from difficulty. Do not let hardship daunt you. Do not regard this resolve lightly or flippantly. Do not think it is an easy matter. Do not be impatient and fail to persevere. Do not be in a rush and give up too soon. You must be persistent and keep at it. Don't think you can become a Buddha on a stroke of luck. There's no clever shortcut to Buddhahood.
This reminds me of how I taught all of you the Forty-two Hands and Eyes before. Some of you practiced them for a few years, then stopped because you didn't see any results. Your stopping is a case of retreating and not persevering. Do not be lax and lacking in vigor. You shouldn't be lazy to the point that you don't have an ounce of vigor. Do not be discouraged and fail to raise your spirits. Don't drag your heels and be down in the dumps, unwilling to quit your bad habits and apply yourself. You should rouse your spirits and go to it. Do not be sloppy and procrastinate. Don't be casual and negligent and fail to do a complete job. Don't wait around, saying, "I'm not going to cultivate right now. I'll wait a while, wait until everything is all settled before I start to practice." Practice cannot wait.
Do not allow dullness and stupidity to prevent you from making a resolve. You should not be so foolish and ignorant that you fail to resolve your mind on Bodhi. Do not indulge in self-pity, thinking your roots are shallow and you do not have a share. Don't think, "Oh, my roots are too shallow and the path to Buddhahood is too long and far. I have no chance to become a Buddha." Get rid of such thoughts.
There's an analogy It's like planting trees: after long growing, the once-shallow roots deepen each day. A newly planted tree has shallow roots. But day by day, over the course of time, those roots grow deeper and deeper into the earth. It's also like sharpening a knife: after long whetting the once-dull blade quickens. If you whet it for a long time, the dull blade becomes sharp. Just because a tree's roots are shallow, how could you not plant it and let it wither? You cannot refuse to plant a tree merely because its roots will start out shallow. If you don't plant it, it will die. And just because a knife is dull, there is no reason to consider it useless and not sharpen it. You should not set aside a dull knife, refusing to sharpen and use it.
To be continued