未來的大雄寶殿應是中國式的或是西方式的建築格局?這是一個見仁見智的問題。尚在New School ofArchitecture&Design建築系五年級就讀的印尼籍華裔江果耀居士,聽到很多不同看法後,對這個問題產生了興趣。他認為青少年心智單純,也是世界未來的主人翁,也有權利來發表他們的看法。就在這個理念下,一個別開生面的建築夏令營於是乎誕生了。
7月28日支持他的泰籍華裔教授Krissana Kicharenlap(楊裕盛)、美籍同學Kenneth J.French先生聯袂從聖地牙哥來到了聖城。隨即於7╱29—8╱4舉辦為期七天的夏令營活動。江居士目前是法界佛教青年會的成員;Krissana教授曾在泰國出家九個月,三度來到聖城;French先生曾為建築商人,學然後知不足,再到學院深造。此項活動共有男校學生陳奕誠等八人參加,包括尚在男校就讀的小沙彌果定師和明行師。
雖然只是短短的七天活動,但三位老師卻慎重其事地在半年前就展開籌劃工作。前三天由三位老師分別講解城市的興起、設計程序和建築過程的簡單理論,並分析了古典式、現代式及自然式的建築,令學生有基本的概念。第四天45形始,老師們引導學生做建築構思、繪圖,學生們則海闊天空地盡情發揮他們的想像力及潛力,然後製作建築模型。這些模型都是使用廢棄的報紙、瓦稜紙等為材料,無形中也教導學生們資源回收的環保觀念。
最後兩天在聖城的畫廊展出學生們的作品,這些作品有畫在紙板上的建築設計、由報紙製作成的金字塔,還有學生們認為最理想的打坐茅篷。七天中,老師和學生們從課堂上及野外,很快地就打成一片,水乳交融,樂不可支。本來還擔心從早上八點到晚上九點半的緊湊課程,會令學生感受太大壓力或吃不消。豈料這七天快累壞了老師,但學生卻興緻高昂,毫無倦容,令老師們大吃一驚。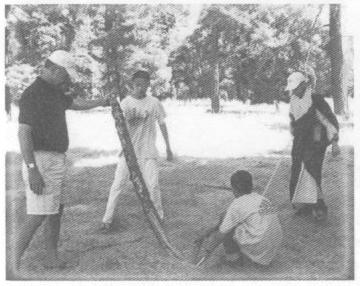 到底大雄寶殿應是中國式或西方式的建築格局?或許這是我們自尋煩惱。以上人開擴的胸襟,根本沒有這個困擾,因為上人包容一切的宗教。
Should the architectural style of a temple in America be Chinese or Western? There are different views on this matter. After Upasaka Edwin Kang, a Chinese- Indonesian in his fifth year of architectural studies at New School of Architecture & Design, listened to different opinions, he became interested. He felt that teenagers have pure and simple ideas, and that since they will be the masters of future, they also have the right to express their opinions. Following this concept, the unusual program 'Your World—Architecture Design Camp for Children' was held at the Sagely City of Ten Thousand Buddhas.
On July 28th,Edwin came with Krissana Kicharenlap, the Chinese-Thai lecturer who supports him, and Kenneth J. French, his American classmate, to the Sagely City from San Diego. They organized a seven-day summer camp from July 29th to August 4th. Krissana had been a monk in Thailand for nine months and had been to the Sagely Qty three times. Kenneth, who had been in the construction business, is pursuing further education at the college after discovering that his knowledge was inadequate. There were altogether eight participants in the camp, including Grover Chen from the Boys' School and two Shramaneras, Guo Ding Shr and Ming Heng Shr.
Although the program was only seven days long, the three teachers had begun preparations half a year earlier. During the first three days, the teachers lectured on the basic theories of the rising of cities, processes of design, and stages of construction. They analyzed ancient, modern and natural models, giving students a good grasp of the basic concepts. From the fourth day onward, the teachers led the students to work on building schemes and drawings. Inmaking the models, students pushed their imagination and potential to the limit. They made models from materials such as discarded newspaperand corrugated cardboard, learning about recycling in the process.
During the last two days, student work was displayed at the Art Studioin the Sagely City These works included building designs drawn on cardboard, pyramids made from newspaper, and the students' ideal of thatched huts for meditation. As the activities moved from the classroom to the wilderness over the seven days, teachers and students bonded and had a very happy time. Originally, the teachers worried that the students would not be able to take the pressure of the tight schedule from eight in the morning till nine-thirty in the evening. However, by the end of seven days, it was the teachers who were worn out, while the students were in high spirits with no sign of fatigue. The teachers were shocked. Ultimately, should the architectural style of the temple be Chinese or Western? We maybe troubling ourselves needlessly over this issue. The Venerable Master,with his broad outlook, would not have worried about it, for he accepted all religions.