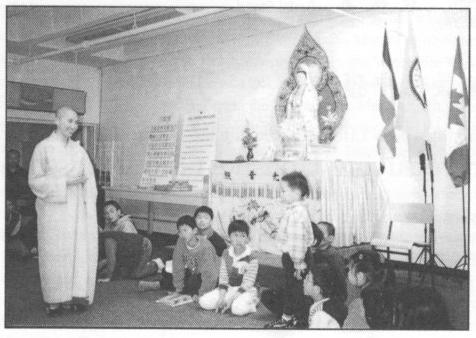 恆優師出生在越南首都西貢南郊的勤詩(Can Tho),童年時家人即替她皈依佛教。1978年13歲時隨家人乘船離開祖國,在海上航行了7天,幾經險難,終於定居在法國的格林諾伯。

恆優師在格林諾伯大學就讀時原主修化學,知道很多科學家以之做為殺人武器,覺得很殘忍,不願再念下去;也曾想從事社會福利工作,也因不究竟而作罷。在大一時選了哲學課,念得很用功,也很辛苦,因為法文程度不夠。後來覺得這樣下去,或者可能學會了講話,可是修行方面就談不上了,於是發願出家。

1990年時,一天她在當地華嚴寺聽法後,對中省法師說起想去臺灣學習佛法,法師說:「妳可以去美國萬佛城,那邊有很多修行人。」後來她向中觀法師求受五戒,法師說如果真要學習佛法,就得出家。她說:「出家也可以,沒有問題。」

第二天恰好為釋迦牟尼佛誕,回家後跟爸爸說第二天想剃頭,爸爸很不高興,說:「妳出家到那邊做什麼?做豆腐嗎?」因而一個月不跟她講話。幸虧媽媽勸道:「女兒出家跟結婚一樣,都得離家,可是出家比結婚好多了。這是她的願力,應該成全她。」爸爸雖然不捨,還是答應了。

正巧那年十月上人率團訪歐,在格林諾伯講法停留了一個禮拜。恆優師因學業關係,只能跟著聽法,沒有機會跟上人講話,直到上人要走了,才趕進火車內頂禮上人,並問可否到萬佛城來讀書、修行。上人以英語問:「Do youspeak Enslish(妳講英語嗎?)「yes(是。)」「Ok(可以。)」

恆優師不知道怎麼去美國,心裡起了念:「如果上人是開了智慧的人,應該讓我很容易的去到萬佛城。」巧的是,幾個月後中觀法師收到上人的請帖,邀他到聖城來傳戒。上人訪歐時在法國巴黎華嚴寺,得知中觀法師在越南時即背誦《法華經》,即對中觀法師說,「過去生我有一個師兄弟,會背《法華經》,你願不願意作我的師兄弟?」中觀法師說好,因此兩人結為法兄弟。上人又說中觀法師從不攀綠,是位老實的修行人,叫自己的弟子們稱中觀法師為師叔。

中觀法師接到請帖時,巴黎華嚴寺正準備傳比丘戒,便問恆優師:「妳願不願意在法國剃頭,出家修行一個月,再到萬佛城?」就這樣恆優師出了家,法名曇淨,並於1991年7月跟著剃頭師父來到了嚮往已久的聖城;經過一年多的訓練,於1992年9月受具足戒,經再三請求上人,取得新法號恆優。

恆優師在聖城住了一年,金輪寺三年半,又在法界聖城受訓四年,目前在加拿大溫哥華的金佛寺當助理當家,並在廟上的兒童假日學校教佛學。溫哥華是國際性大都市,教學時常得中、英、法、越文並用,但恆優師的語言能力讓她應付裕如。
Heng You Shi was born in Can Tho, a suburb south of the capital of Vietnam. When she was very young, her family members took refuge with the Triple Jewel on her behalf. In 1978, at age thirteen, she left her home country with her family. They were on the sea for seven days. After overcoming numerous hardships, her family finally settled in Grenoble, France.
Heng You Shi studied at the University of Grenoble. She initially declared a major in chemistry, but changed her mind when she discovered that many scientists used science to develop weapons to harm and kill living beings. Unable to bear the thought of such cruelty, she dropped chemistry. She considered becoming a social worker, but decided that it was not the ultimate path. As a freshman in the university, she had to work very hard in a philosophy course, because her mastery of French was inadequate. She later thought: If I continue studying, I might be able to learn how to talk well, but it won't aid me in my cultivation. Thus she decided to leave the home life.
One day, in 1990, when she was listening to the Dharma at Avatamsaka Monastery in Grenoble, she asked Dharma Master Trung Thanh for some advice about going to Taiwan to study the Buddhadharma. Master Trung Thanh told her, "You could go to the City of Ten Thousand Buddhas (CTTB) in the United States; there are many cultivators there." Later on, when she requested to take the five precepts from Dharma Master Trung Quan, he told her, "If you really want to cultivate, you have to leave the home life." She replied, "That's fine; there should be no problem."
She went home and told her parents that she wanted to leave home on the very next day, which was Buddha's birthday. Her father was very upset and asked, "What are you leaving home for? What are you going to do there? Make tofu?" Her father did not speak to her for a month after that. However, her mother urged him to allow their daughter to leave home, saying, "Whether our daughter marries or leaves the home life, either way she'll have to 'leave home'. But becoming a nun is much better then getting married, and since that is her vow, we should help her to fulfill it." Her father finally gave her permission to leave home.
That same year, the Venerable Master visited Europe in October and stopped over in Grenoble for a week. Due to her schoolwork, other than listening to the lecture, Heng You Shi was not able to talk to the Venerable Master. When the Venerable Master had boarded the train and was ready to depart, Heng You Shi bowed to the Master and asked if she could study at CTTB. The Master asked her in English, "Do you speak English?"
"Yes," she replied.
"Okay," said the Master.
Heng You Shi had no idea how to reach the United States. Then a thought crossed her mind: if the Master is a person with great wisdom, he will make it easy for me to go to the United States. A few months later the Master sent an invitation to Dharma Master Trung Quan, inviting him to transmit the precepts at CTTB. When Venerable Master was visiting Avatamsaka Monastery in Paris, France; he noticed that Dharma Master Trung Quan had memorized the Dharma Flower Sutra. Thus, the Master asked Dharma Master Trung Quan, "Will you be my Dharma brother? In my past lives I had a Dharma brother who memorized the Dharma Flower Sutra." Dharma Master Trung Quan thought it was a good idea, so they became Dharma brothers. Saying that Dharma Master Trung Quan was a serious cultivator who never exploited the circumstances, the Master bade his disciples to call Dharma Master Trung Quan "Dharma uncle."
When Dharma Master Trung Quan received the invitation to CTTB, Avatamsaka Monastery was also preparing to transmit precepts. He asked Heng You Shi if she would like to leave home during the precept transmission, stay and cultivate in France for a month, and then go to CTTB. Heng You Shi agreed and became a nun with the Dharma name Dam Tinh. In July 1991, she arrived at CTTB. After one year of training she received full ordination. In September 1992, Master gave her a new Dharma name Heng You.
Heng You Shi lived at CTTB for a year, then moved to Gold Wheel Monastery for three and a half years. She received four more years of training at the City of the Dharma Realm. Now she worked as an assistant manager at Gold Buddha Monastery (Vancouver, Canada) and helps the children's Sunday school program. Heng You Shi's language skills in Chinese, English, French, and Vietnamese aid her greatly in her work in the international metropolis of Vancouver.