今天要講的是,「我第一次來聖城的一個小祕密」。1990年我第一次來聖城,雖然早知道聖城是修行的地方,生活清苦,但我還是要試試。
記得一天齋堂放了一些聖城自己種的枇杷,又小又是黑點。用完齋後,我看到一位法師拿了一個連著管子的鍋子,把枇杷放進鍋子裡面。我一時緊張,脫口而出說:「妳、妳…妳要幹什麼?」她淡淡地說:「做果汁。」黃色的枇杷榨出來的汁竟然是紫色的「葡萄汁」!太不可思議了。我問:「我可以喝一口嗎?」「不可以!」法師說這是明天放在餐桌上,大家一起喝的。我之所以想喝一口,只因為那時我當行堂,往往在大眾快結齋時我們才開始用齋。這果汁一旦放在桌上,若大眾喝完了,那我豈不是連嚐試的機會都沒有?因此一個很強烈的念頭閃過——要想辦法喝一口,試試到底是什麼滋味。
那天下午我在廚房東摸西摸,找機會喝它一口。那年我是來聖城受菩薩戒的,明知這是犯戒,當時只想試試枇杷汁的味道,心想先喝了再去懺悔。好不容易等到人都走了,我打開瓶蓋。那知蓋子「砰」地一聲蹦開了 ,隨即不見。我緊張得要命,結果蓋子掉到柱子旁,和柱子同一個顏色,難怪四處找不著。「原來聖城的龍天護法執法這麼嚴!」我心裡嘀咕著。雖然心虛,還沒忘喝下那一口得來不易的枇杷汁,酸酸的也不怎麼樣。
第二天我看到那變色的枇杷汁擺在大眾的桌上,還剩一點點,好像對我遙遙招手。那時我真是又恨又惱!早知會有剩,我還喝得到,就不用偷喝了!前年我隨聖城弘法團,在馬來西亞上臺講法。談到聖城時,我把這段事講出來,下面的人笑成一團。多年塵封的記憶,一下浮現起來,自己也覺得很好笑。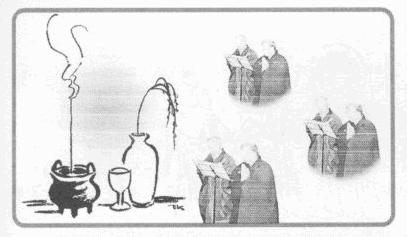 這次回臺灣,曾到寺廟參加拜梁皇寶懺。其中(卷四顯果報第七)中,有一段是這麼寫的,有一鬼王問目連言:「我一生來,常吞熱鐵丸,何罪所致?」目連答言:「汝為人時,作沙彌子,取清淨水,作石蜜漿。石蜜堅大,汝起盜心,打取少許,大眾未飲,汝盜一口,以是因綠,故獲斯罪。此是業報,果在地獄。」
誦到這裡我頭皮發麻,心想慘了!在聖城,我亦曾盜一口,雖初發心不同,其盜則一。在臺灣的道場,食物煮好後先嚐一嚐味道如何,是很平常的事,都這樣,從來沒人說不可以。來聖城後很自然地把這個習氣帶了進來。雖知聖城戒律嚴謹,但在好奇心驅使下,讓自己又犯戒又企圖自圓其說。那時真是悔恨交加,恨不能把那一口吐出來。
後來我又去打了一個佛七,把這件事說出來,請主七和尚為我破解迷津。主七和尚說:「那還能怎樣,喝了就喝了。你跟那裡的方丈懺悔不就得了!」上人也曾說做錯了事向大眾懺悔,罪障會消得比較快。因此上人讓弟子們一次又一次把自己的糗事搬到檯面來。
所以今天我鼓起勇氣,把這件事發露出來,並誠心誠意向方丈和尚及大眾懺悔。現在我終於明白上人為什麼要我們嚴守戒律,原來果報是絲毫不爽的。希望方文和尚及大眾接受弟子的懺悔,並原諒弟子的無知。阿彌陀佛!
Today I want to share with you a little secret about my first visit to the City of Ten Thousand Buddhas (CTTB). When I first came in 1990, I was aware that CTTB is a place of cultivation with an austere lifestyle. However, I still wanted to try it out for myself.
One day at lunch there were some loquats in the kitchen that had been grown in the City. They were quite small and covered with black spots. After lunch, I saw a Dharma Mas­ter putting the loquats into a pot with a tube coming out from it. In my haste, I forgot to address her properly and simply stammered, "What are you doing?" She answered blandly, "Making juice." The yellow loquats, surprisingly, produced a purplish juice resembling grape juice—pretty amazing! I asked the Dharma Master, "May I take a sip?" "No," she said, explaining that the juice would be set on the table for everyone to drink. The reason I wanted to take a sip then was that as a food server, I often did not take my own meal until the assembly had finished their meal. If the juice was set on the table and people finished it, I wouldn't get a chance to taste it. And so I was eager to have a sip.
That afternoon I lingered in the kitchen doing this and that, looking for an opportunity to sneak a sip of that juice. I had received the Bodhisattva Precepts at CTTB that year, and I knew very well that I would be breaking precepts. But I wanted to taste the loquat juice, so I told myself I would drink it first and then repent.
When no one else was around, I opened the bottle cap, which went "pop" and disappeared. I was frantic, but then found the cap next to a pillar of the same color, making it difficult to see. "The Dharma-protecting dragons, gods, and spirits here are certainly watchful!" I grumbled to myself. Although I was nervous, I didn't forget to take that hard-won sip of loquat juice, which turned out to be rather sour but otherwise quite ordinary.
The next day I saw that strange-colored loquat juice, of which a little bit was left, sitting on the assembly's table as if beckoning to me. I was filled with self-reproach and vexation. If I had known there would be some left over, I would not have had to steal a sip!
When I had a chance to speak Dharma while accompanying a Dharma delegation in Malaysia two years ago, I told this anecdote, which made the audience break out in laughter. After all these years, this memory also seems funny to me. On a recent trip to Taiwan, I participated in a Repentance Cer­emony of the Emperor of Liang at a temple. Chapter Seven, "Explanation of Retributions," in Roll Four of the Repentance, says:
A ghost king asked Maudgalyayana: "What offense did I commit that I must swallow hot iron pellets all my life?"
Maudgalyayana replied, "When you were a human being, you were a novice monk. At that time you took clean water to make rock sugar soup. When the rock sugar hardened, you thought of stealing a small portion before it was served to the assembly. Since you stole a mouthful, you incurred this offense, the karmic retribution of which takes place in the hells." When I recited that passage, I thought to myself, "Oh no! I also stole a sip at the City of Ten Thousand Buddhas. Although my motives were different, the theft was the same." In monasteries in Taiwan, it is permissible for cooks to sample the food after it is done. I did that for years and no one ever told me not to. When I came to CTTB, I brought my old hab­its along. Although I knew the precepts are observed strictly here, my curiosity drove me to break the precepts and even try to justify myself. At that time, I was filled with remorse and wished in vain that I could spit that mouthful of juice back out!
Later I attended another Buddha recitation session, during which I recounted this matter and asked the Dharma Master hosting the session to shed some light on my quandary. The Dharma Master said, "What can you do now? You drank it, and it's over and done with. Simply repent to the abbot of the monastery." The Venerable Master also said that when you have done something wrong, you can eradicate your offense more quickly by confessing and repenting before the assembly. That's why the Master often allowed his disciples to confess their deplorable deeds in public.
Today I plucked up the courage to recount this incident, and I confess and repent sincerely before the abbot and the assembly. I now realize why the Venerable Master wanted us to hold the precepts carefully—it's because the retributions we receive are never the slightest bit off. I hope the Abbot and the assembly will accept my repentance and forgive my foolishness. Amitabha!