2001年5月6日星期日下午1:30在Sunnyvale「南灣華僑文教服務中心」舉行「北加州中文學校聯合會中國文化常識比賽」,七所中文學校派隊參加。本城培德中學由陳頌淵、錢大維、陳慶安、陳奕誠、謝阜庭,五位同學代表,經過初賽、決賽後取得第三名。與1999年的同學相比,今年參賽同學年齡較小,最小的僅12歲,但每位同學情緒穩定,不怯場,能發揮所學,可喜可賀。
1999年北加州首次舉辦這項活動時,我校榮獲第一名,並取得全美比賽第三名。去年我校未參加比賽。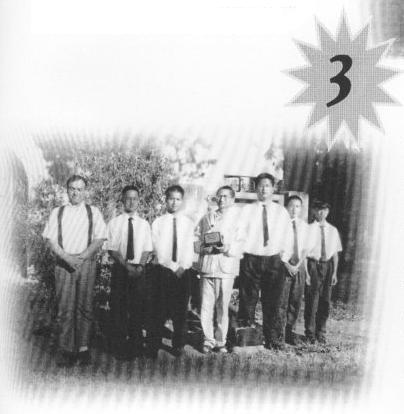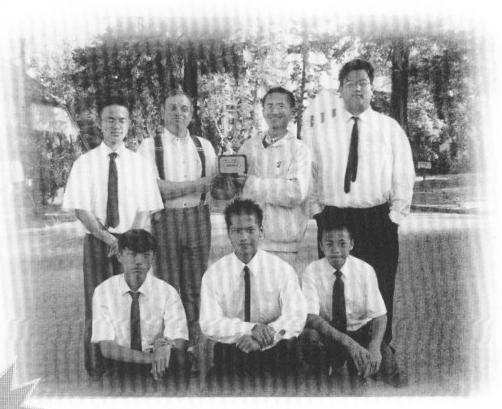 *得獎的五位同學及兩位老師合影
*The five students and their two teachers(holding the trophy).
On Sunday, May 6, 2001 at 1:30 p.m., the South Bay Overseas Chinese Culture and Education Service Center in northern Cali­fornia held its Chinese Culture Contest in Sunnyvale. Teams from seven Chinese schools participated. CTTB's Developing Virtue High School was represented by five students: Ben Chen, David Chien, Charlie Chen, Grover Chen, and Michael Hsieh. The team placed third after the initial and final contests. These team mem­bers were younger than the 1999 team, the youngest one being only twelve. However, they are to be congratulated for not being nervous, but for being able to calmly apply what they had learned.
In 1999 our school participated in the first contest of this kind held in northern California and won first place. Our team went on to place third at the national level. Last year our school did not participate.