陶淵明的詩都不是很長的。你看我們剛才講「積善云有報,叔夷在西山」,這一首只不過八句,現在我們講的這首詩也不過七句而已,都是很短的。但我剛才也說了,像他那首「積善云有報」的詩雖然短,但是他有反覆的思考在裏面,表現在詩的結構上有許多跌宕起伏的變化。
現在我們來看一看這一首詩,他所考慮的是什麼問題。他第一首詩說「衰榮」是無定的,第二首詩說天道也是無常的,如果人世之間的「榮衰」與「天道」是完全不可靠的,那麼人所應思索追求的又該是什麼呢?
他說:「道喪向千載,人人惜其情」,前面我已講過,陶淵明的詩裏,常常用這個「道」字。孔子在《論語》這本書裏,也常常用這個「道」字。這個「道」好像是很廣泛,不但儒家用這個「道」字,佛家也用這「道」,道教自然更用這個「道」字。當然如果詳細區分,可能不同的哲理,不同的宗教,所指的「道」的涵意並不是完全一樣的。
但他們之間也有相通的地方,就是他們都不否定宇宙間有一個最重要,最寶貴的東西,得到了以後,能夠使人有自己的操守,能夠使人不動搖,不憂愁,不恐懼,這就是「道」。可現在陶淵明就說了:「道喪向千載」,本來宇宙之間應該有這麼一個「道」的,這就是何以西方、東方、印度以及中國,凡有思想的宗教家、哲學家都在思索、探求人類最高智慧境界的原因所在。
可是後來的人就迷失了,他們不知道了。他們把一個最重要,最寶貴的東西丟掉了。「喪」就是喪失,失落。道喪向千載,這個道丟掉了有多久呢?「向」是大約,將近,差不多的意思––人找不到這個「道」的時間已經差不多有一千年之久了。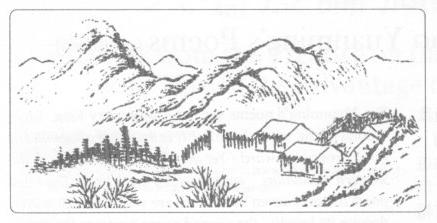 我剛才講了,從孔子遇見榮啟期那時代,算到陶淵明所生活的時代是差不多九百年。這可以說是「向千載」一般出現在詩歌裏面的數學都是取其近似的整數或總數。所以他說「道喪向千載」,那個最高的做人的道理,已經被人忘記了有一千年之久了。現在的人都不再追求「道」了。那麼他們追求什麼呢?
他說是「人人惜其情」,道已經在世界上失落了,大家不懂得求道了,大家所追求的是什麼?是「惜」,是情欲的享受,名利祿位、富貴榮華。人不再看重「道」的有無與得失了,只看到眼前的物欲與情欲了。
後面陶淵明的兩句,我們要有特別的看法才能了解他。因為他後邊說的是:「有酒不肯飲,但顧世間名」。這兩句很容易被讀者誤解,他說那些只知「惜其情」的人,他們「有酒不肯飲」,那麼他們去追求什麼呢?是「但顧世間名」。「但顧」是只願意,說他們心中常常願意,常常關懷的是世間的名利。
我記得開始講陶淵明《飲酒》詩之前說過,有一天在我來這裏的路上看到一些醉鬼的事情,特別是在這個區域的街頭,有很多醉鬼。他們醉倒在路邊,一副人事不省的樣子。這裏陶淵明為什麼要說,你不飲酒,只去追求世間的名利不好呢?那麼照陶淵明看來,飲酒比追求世間的名利會更好嗎?如果飲酒都飲到像街頭醉倒的人的樣子才好嗎?
我在講陶淵明《飲酒》詩以前曾說過,梁朝昭明太子蕭統就說過,陶淵明的詩雖然是寫酒,但他意不在酒。這是最應該注意的一點,不然就沒法講通這兩句詩。照陶淵明這兩句詩的表面意思看來,難道喝成醉鬼一樣就比追求名利更好嗎?其實陶淵明不是這種意思。
待續
Tao Yuanming's poems are not always very long. Tao's second poem, which begins, "It is said that accumulated good brings a reward / Yet there were Yi and Shu in the western mountains, " contains only eight lines. The third poem has only seven lines. Both are very short. However, despite its brevity, the second poem contains the active interplay of Tao's ideas as well as many changes in structure.
Now, let's look at this (third) poem: What was Tao thinking? His first poem said that prosperity and decline were impermanent; the second one maintained that divine justice was also unfixed; if both prosperity and decline, and divine justice, are completely unreliable, then what should people concentrate on and pursue?
He said: The Tao has been lost for a thousand years. / Everyone indulges his own desires. I mentioned before that Tao Yuanming makes frequent use of the word 'Tao' in his poems. The word 'Tao' also appears often in Confucius' Analects. It seems the word 'Tao' is quite commonly used. Not only do Confucians use the word 'Tao', but Buddhists do too; and Taoists use this word for sure. Of course, if you want to make fine distinctions, you may find that the meaning of 'Tao' varies from one philosophy or religion to another.
Yet there is one common point that none of them denies, which is that, in the universe, there is a most important thing that enables people, upon attaining it, to be strong in their integrity, steadfast in their principles, and free from worry and fear. That is the Tao. Well, now Tao Yuanming says: The Tao has been lost for a thousand years. There ought to be a 'Tao' in the universe. That is why all the thoughtful religious people and philosophers in the Occident and the Orient, India and China, have pondered and pursued the highest state of wisdom of which humanity is capable.
However, people of later generations went astray and no longer knew of the existence of the Tao. They had lost a most important and valuable thing. The Tao has been lost for a thousand years. People have not been able to find the Tao for nearly a thousand years.
I have mentioned that there was about nine hundred years between the time Confucius met Rong Qiqi and the time of Tao Yuaming. This could be what the poem is referring to as a thousand years. Generally, the numbers are rounded upwards in poems. The Tao has been lost for a thousand years: the loftiest principles of human existence have been forgotten for a thousand years. People no longer seek the Tao nowadays. What, then, are they pursuing?
Tao's answer was: Everyone indulges his desires. Since the Tao has disappeared from the world, people are not aware that they should pursue it. What do they seek instead? They cherish material pleasures, fame, profit, high status, wealth, and prosperity. No one cares about whether or not the Tao exists and whether they can realize it; they only see the material comforts and sensual pleasures immediately before them.
To understand Tao Yuanming's next two lines requires us to take a special perspective. The line ' They have wine, yet do not drink, / Caring only about their worldly reputation' is easily misunderstood. He said that those people who only indulge their desires have wine, yet do not drink. What do they seek then? They care only about their worldly reputation. That's all they want. They are constantly concerned with worldly fame and gain.
I recall that before I began explaining Tao Yuanming's poems "On Drinking," I told you about how I saw some drunkards on my way here. There are many winos, especially in this area. They get drunk and pass out on the street, totally oblivious to anything. Why then does Tao Yuanming disapprove of people who seek worldly fame and wealth instead of drinking? Does he believe that it is better to drink than to seek fame and wealth? Would it be good for us to all get drunk like those guys lying in the streets?
Before discussing the series of poems "On Drinking," I mentioned that Prince Zhaoming, Xiao Tong, of the Liang Dynasty, had commented that although Tao Yuanming wrote a lot about drinking, his real message did not concern drinking at all. This is a crucial point. Without it, we cannot explain these two lines. Literally interpreted, these two lines seem to say that it is better to get drunk than to pursue fame and wealth. In fact, that is not Tao Yuanming's meaning at all.
To be continued