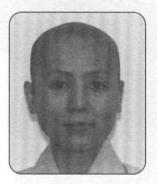 一九八八年上人在臺北中山堂講法,我與友人結伴前往聆聽。那是我第一次參加佛教活動,也是我第一次拿到《普門品》,梵喝聲則從未聞過,更談不上能誦。會場布置樸無華,臺上只有一對花籃,三炷清香,背後是本師釋迦牟尼佛法像,《普門品》在會場中繚繞。當我跟著梵唄聲看經文時,忽然聞到一股清香,脫口而出,「好香哦」。這股香味讓我肅然起敬,我到處尋找香味來源,但找不著。
第二天同事問我,「妳昨晚說好香,我怎沒聞到?」我想這奇怪了,於是問了所有參加的人,沒有人聞到。因此當晚我又來到弘法會場,想看看今晚還有沒有香味。第二天會場還是爆滿,進也進不去,被迫在門外由布幔中看場內實況。心想好了,今天被關在外面,看妳還會不會聞到香味!念頭過後馬上就聞到和昨天一樣的清香。
第三天我又到會場來,看到大眾都在填表格,我好奇地問,「你們填什麼?」「皈依表。」「什麼叫皈依?要什麼條件?」工作人員回答我的問題後,我決定皈依。這天人更多,我被擠到廁所邊,連布幔中的上人都沒得看。當法師說,「自稱法名」時,我又聞到前兩天一樣的香味––三天的異香帶引我入了佛門。
從那之後,我學習吃素做素菜,看佛書做義工,體驗一連串新的生活。心想事成,於是放下工作,投身臺北法界佛教印經會,略獻棉薄之力,二年後順利出家,於去年在萬佛城受具足戒。
In 1988, the Venerable Master was at the Sun Yatsen Hall in Taipei speaking the Dharma. I went with some friends to listen. That was the first time I ever participated in a Buddhist activity, and the first time I heard the "Universal Door Chapter." I have never heard Buddhist chanting before, so I could not join in. The assembly hall was plain, decorated only with a pair of flower baskets on the stage and three sticks of incense lit before the image of Shakyamuni Buddha. The "Universal Door Chapter" resonated all over the hall. As I read the Sutra text being chanted, I suddenly detected a fragrance. I said, "That smells so good." The scent caused me to become solemn and respectful. I searched all over for the source of the aroma, but did not find it.
The next day, my colleague asked me, "Last night you said something about a wonderful smell. How come I didn't smell anything?" Puzzled, I asked the other participants, and no one had smelled it. That night I attended the Dharma lecture again, wondering if the fragrance would be there. The hall was overcrowded again, and I could not get in. I had to stay outside the door and watch live coverage from the monitors. I thought to myself, "Great, today you're stuck outside, let's see if you still can smell the fragrance!" Right then, I smelled the same fragrance as before.
On the third day, I returned to the assembly and saw everyone filling out forms. Out of curiosity I asked, "What are you all filling out?" "The form for taking refuge" was the reply. "What is 'taking refuge'? What are the qualifications?" After the staff answered my questions, I decided to take refuge. That day, there were even more people, and I was pushed to a corner next to the restrooms. I didn't even get to see the Venerable Master on the monitors. When the Dharma Master said, "Say your Dharma name," I again smelled that fragrance from the last two days. The unusual fragrance in those three days drew me to Buddhism.
Since then, I have learned to be a vegetarian, cook vegetarian dishes, read Buddhist books, and perform volunteer work. It was a series of new life experiences. Where there is a will, there is a way. I decided let go of work and joined the Dharma Realm Buddhist Books Distribution Society of Taipei to contribute my minute capabilities. Two years later, I left the home life and last year I received the complete precepts in the City of Ten Thousand Buddhas.