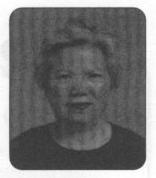 簡果金居士,臺灣人,十九歲時即知道修行,曾在道教廟裡當義工多年。在臺北工作時,又結識了後來的比丘尼恆然師、張果官與同修葉果才等居士,成為同修法侶。一九七一年舉家移居美東華府,即常請法師家中講法,開始信仰佛教,專修淨土法門。每周日結社念佛,與當時住華府的聖城朱果翔居士一家,皆為同修。果金居士熱心助念,凡需助念,她總是隨叫隨到。因此被選為華府佛教會助念團長,領眾助念。上人到華府時,曾數度在果金家駐足數日,這是最使她感到榮幸的。
上人於八七年赴馬利蘭州訪問,在華府佛教會講開示時,簡居士皈依上人賜名果金,並邀她來聖城長住。以後本會在華府添置了道場,因附近地段在開國之初曾造下甚多殺業,為超度亡魂,道場三年未對外開放。當時簡居士一家默護駐錫法師,不遺餘力,並請求上人給道場取名,上人於是命名為華嚴精舍。又曾多次請求上人開放道場,上人說人手不夠,她建議請女眾打理,上人說okay,就此開放了華嚴精舍——本會在美東的第一座道場。
果金居士曾來聖城參訪多次,也帶過孫兒來念夏令營。當時就歡喜這裡的環境,發願來長住。如今孫兒長成,老伴放心,所以她打定主意要長住,又申請出家。果金居士擅烹紉,喜念佛,現在聖城福居樓、大寮、縫紉室、念佛堂服務,再恰當不過了。我們希望她早日滿願出家,不負上人當年的指示——早來聖城長住共修。
The Taiwanese Upasika Jian Guo-Jin began practicing at the age of nineteen. She volunteered for several years in Daoist temples. While working in Taipei, she met Bhikshuni Heng Ran Shi, laywoman Chang Guo-Guan, as well as her own fellow cultivator, Upasika Yeh Guo-Cai. They practiced the Pure Land Dharma. Every Sunday they got together to chant the Buddha's name. During that time, she often practiced with the family of upasika Chu Guo-Xiang, who live in the Sagely City. Upasika Guo-Jin was always eager to recite for others. Rain or shine, she would go and recite wherever there was a need. Therefore she was elected as the leader of Buddhist Recitation Group. She felt very honored when the Venerable Master would stay at her house for a few days during visits to D.C.
When the Master went to the Buddhist Association of Washington, D.C. to give talks during his visit to the East Coast in 1987, Upasika Jian took refuge with him. He gave her the Dharma name Guo-Jin and invited her to come to the Sagely City to cultivate. Dharma Realm Buddhist Association (DRBA) later acquired a Way-place in Washington, D.C. Since much killing karma had been created in that area during the Revolutionary era, the Way- place remained closed to the public for three years as ceremonies to liberate the deceased were performed. At that time, Upasika Jian and her family quietly supported visiting Dharma Masters, never hesitating to go out of their way to help. At their request, the Venerable Master named the Way- place Avatamsaka Hermitage. They kept requesting the Venerable Master to inaugurate the Way-place, but were told there was not enough manpower to do so. When the Master agreed to Upasika Jian's suggestion that the Hermitage be managed by women, Avatamsaka Hermitage was opened to the public as DRBA's first Way place on the East Coast.
Upasika Guo-Jin visited the Sagely City several times, bringing her grandchildren for summer camps. She really liked the environment here and vowed to return for a prolonged stay. Since her grandchildren have grown up and her elderly husband is open minded, she has moved here and applied to leave the home life. She is a skilled chef and enjoys Buddhist chanting. She currently volunteers in the Tower of Blessings, the kitchen, the sewing room, and the Recitation Hall. These arrangements could not be more appropriate. We hope that her wish to leave home will soon be realized, so the Venerable Master's earlier instruction to her will be fulfilled: "Come to the Sagely City to cultivate with others as soon as you can."