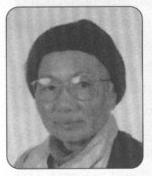 近睿師,越籍華人,生在西貢附近美拖,長在隆慶。溫柔和順,謙恭有禮,東方婦女傳統的美德在她身上全活過來了。幼時憧憬美滿的人生,認為組織家庭才是正路;婚後白天在外工作,返家照顧六個子女。家庭負擔沉重,於是開始思索人生真義,覺察了自己的天真無知。原來所謂的「美滿的人生」,只是夢幻;人生,是沒有究竟意義的。
一九七四年皈依三寶,在寺廟縫製僧衣,滿心歡喜,覺得出家修行這樣的「另類人生」,似乎更具意義,就此種下出家之因。八三年移居德國;九三年在法國馬賽爾出家,法名慧玉;九四年在美偶遇一位眼半瞎,曾在聖城居住過的越南尼師,告以聖城是修行的好地方,即申請試住;住後始知這位尼師是眼瞎心不瞎,故又申請長住。
初到聖城時身無袈裟,頂著光頭外披長大衣,讓接見她的尼師們好不困惑,不知她是僧是俗。住下後,學習上人座下出家弟子的規矩,從此袈裟不離身;至於日中一食,初始是客僧身份,聖城並不要求,入了法總僧列改名親智後,除病緣外皆須遵守。
法總道場至今已七年了,最幸運的是曾在法界聖城受了三年的沙彌尼訓練,又在金峰聖寺見習寺廟管理,對於上人的教誨及法總道場的規矩皆有所識。去年九月圓滿受了具足戒。今後將以上人道場為皈依處,安心辦道。當問及為什麼不住越南寺廟時,近睿師笑而不答。
Jin Rui Shi is a Chinese from Vietnam. She was born in Saigon, near My Tho, and she grew up in Long Khanh. Her personality is soft-spoken and friendly, humble and polite. All the traditional virtues of Oriental women come alive in Jin Rui Shi. When she was young, she longed for a perfect life, and she believed that raising a family was the proper path. After getting married, she worked at a job during the day and then returned home to take care of her six children. The burden of the family was heavy, so she began pondering the true meaning of life and realized her own naiveté. The "perfect life" she sought was merely an illusion. Life is devoid of absolute meaning.
In 1974 she took refuge in the Triple Jewel. She found happiness in sewing clothing for the Sangha, and the alternative lifestyle of monastic cultivation seemed very meaningful to her; her causes for leaving the home life were thus planted. In 1983 she immigrated to Germany, leaving her homeland forever. In 1993 she left the home life in Marseille, France, receiving the Dharma name of Hui Yu. In 1994 she met a half-blind Vietnamese Bhikshuni who had lived in the Sagely City and spoke of it as a great place for cultivating, so she immediately applied for a trial stay. After the trial stay, she knew that Bhikshuni's eyes were blind but her heart was not, and so she applied to stay on permanently.
When she first arrived in the Sagely City, she had no robe. Since her head was bald and she wore a long overcoat, the Bhikshunis who greeted her could not tell whether she was a Sangha member or a layperson. After she settled down, she learned the rules for being a disciple under the Venerable Master, and since then she has always worn the robe. As a guest Sangha member at the Sagely City, she was not required to take only one meal per day. After joining the Sangha order of the Dharma Realm Buddhist Association (DRBA) and changing her name to Chin-Jr, she has abided by all the rules except in times of illness.
In her seven years of living at DRBA temples, she was fortunate enough to receive three years of training as a Shramanerika at the Sagely City of the Dharma Realm. She also practiced temple administration at Gold Summit Monastery and became familiar with the Venerable Master's teachings and the regulations of DRBA. Last September she was fully ordained. She plans to stay at the Venerable Master's Way-place and peacefully practice the Way. When asked why she does not live in a Vietnamese temple, Jin Rui Shi smiles and does not reply.