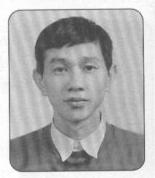 我學佛前總認為人善良不害人就足夠了,因而打妄語、殺生食肉、賭博造了很多罪惡,經常於夢中見到自己被殺,或跌落無底深淵,但我還是執迷不悟。1988年10月上人返臺弘法,母親要我去拜見並皈依。我答到時再說,並不眞心想去。不久有一日下班後感覺肚子不舒服,就回母親住處拿藥,母親又提拜見上人之事。此時肚子不痛了,我就敷衍了事。哪知肚子又痛起來了,就答應了,肚疾竟不藥而癒。
11月初上人在臺北中山堂弘法,上人開示時說,凡是皈依他的弟子都要先他成佛;弟子若不成佛,上人也不成佛。我聽了很感動,非常佩服上人的慈悲願心,於是發心皈依上人並學習吃全素,恭讀上人開示錄及經典淺釋學習佛法。我對於佛法有了初步認識後,知道自己往昔造了很多惡業。
經過一段時間我發現體重減輕,宿疾心律不整、胸部刺痛、呼吸困難,睡時氣接不上等症狀都消失了。血液中所含之三酸甘油脂,也降低恢復正常值;血液由濃黑轉為鮮紅。如未遇見佛法我或許活不久,更不知墮落何處。為感念上人的再造之恩,我常至法界佛教印經會參加共修,弘法團回來時發心擔任義工,不管遇到任何困難都願忍受。回顧學佛十年來覺得自己很不精進,不聽從上人之教誨,今後定當努力學習佛法,以報三寶恩澤。
Before I learned Buddhism, I felt that being kind and not hurting other people was enough. Therefore, I often told lies, killed living beings, ate meat, and gambled. I committed much evil and often had dreams of being killed or falling into a bottomless abyss. Still I clung to my confusion and refused to awaken. When the Venerable Master Hua came to Taiwan to propagate the Dharma in October 1988, my mother wanted me to meet the Venerable Master and take refuge with him. I told her I would consider it, but did not really intend to go. Shortly thereafter, I went to my mother's home to get medicine for a stomach ache, and she mentioned the idea again. Since my stomach had stopped hurting, I ignored the matter. But then my stomach started hurting again, so I promised to go see the Venerable Master. The stomach ailment then ceased without the help of medication.

When the Venerable Master lectured at the Chung-shan Hall in Taipei in November, he said that anyone who took refuge with him had to become a Buddha before he himself did; if any disciple had not attained Buddhahood, he himself would not either. I was so moved by the Venerable Master's compassion that I took refuge with him and became a full-time vegetarian. I studied the Buddhadharma by reading the Master's instructional talks and simple explanations of sutras. After I gained an elementary understanding of the Buddhadharma, I realized that I had created much bad karma.

Soon, I noticed that I had lost weight and no longer suffered the old ailments of an irregular heartbeat, piercing chest pains, breathing difficulties, and asthma attacks during sleep. My blood cholesterol went down to normal, and my blood went from being thick black to bright crimson in color. Had I not encountered the Buddhadharma, I may not have lived too long, and who knows what realm I would have descended to. Grateful to the Master for giving me a new lease on life, I often attended Dharma sessions at Dharma Realm Buddhist Book Distribution Society and served as a volunteer when Dharma delegations came to Taiwan, enduring any hardships that arose. Looking back on my ten years of learning Buddhism, I feel that I have not been diligent and have not abided by the Venerable Master's teachings. From now on, I shall be more diligent in studying the Buddhadharma, so that I can repay the kindness of the Triple Jewel.