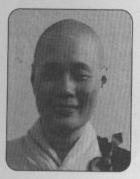 親澤師出生香港,1983年移民美國佛羅里達州,大學時主修資料系統管理,畢業後擔任電腦主管職務多年。一晚熄燈後,看見桌上玉佛通體放金光,現觀音菩薩相,但身上衣袍不是白色,而是紅紅綠綠的,從那以後她就再也吃不下肉了。
父親給她一尊觀音像,竟和那晚看到穿彩衣放金光的觀音菩薩像一模一樣!偶看〈智慧之源〉,得知背楞嚴咒可保世界和平,並可見到上人。背會後果然夢中見到了上人,即刻告訴上人願來聖城聽法的心願。上人向前一指,說這邊走。她走到盡頭,看到多楝建築物,以後到聖城才認出那些地方是總辦公室、小學、中學,當時並不知道。
90年第一次來聖城,沒見著上人。回金山寺後,上人來了電話。她問,「怎麼背會了楞嚴咒還見不到上人?」「我現在就叫人接妳來。」於是在金山寺拜見了上人,還告訴看到聖城,一如夢中所見。上人盈盈笑聽,不發一言。
隔年來聖城參加水陸空法會,住了八個月。回去後,車禍加官司,手術加失眠,拖了六年才得以再回來,飽受折磨。尤其是失眠症,手術後睡不著覺,七個禮拜下來痛苦不堪,靠吃草藥入睡,不吃就不行。
這樣過了半年多,直到參加華嚴精舍辦的「大悲咒」及「六字大明咒」法會後,在回家的飛機上竟然睡著了!從此擺脫了那草藥。
因深感人世無常,發願修出世法。97年搬入聖城,在女校服務,去年彌陀誕法會時落髮,滿了心願。
Chin Je Shi was born in Hong Kong and immigrated to Florida in 1983. Majoring in information systems administration, she worked for many years as a computer supervisor. One night, she saw the jade Buddha statuette on her table emitting golden light, rendering the image of Avalokiteshvara Bodhisattva, clothed in red and green. From that time onwards, she could not eat meat.
Her father later gave her a statuette of Avalokiteshvara identical to the one she had seen. She once read in The Source of Wisdom that reciting the Shurangama Mantra from memory maintains world peace and allows one to see the Venerable Master. After she could recite it from memory, she saw the Master in a dream and told him her wish to go to the City to listen to the Dharma. The Master pointed forward in front of him and said, "Walk this way." She walked to the end of the path and saw several buildings, which she later recognized as the Main Office, the elementary school, and the girls high school when she came to the City.
She visited the City for the first time in 1990, but did not meet the Venerable Master. When she returned to Gold Mountain Monastery, the Master called on the phone. She asked told him, "I've memorized the Shurangama Mantra, why but don't I get to see the Master?" The Master replied, "I will send someone over to pick you up now." Subsequently, she met the Master at the Monastery and told him that she had seen the City, just as it had appeared in her dream. The Master listened quietly with a smile.
The following year, she attended the Water, Land, and Air Ceremony and stayed at the City for eight months. After going home, she suffered a car accident, a lawsuit, a surgery, and then insomnia. It was six years before she returned to the City. The insomnia was especially bad after the operation, and she was in agony after seven weeks of not sleeping. She needed herbal medicine to fall asleep.
She lived that way for over half a year and then participated in Dharma Assemblies of the Great Compassion Mantra and the Six-Syllable Great Bright Mantra at the Avatamsaka Hermitage. On the flight home, she fell asleep and never had to take herbs again.
Having profoundly experienced the unpredictability of life, she vowed to study the transcendental Dharma. In 1997, she moved to the City and worked in the girls school. Last year, on Amitabha Buddha's Birthday, she fulfilled her wish of leaving home to become a nun.