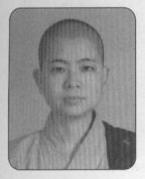 恆聲師,臺灣南投人,小時遠足到碧山巖寺,瞻仰世尊聖像時竟淚流滿面,如同見到往昔親人一般,內心喜悅無法形容。臺灣習俗農曆年初一吃齋,此後每年初一即獨自去寺裏拜佛、供養,吃完午齋才回家,徒步往返路程約三小時。家中開碾米廠,每當僧人到家化綠時,皆以新白米供養,如此結下法綠。
因研究幼教,經介紹搬入臺中圓通精舍幼稚園任教。不想一住十四年多,認識了以後的恒泉師、恆星師。這期間接觸了學生的多種家庭問題,深感娑婆之苦,發願從事教育工作,利益眾生;日常參加廟上功課,專修念佛法門,以淨土為歸依處,生活忙碌充實。每星期又去聽李炳南老居士講《華嚴經》,結識了現在的恒滋師、恒固師,以後成為同門師兄弟。
一九八八年看書得悉上人,驚喜交集。正好上人來臺主持護國息災觀音大法會,便皈依受五戒,蒙賜法名果聞。
去時同行有五十多人,原定不在外吃晚飯;不想路上遇颱風,皈依後始知當晚回不去,五十多人的晚餐只得在廟上吃。因人數眾多便派人及早通知廚房,不想廚房竟說當天早些時,上人已經關照廚房要多準備五十多人份的晚餐!
九三年依上人出家,並在臺灣正法佛學院受訓;九五年來聖城受具足戒,只見到上人入涅槃,之後在女校服務。
現正將蒙特梭利教材整理出來,準備融入教材,希望能對學生有所助益。
Bhikshuni Heng Sheng comes from Nantou County of Taiwan. When she went on a field trip to Bishanyan (Green Mountain Cliff) Monastery as a child, she saw an image of Shakyamuni Buddha image and burst into tears of joy as if meeting a long lost kin. Following the Taiwanese custom of eating vegetarian food on the Lunar New Year, she would spend every Lunar New Year's Day alone in that temple to pay homage to the Buddha and to eat a vegetarian meal. Her family ran a rice-husking mill and always offered fresh rice to Sangha members who came to their house for alms. That practice also gave her an affinity with Buddhism.
She studied Early Childhood Education and moved into Yuantong Hermitage in Taichung to teach kindergarten. There she met the nuns Heng Chuan Shi and Heng Xing Shi. She spent the next fourteen years teaching. The family problems of her students impressed upon her the suffering of the Saha world, and she resolved to benefit living beings through education. She participated in the daily temple ceremonies, focusing on the Pure Land practice of reciting the Buddha's name. Once a week she attended lectures on the Avatamsaka Sutra given by the late Upasaka Li Bing-Nan. Her life in the nunnery was full and busy. She also met there Heng Dz Shi and Heng Gu Shi, with whom she later became Dharma sisters.
In 1988, she learned with delight about the Venerable Master from a book. When the Master led a Guanyin Dharma Assembly to Protect the Nation and Quell Disasters in Taiwan, she received the three refuges, the five precepts, and the Dharma name Guo Wen (Fruit of Hearing).
Over fifty people had taken refuge at the same time and had planned to return before dinner. However a typhoon blew in, and it was impossible to return home after the refuge ceremony. The fifty-some people would have to stay for dinner in the temple. Since there were so many of them, they went to inform the kitchen. To their surprise, the kitchen staff said that the Venerable Master had already told them earlier that day to prepare dinner for an extra fifty-some people!
Heng Sheng Shi left the home-life under the Venerable Master in 1993 and trained at Proper Dharma Buddhist Academy in Taiwan. She came to the City of Ten Thousand Buddhas for ordination in 1995, only to see her Teacher enter the stillness. After the ordination, she worked in the Girls School. She is preparing to introduce Montessori teaching materials to the school and hopes it will aid students in their learning.