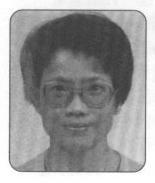 彭嫆媛居士,臺灣人;生長在四代都是信基督教的家庭。1993年到澎湖旅遊,回家後即病倒。昏昏沉沉中聽到「南無觀世音菩薩」聖號;朦朦朧朧中她也跟著念了十幾聲。突然一陣清香飄過,她的病竟然不藥而癒。令她覺得很不可思議!

三星期後彭居士到「臺北法界印經會」,那時不懂什麼是佛,但看到釋迦牟尼佛像,眼淚即直往下流,有種清淨的歸屬感。心裡就打了個妄想:如果我能擦拭這佛像多好?沒多久,就有人請她幫忙拭佛像。彭居士愣住了,怎麼心裡想的事佛菩薩都知道?有時兩、三天沒到「法界」,就夢見法師們念佛或忙碌的情景,好似提醒她要趕快回「法界」。1995年 5月3日在「法界」皈依,法名果媛,並受五戒;之後又親到萬佛城受菩薩戒。   

初誦《金剛經》至「一切有為法,如夢幻泡影,如露亦如電,應作如是觀」時,在經書前她看見上人側著臉坐在床上,背微駝,臉呈黑,剎那就消失了。這是發生在皈依那年的5月3日,她心裡充滿法喜與憂傷。喜的是終於見到了上人;憂的是上人好似很疲憊的樣子。她心裡不安地想:「上人一定病得很嚴重。我誠願代替他老人家的病痛,即使自己折壽也在所不惜。」   

上人涅槃前日曾說:「誰都有來,也有去的時候;不要悲哀,要和平時一樣,要發心用功。」所以我們要勤加精進,弘揚佛法,來完成上人未完成的心願。
Upasika Peng Rong-Yuan of Taiwan was born in a family that had been Christian for four generations. Upon returning from a trip to Penghu, she became ill. In her semi-conscious state, she heard the phrase, "Namo Guanshiyin Pusa" ("Homage to the Bodhisattva Who Observes the Sounds of the World") being chanted, and she chanted along about a dozen times. Suddenly a fragrance wafted over, and to her amazement, she recovered without the help of medical treatment.
When Upasika Peng visited Dharma Realm Buddhist Books Distribution Society (DRBBDS) in Taipei three weeks later, the sight of Shakyamuni Buddha's image caused tears to fall uncontrollably. She did not even know what a Buddha was, but she sensed a purity and felt as if she belonged there. She thought, "Wouldn't it be nice to clean the Buddha image?" A little while later, Upasika Peng was stunned when a Dharma Master asked her if she would like to wipe the Bud­dha image. How could the Buddhas and Bodhisattvas read her mind? When she occasionally failed to visit DRBBDS for a couple of days, she would dream of the Dharma Masters reciting the Buddha's name or working busily, as if someone were reminding her to quickly go to DRBBDS.
The first time she recited the Vajra Sutra, when she got to the verse that says, "All conditioned dharmas / Are like dreams, illusions, bubbles, and shadows, / Like dewdrops and lightning flashes. / One should contemplate them thus, " she saw the Venerable Master appear before the Sutra book. He was seated on a bed, his back hunched over and his face very dark. The vision faded in an instant. That was on May 3, 1995. Upasika Peng was filled with joy and sorrow, joy at finally seeing the Venerable Master, and sorrow at the fact that he seemed deeply fatigued. She thought, "The Master must be very ill. I vow to undertake his suffering for him, even if it means my own life will be shortened."
The day before the Master entered Nirvana, he said, "Everyone has a time for coming and a time for going. Don't be sad. Act the same as usual. Resolve to work hard." We ought to vigorously propagate the Buddhadharma in order to fulfill the Master's vows.