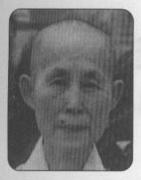 比丘尼恒本師,臺南人,生於1929年11月19日,一九八九年受具足戒,於去年底十二月二十八日星期四往生,享年72歲。遺體火化,燒出舍利子二十多粒,顏色翠綠,有的晶瑩惕透,觀者無不讚嘆。
恒本師自小隨親人上佛寺禮佛,長大後在家以禮佛誦經為日常功課。  
她和一些同修共同創立了法界佛教贈經會,開始助印上人的法語,弘揚上人的正法,使法界奠立了穩固的基礎功不可沒。一九八一年上人訪臺時,她參加聽法,信心加深,於是禮上人為師,蒙賜法名果枝。一九八六年來聖城參加萬佛寶懺有感,發心出家但不敢申請。因上人曾說,跟他出家的人都要大學畢業,沒畢業的都要念完法界佛教大學才行。她自覺學識不夠,因此猶豫不決。   
她告訴上人她的顧慮,上人說:「沒關係,我辦一所掃地大學給妳念」,並將房外庭院,歸她負責打掃,以為功課。那年就剃了頭,法號恆本--本固枝榮,以固本為要。從此她在聖城念上了「掃地大學」,越念越歡喜,並自動擴張掃地大學校園,到處栽花植草--牡丹、玫瑰、曇花,是她的最愛,準備將聖城建設為一座美麗的花園,人間的極樂世界。
恆本師兄歸西
恆念生死苦 家成身退 易求善果
本陷兒女陣 心歇戲散 別擇高枝
        萬佛城金剛菩提海月刊  敬輓
恆本師自小受日本教育,精通日語、國語  臺語(閩南語)。她生性勤勞,和藹溫順,笑咪咪十分親切。出家後為知客師,接待訪客,照顧病人,協助有困難的人,對法會中的信眾,更是隨機講法接引。因自己以禮萬佛寶懺而發心出家,因此對拜懺特別有心得。去年萬佛懺期間,即使在病中也撐著上殿,看了好讓人不忍。   
恆本師不僅接待聖城的訪客,法總派團訪臺時,在臺北也常由恆本師接待,那份熱忱讓人懷念。我們祝福恆本師,往生極樂,乘願再來。
Bhikshuni Heng Ben Shi from Tainan was born on November 19, 1929, ordained in 1989, and passed away on Thursday, December 28, 2000, at the age of 72. She left behind over twenty sparkling and translucent sharira [crematory relics], jade green in color.
As a child, Heng Ben Shi would accompany her relative to the temple to bow to the Buddhas. As an adult, she bowed to the Buddhas and recited Sutras on a daily basis.
She and others were responsible for founding Dharma Realm Buddhist Books Distribution Society in Taipei, which began to publish the Venerable Master's Dharma talks and propagate the Proper Dharma, establishing a strong foundation for the Dharma Realm Buddhist Association. Such merit will long endure. When she heard the Dharma during the Venerable Master's visit to Taiwan in 1988, her faith deepened and she bowed to the Venerable Master as her teacher, receiving the Dharma name Guo Zhi (Fruit of the Branch). She came to the City of Ten Thousand Buddhas in 1986 to attend the Jeweled Repentance Before Ten Thousand Buddhas and was inspired to leave the home-life. However, she dared not apply because the Master once said that he would only accept college graduates as left-home disciples, and anyone else had to graduate from Dharma Realm Buddhist University first. She hesitated, feeling that her education was insufficient.
When she told the Venerable Master her concern, the Master said, "It doesn't matter; I'll set up a sweeping university for you to attend." He put her in charge of cleaning and tidying the yard around his residence, she shaved her head and received the monastic name Heng Ben (Constant Root)—"When the root is sturdy, the branches flourish." She concentrated on making her roots firm. She enrolled in the "sweeping university," and the more she studied, the happier she became. She voluntarily expanded the campus of her university, everywhere planting shrubs and flowers—her favorites being peonies, roses, and night-blooming cereus. She wanted to turn the City of Ten Thousand Buddhas into a splendid flower garden and a Land of Ulti­mate Bliss on earth.
On Dharma Sister Ben's Return to the West
Constantly mindful of the pain of death and rebirth,
She raised her family and then retreated
To seek another, wholesome fruition.
She fell in the trap of parenthood.
The play ended when her mind stopped.
She then reached for a higher branch.
Respectfully written by Vajra Bodhi Sea Journal, The City of Ten Thousand Buddhas
Having been educated during the Japanese occupation, Heng Ben Shi was fluent in Japanese, Mandarin Chinese, and Taiwanese. She was a diligent worker, amiable and gracious, always with a warm smile on her face. Acting as guest prefect after leaving the home-life, she received visitors, tended to the ill, helped those in difficulty, and spoke Dharma at opportune moments for participants in Dharma sessions. Having been inspired to leave home during the Jeweled Repentance Before Ten Thousand Buddhas, Heng Ben Shi derived much benefit from the practice of repentance. Others could hardly bear to see her suffer when she dragged herself to attend last year's Jeweled Repentance despite being ill.
Heng Ben Shi not only received visitors at the City of Ten Thousand Buddhas, she received Dharma Realm Buddhist Association's delegations on their visits to Taipei. Everyone remembers her cordial hospitality. May Heng Ben Shi be reborn in the Land of Ultimate Bliss, then return by the power of her vows.