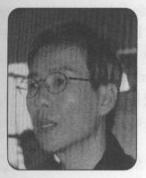 我的生命起了多麼大的轉變哪!連我自己都沒有想到,在1994年遇到上人大慈大悲的教化之後,我的生命形態產生了如此巨大的轉變!
在這之前,我和內人一直處在作戰狀態,生活簡直就是一種折磨。我的職務是國際行銷經理,由於工作的性質我必須經常到國外出差;我要不是人在國外,就是在公司加班到很晚才回家。公司要求我全力投入我的工作,而太太又要求我對她全心關注,我正像一步步走入自己的末日般無奈,這促使我轉向佛法去尋求解決之道。我很高興自己這麼做了,因為我跟內人很快就明白了所有問題的癥結所在,而我們兩個人現在都很歡喜地奉獻身心來做佛事,並依照上人的教導來修行。1995年我們來聖城拜「萬佛寶懺」,回去後,我們那種病態的生活方式很快就結束了,生命展開新的一頁。
每個人的因緣不同,也因此不同的人讀上人的事蹟會得到不同的感受及體會。我初次讀上人事蹟就印象深刻,上人那種孝順,那種行苦行弘揚佛法,救度眾生的方式令我深受感動。他那種全然利他的懿行,恐怕不是任何人可以做得到的。當時我真難相信世界上真有這麼一位具深廣智慧的人存在。
我急切地想多學習一些佛法,更急著盼望有機會能見到這麼一位有大德行的法師,我就於1995年來萬佛城參加了「萬佛寶懺」。   
遺憾的是,自己福報不夠,從頭到尾也沒見到上人一面,一眼也沒看見,我離開聖城不久上人便圓寂了。雖然從未見過上人本人,得知上人圓寂的那早晨,我跟上人其他信徒同樣感到無比悲傷。   
來聖城的一個月前我每天向上人叩頭,祈求前往聖城的一切障礙得以清除(我聽過很多人在最後一刻,因為某種原因而無法成行)。我自忖,如果有什麼因素令我不能成行,那一定是公司不准假這件事。我的工作行程十分忙碌,請兩個禮拜的假已是不太容易,更別說長時間的假了。然而令我驚訝的是,我所提出的一個月長假,公司竟然不問一句話就同意了。   
幾天後,我夢見了上人,在夢中我精力旺盛地穿梭於大街小巷,四處尋找上人,就在我幾乎要絕望的時候,突然見到結雙踟趺坐的上人出現在我面前。我大喜過望,叫道,「師父!我終於找到您了!」我向他頂禮,他對我微微一笑。不能在上人生前見到他,即使在夢中能夠見到,對我來說也是莫大的安慰,而上人似乎也明白我這份急切盼望見到他的誠心。   
1995年我皈依了上人(皈依儀式由恆實法師主持)。1997年我受了五戒,2000年受在家菩薩戒。自1995年第一趟聖城之旅,除了1996年,我決定之後的每一年一定要回聖城一次。萬佛城真正是充滿寶藏的地方,我一定要回來做精神充電,參加法會,聽取不同的法師所做的佛法開示,目睹聖城在家、出家眾嚴持威儀,精進修行,再再都令我反觀自省,引導我思考如何去修持我的精神生活。   
生活在這個充滿惡因緣的世間,我必須承認萬佛城提供了一個絕對的,具誘導力的修行環境。這個地方,如果一個人善根不足就會想快點離開;若是善根具足就會渴望留下來。   
現在我一週工作三天,我把大部份的時間用在新加坡佛經流通中心,這是上人的一群弟子及信眾於1999年成立的機構,大家聚會在一起,為了一個共同的興趣及目標——弘揚佛法。本中心的宗旨是為會員及一般大眾提供免費的法總出版品,令他們有機會接觸到正法。會員們也利用流通中心來一起讀經、誦咒、舉行法會。會員們都希望在不久的將來,「新加坡佛經流通中心」也能成為法總的一處分支機構,能夠有出家眾常住,來引領法會及活動。
上人為眾生承受了太多苦難,為了所發的大願他不休息地講經說法,將經典譯成世界各國的語言,現在該是我們這些身為弟子的人,擔負起上人這無邊廣大的願力,將他的教化傳送給世界每一個角落的眾生。   
上人經常勉勵我們要將佛法發揚光大,在此我想用上人幾句話做為結論。   
「每個人都應該努力使佛法興盛。你們的一言一行,都要為佛教著想。每個人都要肩負起弘揚佛法的責任,只要你們能令佛法興盛,我無論在什麼地方,都安心了。」
上人語錄 Venerable Master's Dharma Words
※染污心生出,就是娑婆世界。
※When a defiled thought arises, you are in the Saha world.
What a drastic change in my life! I couldn't imagine that I underwent such a tremendous transformation in my life style since encountering the teachings of the greatly wise and compassionate Venerable Master Hua in 1994.
Life before that was torture as I was always at war with my wife. I was working as a marketing director (international) which required extensive traveling. Due to the nature of my work, I was either out of the country or staying back late in the office. The company demanded full commitment and my wife demanded attention. I was heading toward doomsday. That prompted me to turn to Buddhism for solutions and I am glad I did, as we both soon began to understand the causes of all the problems. We are now happily devoted to doing the Buddha's work and putting into practice what we learned from the Master. Our problematic life style came to an end soon after we returned from the 10,000 Buddhas Jewelled Repentance in 1995 and began a new chapter of our life.
According to their individual affinities, different people read the Venerable Master's biography with different feelings and reception. When I first read about the Master, I was deeply touched and impressed by the way he went about practicing filiality and austerity, propagating the Dharma, and crossing over living beings. His altruistic conduct was beyond what any ordinary folks can imitate. I wondered whether a person with such profound wisdom really existed in this world.
Eager to learn more about Buddhism and looking forward anxiously to have the opportunity to meet such a great virtuous Dharma Master, I visited the City of Ten Thousand Buddhas (CTTB) in April 1995 to participate in the 10,000 Buddhas Jewelled Repentance Ceremony. Regrettably, due to my insufficient blessings, I never had the chance to see the Master, not even a glimpse. The Master entered Nirvana shortly after I left CTTB and though I had not met him in person, it was a very sorrowful piece of news for me as I joined the many faithful disciples in the mourning of his departure.
A month before my visit to CTTB, I bowed to the Venerable everyday seeking to eradicate any obstacles that might obstruct my visit (I had heard stories about those who for whatever reasons couldn't make it to CTTB at the last moment). I thought if there were any reason I might not make it to CTTB, it would have to do with my leave not being approved. My busy work schedule will not allow a two-week leave, not to mention anything longer. To my astonishment, my application for a month's leave was approved with no questions asked.
A few days later I had a dream of the Master. In that dream, I was energetically searching for him as I walked and turned into many different lanes. As I neared desperation, I found him sitting in lotus position. I was overjoyed as I exclaimed, "Shi Fu, at last I found you." He smiled as I bowed to him. This was the only consolation I had for not meeting the Master in person: At least I saw him in my dream and he seemed to acknowledge my sincerity and eagerness to see him.
I took the Three Refuges with the Master in 1995 (in a ceremony conducted by Dharma Master Sure), the Five Precepts in 1997, and the Lay Bodhisattva Precepts in 2000. After my initial trip to CTTB in 1995, with the exception of 1996, I make a point to go back once every year. CTTB is truly a place full of jewels and I always come back spiritually charged. The ceremonies I participated in, the lectures by the various Dharma Masters, and the deportment and vigorous cultivation of both the left home and lay people at CTTB have given me much insight into how I should lead my spiritual life. Living in a world full of evil causes and conditions, one can only concede that CTTB offers an absolute and conducive environment for cultivation. One who lacks sufficient good roots would want to leave it quickly, but one replete with good roots would yearn to stay.
I now work three days a week and spend most of my time at the Buddhist Books Distribution Centre (Singapore), a Buddhist society established in November 1999 by a group of faithful lay disciples of the Venerable Master. These people came together with a common interest and objective: to help propagate the Buddhadharma. The primary objective of the centre is to provide free distribution of the books of the Dharma Realm Buddhist Association (DRBA), giving each and every member of the general public an opportunity to encounter the Proper Dharma. Members also make use of the centre frequently to read Sutras, recite mantras and perform ceremonies. Members of the society hope that in the very near future the centre can become affiliated with DRBA and that monks or nuns could be stationed in Singapore to lead ceremonies and Dharma activities.
The Venerable Master suffered much for the sake of living beings. He worked unceasingly to fulfill his vows to translate the Sutras into various languages. It is now our duty and responsibility as faithful disciples to carry on the boundless spirit of the Master to extensively make his teachings available to all living beings in every corner of the world. "Bring glory to Buddhism," the Master used to urge. I would like to conclude with some quotations from the Venerable Master:
"Everyone of you should work hard to make Buddhism flourish."
"Every move you make and every word you say, you should be thinking on behalf of Buddhism."
"Every person has to shoulder the responsibility of propagating the Buddhadharma."
"If you can cause Buddhism to prosper and flourish, then I'll be able to set my heart at ease no matter where I am."