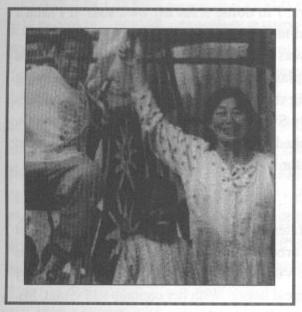 本刊「同體大悲」﹝33-36頁﹞一文中葉蕾蕾女士,為聖城女校校長比丘尼恒音師之姑母、中國抗日英雄葉佩高將軍之愛女,生於貴州貴陽,長於臺灣。國立臺灣大學外文系畢業後,於1963年入美國賓州大學主修藝術,獲碩士學位後任教於費城藝術大學,其間經常展出繪畫及雕塑作品。   
因深感藝術常為極少數有財有地位之人服務,心中若有所失,常思如何將藝術帶入更多人的生活之中,藉以打破藩籬,聯繫思想,發揮更有意義的作用,而非為少數人生活中之點綴品。   
1985年春,受邀將費城北部一處醉漢毒犯充斥,罪惡麋集的貧民窟,改造成雕塑公園;翌年獲得了賓州藝術委員會2,500美元的材料費後,開始進行將面積375平方米的廢墟改頭換面。  
 辭了教職全心投入工作的葉女士,在飽嘗諷刺之後,終於突破種族的藩籬、文化的差異、物質的匱乏,贏得區內居民的支持,將這塊都市之瘤,轉變成一座瑰麗的花園;不僅種花種菜,更有夢幻般的雕塑,及碎瓷嵌成圖案的藝術牆,鮮明亮麗,多彩多姿,使區內的居民,精神上不再頹喪,生活中有了歡笑,而且頭一次,以自己的家園為榮。   
葉女士放棄了舒適的生活,辛苦成就他人的快樂,在人人讚歎聲中,說出了心底的話,「我不是為他人服務,我為我自己的心;我如果不這樣做,我覺得我的生命像死了一樣。」   
我們相信這不是葉女士的謙虛之詞,因此在慶祝觀音菩薩出家法會上,恒古師在解釋同體大悲的意義時,提出了葉女士為例,想必心中有所感觸。讀者或也有同感,因此編者特為文簡介之。
後記:   
美國政府每年選十個非營利藝術組織,頒給「站起來(Coming Up Taller)」獎,怡樂園去年得此大獎,非為僥倖。葉女士一介女身,具此勇氣,不愧將門虎女。   
其父葉佩高將軍在1945年5月9日,於譽滿中外的滇西戰役中,率領中國國軍第198師為先鋒,在雲南越過狂奔亂瀉的怒江天險,攀上高黎貢山,反攻騰衝,突破日軍全力經營了兩年的防線,奪回日軍佔領下的國土,為中國抗日戰史,寫下了輝煌的一頁,並受到第二次世界大戰中,中國戰區參謀長兼中緬印戰區美軍總司令史迪威將軍的嘉獎,及美國政府授勛。有父若此,葉女士的成就亦不足奇矣!
Ms. Lily Yeh, mentioned in the article "Being One with All Is Called Great Compassion" (pages 33-36), is the aunt of Bhikshuni Heng Yin, principal of the girls school at the City of Ten Thousand Buddhas. She is also the beloved daughter of General Yeh Pei-Kao, a hero in the Sino-Japanese War. Born in Guiyang, Gueizhou, she grew up in Taiwan. After graduating from the English Language and Literature Department of National Taiwan University, she came to the United States in 1963 to attend the University of Pennsylvania's School of Fine Arts. Upon receiving her Master's degree there, she began teaching at Philadelphia's University of the Arts. During that period her paintings and sculptures were regularly exhibited.
Lamenting the fact that art served a tiny population of wealthy and powerful, Lily Yeh often thought about how she could bring art into more people's lives, where it could break through barriers, stimulate ideas, and have a more meaningful function, instead of being a mere embellishment in the lives of a small group of the elite.
In the spring of 1985, she was invited to convert an empty lot in a crime-ridden, impoverished neighborhood in North Philadelphia, where drunks and drug dealers lived, into a sculpture garden. Receiving a $2,500 grant for materials from the Pennsylvania Arts Council the following year, she proceeded to give the 375 square foot lot a new face.

Ms. Yeh resigned from her teaching post in order to devote herself completely to the project. After being ridiculed, she finally succeeded in overcoming racial barriers, cultural differences, and the lack of resources, to win the support of the neighborhood residents.
They helped her transform that blighted area of the city into a gorgeous garden which not only had flowers and vegetables, but fantastic sculptures and resplendent, brightly colored mosaic murals made of broken tiles. The beautiful artwork lifted the residents out of their depression and brought gaiety and laughter into their lives. For the first time, they were proud of their neighborhood.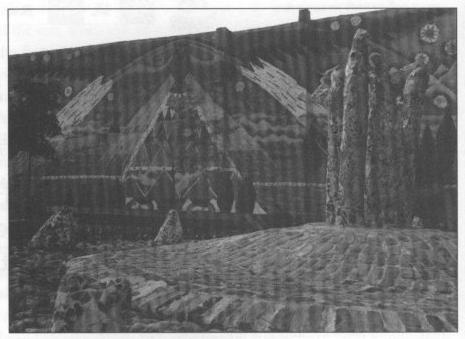 Ms. Yeh had renounced her own comfort to toil for the happiness of others. Hearing others praise her, she spoke from her heart, "I'm not doing this for others. I'm doing it for my own soul. If I hadn't done what I did, I would have died inside."
We believe that she was not merely being modest when she said that. That's why, in explaining the idea of oneness with all being great compassion during the celebration of Guanyin Bodhisattva's Leaving Home, Heng Gu Shi used Lily Yeh as an example. Heng Gu Shi must have been touched. Thinking that perhaps our readers would also be touched, the editor has introduced Ms. Yeh.
Afterword:
Each year, the United States government gives the Coming Up Taller Award to ten non-profit arts and humanities programs. Last year, it is no coincidence that The Village of Arts and Humanities, founded by Lily Yeh, received this great honor. With her courage and vision, Ms. Yeh is a worthy daughter of a general.
On May 9, 1945, her father, General Yeh Pei-Kao, led the 198th Division of the Chinese Nationalist Army in the front line of an internationally known battle in western Yunnan. Crossing the wild Nu River at Yunnan, they ascended Mount Gaoligong, penetrated the defense lines that Japanese troops had built up for two years, and attacked Tengchong, recapturing Chinese territory that had been occupied by Japanese troops. That was a glorious page in the history of the Sino-Japanese War.
In the Second World War, General Stilwell, chief advisor in the Chinese war zone and commander-in-chief of the American armed forces in the China-Burma-India war zone, conferred an award upon General Yeh, and the United States government also bestowed a decoration upon him. With such a father, it is not at all surprising what Lily Yeh has accomplished!