從小在聖城長 大,對我來說,聖城就是我的整個世界。記得有一次我試著跟一位大學同學描述我的成長背景,我一口氣講了差不多半小時,他的反應是,「我不懂妳講什麼;我根本想像不出那種生活環境。」我當場被潑了一桶冷水。原來自小身在其中,對我影響至鉅的珍貴的成長經驗,對大部份人來說是陌生而遙不可及的。
我最早的童年記憶就是跟父母去聽佛經。每天傍晚我們全家去到廟上,當大人們唱誦、聽上人開示佛法時,我就和其他的孩子玩耍。上人在亞洲是一位受敬重的高僧,但在我眼中他並沒有那種高不可攀的樣子;他像個慈祥的老和尚,人人都叫他師父,中文的字面意思就是「老師爸爸」。
我的父母以前經常駕車接送上人去講堂,我也因此在年記很小時就常跟上人在一起。我總覺得他就是我的祖父,本來就是我的家人;他平易近人,但也有嚴肅的一面。在他長袍袖子裡總藏著一些糖果分給小孩子吃。有一次,我跟一個同伴一路追著上人上到三樓他的寮房,想再多要一些糖果,結果被上人罵了一頓,說我們太貪心了。當時感到好慚愧,永遠都不會忘記那次的教訓,不過我從來就沒有怕他的感覺。他的慈悲沒法比,什麼困難你都可以跟他談,他非常非常有智慧。我想我已經認定他隨時都在身邊,不會離開的。不知道別的孩子對他們祖父的感覺,是否和我對上人的感覺一樣,那種完全澈底的信賴,任何事都可以跟他講。從小學到大學,如果我有困擾或必須認真做抉擇的時候,我都會先去找上人談。

我很小時,上人就常勉勵我,讓我覺得身為一個兒童,身為人類,是很重要的,都可以有所貢獻。任何能夠幫助我們發揮潛能的事,上人都鼓勵我們去做;無論男女、老幼、在家、出家都應該這麼去做,人人平等。
我讀小學時,上人早上開了一門對聯課。對聯是一種中國傳統詩的型式;一個人先寫出一行詩,然後另一個人再對上一行詩。如果小朋友是用英文寫的,就會有人先翻成中文,然後大家再上臺在黑板上對對聯。上人對每一個人都非常重視,不論你是五歲的幼童或四十歲的首座和尚都一樣,偶而他會叫所有的小朋友聽開示的時候,坐到比丘、比丘尼的前面去。這種情形,在階級分明的傳統寺廟中是不可能見到的。
聖城中的行事一向非常傳統,嚴格而保守,比丘及比丘尼都要遵守嚴格的寺規,吃一餐、不倒單,還要隨眾上殿課誦。上人很有彈性,作風創新,而且很幽默。一般的寺廟都是由方丈講開示,大家參加聽法;而上人卻是由弟子先講,最後才輪到他講,有時甚至不講。有時候上人以抽籤的方式,好像玩遊戲一樣,一個比丘尼講完換比丘講;然後該一位女居士講,講完換一位男居士講:這是一種好的示範。通常傳統佛教的觀念「男尊女卑」,在這兒則一切都非常民主而平等。最後上人會抽一個人上臺復講,或者對剛才所說得內容做一個評析。然後說不定上人會講一點開示,他所講的都是非常平實的道理,一點也不神祕,不賣弄學問令人聽不懂。他總是不斷強調佛法是要行的,要把人先做好,凡事不可盲從迷信,要不斷地質疑,思維其中的道理。這種學法的精神,在我幼小的心靈中,烙下了深刻的印象。
上人這種有別於傳統中國佛教的創新講法方式,也擴展到學校教育上。小朋友們經常被請上佛殿講一些道理。剛開始把我們嚇得半死,但他不斷慈悲地鼓勵我們。一旦我們照做幾次之後,便能表現得很自然了。小學時期另一件令人興奮的事,就是表演佛教音樂劇了。老師會擷取佛經中故事編成劇本,然後有一位比丘尼會編插曲,這是一種很棒的學佛方式。其中的一齣音樂劇——「三車祖師」,還灌成唱片了呢!全班同學得一起進錄音室錄音。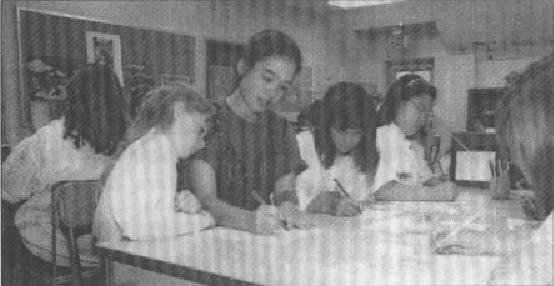 *作者畢業離城後,暑假返聖城輔導學妹們。
*After graduating, the author returned to CTTB during the summers to teach her younger classmates.
雖然我們學校的活動和貴族私立小學不同,老師也大部份是義務性的,但是我們都能得到最好的教導。我最喜歡上趙法朗老師的美術課(「優雅千年雜誌」第一期封面設計者),她教我們雕塑、素描、彩繪,還記得有一次我們用壓克力彩繪一幅佛陀坐在北加州紅木下的畫。我們不僅僅從書本上學習佛法,我們有各式各樣的活動;我們有許多和出家人相處的機會,也參與寺廟上的活動。
我很小時,聖城內曾舉辦過一次「世界宗教研討會」,有來自各個不同宗教的代表參加。有一群基督教派的信徒就在山門口聚眾示威抗議,我嚇壞了,因為我不明白聖城做了什麼會使人抗議的事。上人一聲不響,獨自駕著他的小高爾夫球車去跟他們用英語交談,他很少說英語的。他告訴抗議的人說,站在大太陽底下示威太熱了,請他們進到裡面有樹蔭的地方來進行抗議活動。那些正在示威的人,對上人的這個舉動感到很訝異;不願意進來的人就走了,受感動的人就進來了,還去參加研習會,跟大家一塊兒吃午餐。
待續

The City of Ten Thousand Buddhas was my whole world when I was growing up. I remember trying to tell one of my classmates in college about it. I went on for about half an hour, and then he said, "I have no idea what you are talking about. I can't even imagine that kind of community." My heart sank. I realized that what had been such a central, dominant and treasured experience in my life was marginal, strange, and inaccessible to most people.
My earliest memories are of attending Sutra lectures with my parents. (Sutras are Buddhist scriptures). Every evening we would go to the temple, and I would play with the other kids while the adults chanted and then listened to our teacher, Master Hsuan Hua, give Dharma talks (lectures on Buddhist teachings). Master Hua was a respected, high monk in Asia but nothing about him made that obvious to me. From my point of view he was a kindly older monk whom everyone called Shr Fu, a Chinese term meaning literally "teacher-father."
My parents used to drive Master Hua back and forth from where he lived to the lecture hall, so I got to spend quite a bit of time with him at a very young age. I always thought of him as a grandfather, a member of the family. He was very accessible but could also be stern. He would always carry candy in the long sleeves of his robes to give to the children. I remember once my friends and I followed him all the way up to his room in hopes of getting more candy, and he scolded us for being too greedy. I felt deeply ashamed and will never forget his teaching. However, I never had the sense of being scared of him. He was someone who was incredibly compassionate and to whom you could always talk and who was very, very wise. I think I took his presence for granted because for all of my life he had always been there. I don't know if all children feel that way about their grandfathers, this complete trust and confidence, feeling like there was someone there you could always talk to about things. In elementary school and even up through college, if there was something that I was really seriously thinking about or was troubling me, I would go and talk with him about it.

Master Hua encouraged me, and I got the impression very early on that we were important as children, and as human beings, that we could make a contribution. We were encouraged to do whatever we could to fulfill our potentials—men and women, lay people, monks, old and young, everyone should do this. This was just standard.
When I was in elementary school, Master Hua started teaching a matching couplets course in the morning. This is a form of traditional Chinese poetry where one person writes a line, and someone else has to match it. If the children wrote their matches in English, someone would translate them into Chinese, and then we'd go up and write our line on the blackboard. He took everyone seriously—the five-year old as well as the forty-year-old head monk. Every once in awhile he would let the kids sit in front of all the monks and nuns in the lecture hall. This is not what you do in a traditional temple where there is a hierarchy.
How things are done at the City of Ten Thousand Buddhas is very traditional, strict, and conservative in many ways. The monks and nuns follow strict monastic rules: they eat one meal a day, sleep sitting up, and follow a rigorous schedule. Yet, Shr Fu was very flexible, innovative, and had a humorous spirit about him. In monasteries, usually the abbot gives all the lectures and everyone comes to hear him, but Shr Fu had a system where he would speak last or sometimes not at all. Sometimes he would draw straws. It was like a game. One nun would speak, then one monk would speak, then one laywoman and one layman. This was a very good model. In traditional Buddhism men are higher in the hierarchy. Here everything was very democratic and equal. At the end someone would be chosen to go up to give a review or critique, and then perhaps Shr Fu would talk. His comments were very down to earth—not esoteric, scholarly, or obscure. He always focused on how to put the Dharma into practice and how to be a good person. There was this constant spirit of inquiry, not accepting things on faith but constantly questioning and thinking for yourself. That made a very strong impression on me when I was little.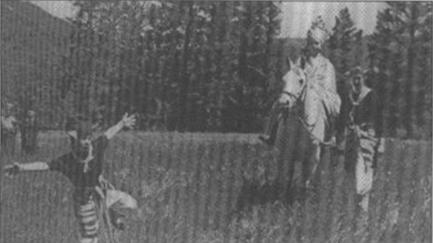 * 作者就讀聖城女校時,飾演馬上之唐三藏法師—玄奘大師。
*The author, while studying at the Girls School at CTTB, played the role of Tripitaka Dharma Master Hsuan Tsang of the Tang Dynasty (on horseback).
The creative and innovative spirit that infused the traditional Chinese practice of giving Sutra lectures was extended to our education as well. As kids, we were also encouraged to give lectures in the Buddha Hall. Even if we were scared to do it at first, we were kindly encouraged, and once we did it a few times it became more natural. Another highlight of my elementary school days was putting on Buddhist musicals. Our teachers would adapt stories from the Sutras into plays and one of the nuns would write songs to go with them. It was great to learn about Buddhism in this way. We even made one of our plays—the Three-Cart Patriarch—into a record. The whole class got to go to a recording studio to record it.

Although we didn't have all the activities that a ritzy private school might have and most of our teachers were volunteers, we had excellent instruction. One of my favorite classes was art with Flory Chow (cover artist, Grace Millennium, Issue 1) who taught us sculpture, drawing, and painting. I remember doing an acrylic painting of a northern Californian Buddha sitting under a redwood tree. Our learning about Buddhism wasn't just book learning. We did a lot of different creative activities, and we had many opportunities to interact with the monks and nuns and participate in the activities of the monasteries.

Once when I was young, there was a world religions conference at the City of Ten Thousand Buddhas with representatives from different religions. Some fundamentalist Christians set up camp on Talmage Road with huge protest signs. It scared me that they were protesting, because I didn't realize that anyone would find our community objectionable. Without telling anybody, Shr Fu rode out in his little golf cart and talked to them in English—something he did not usually do. He said it was really hot out here standing in the sun and invited them to protest under the trees near the monastery. I guess this really shocked the people who were protesting. Some of them didn't want to come in and they left, but others were moved and ended up coming in, going to the conference and having lunch.
To be continued