編按:2000年5月7日法界佛教總會在西沙加緬度法界聖城舉辦第二屆佛教青年研習會,慶祝懷少節,由比丘尼恆貴師、恆是師主持,與會青年逾50人,以下是一些與會人士的回應。
陳曼霏居士(美國洛杉磯):
參加法界聖城所舉辦的第二屆佛教青年研習會,對我是一次寶貴的經歷。雖然在兩天的節目過程中,有些是我無緣參與的,但接觸到的出席研習會的青年人,都充滿了幹勁,有才氣,能言善道,中英語流利,讓我覺得有這些優秀的青年人擔綱在西方國家弘揚佛法,傳統佛教還怕在美國沒有滋長的希望嗎?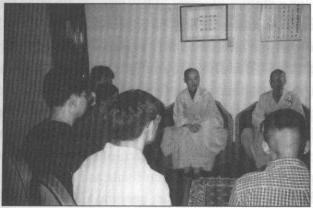 宣公上人倡議成立這個佛教青年會,在三十年前對青年人的開示中提到:「現在佛教裏應該成立一個佛教青年會。佛教青年會令這些青年人都由不正當的路,走上正當的路上。走到什麼正當的路呢?走到孝順父母這個正當的路上。」
上人對青年人的教育是以孝為重;「孝道。,是中國文化的特徵,把中國文化的倫理道德觀念:孝、悌、忠、信、禮、義、廉、恥,帶到美國,對年輕人的健康發展,修身正氣,處世立業,培養素質,建立正確的人生觀等,都會有很大的幫助。尤其是「盡孝」。一個人要是不孝順父母,又怎能感恩三寶?沒有對父母盡孝的善心,又何來善念以解救眾生?佛在經典裡提到,如果一個人不能感恩父母,就不能契入或者體驗佛法的真諦。學佛的人先要從「孝」字學起,這是基礎,根本的根本。如果「孝」字都未學好,如何能教人家信佛呢?自身都沒修好,怎麼能期望成佛?
這次的法界佛教育年研習會,舉行了多場研討會,青年們都有機會發揮他們對於佛教的想法和看法。大部份的意見都很有建設性,還需要身體力行才見效果。佛法注重「理論」與「實踐」並肩而行,只有理論沒有實踐,猶如空泛的音樂,毫無價值。我以為,在每一節的討論會中,若能加進一些上人的開示和法語來配合所討論的主題,這樣既可復習上人的智慧,又可牢記上人的教導,對研習中的青年人會更有助益。
法界佛教青年會雖然成立才短短兩年,就吸收到這些正在大學讀書的青年人參與,實在是很好的開端。希望下次能夠收納到更多不同種族、性別、年齡和不同宗教信仰的人前來參加。因為佛教是一個平等、自由和智慧的宗教,其最大的特色是,即使完全沒有修行的人或沒有信仰的人,一旦認識了佛法之後,就可以開發智慧,使思想更博大精深,有更高超的視野和不凡的胸襟,所以每個人都應該去修學,人人都可以學佛,人人也都可以成佛。
我由衷希望育年們能夠真正發揚佛教,像上人所期盼的「令佛教發揚光大。」
待續
Editor's Note: On May 7, 2000, the Dharma Realm Buddhist Association organized the second annual Buddhist Youth Conference at the City of the Dharma Realm in West Sacramento to celebrate Cherishing Youth Day. Bhikshunis Heng Gwei Shr and Heng Shr Shr hosted the event, which was attended by more than fifty young people. Below are some reflections from participants.
Faye Chen (Los Angeles, USA):
The experience of participating in the Second Annual Buddhist Youth Conference organized by the City of the Dharma Realm was a valuable one for me. Although I didn't have an opportunity to participate in every activity during those two days, I found the youth in attendance to be full of enthusiasm, talent, eloquence, and fluency in both English and Chinese. With these outstanding young people at the helms of propagating the Buddhadharma in nations of the West, I feel there is nothing to fear as far as our hope for the growth of traditional Buddhism.
The Venerable Master Hsuan Hua had proposed that we form a Bud­dhist Youth Association. In his instructions to young people thirty years ago, he mentioned, "A Buddhist Youth Association should be established within Buddhism. The Buddhist Youth Association will ensure that young people walk down the proper path rather than the improper path. What is the proper path? The path of being filial to one's parents."
The Venerable Master emphasized filial respect in children's education. Filial respect is characteristic of Chinese culture. To bring the Confucian ethical concepts, such as filial respect, fraternal respect, loyalty, trustworthiness, propriety, righteousness, incorruptibility, and a sense of shame, to the United States will help the youth. Youngsters will develop in a healthy manner, cultivate the right type of energy, know how to interact with the world and establish their careers, nurture a wholesome quality, have a proper outlook on life, and so on.
Filial respect is particularly important. If one is not filial to one's parents, how can one appreciate the Triple Jewel? Without the kindheartedness needed to be filial to one's parents, how can one save living beings based on kind intentions? The Buddha stated in a Sutra, "If one does not show gratitude to one's parents, one will not penetrate or expe­rience the truth of the Buddhadharma." Those learning about Buddhism must begin with filiality as their foundation and root. If they have not even learned filial respect well, how can they teach others to believe in Buddhism? How can they hope to become Buddhas if they have not cultivated well themselves?
This Dharma Realm Buddhist Youth Conference organized numerous discussions, providing opportunities for young people to express their thoughts and views on Buddhism. Most of their opinions were very constructive; but these words will only be effective if they are followed up with action. The Buddhadharma focuses on both theory and practice. Theory without application is hollow and utterly valueless. I believe that if we can complement each discussion session with the Venerable Master's instructions on that subject, not only will we be able to review the Vener­able Master words of wisdom and remember his guidance well, but these young people who are learning will benefit.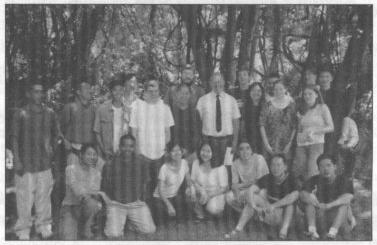 Although the Dharma Realm Buddhist Youth (DRBY) association has only been established for a couple of years, it has already attracted the participation of these college students. This is an excellent beginning. I hope that next time we will see more diversity in the ethnicity, gender, age, and faith of the attendees. Buddhism is a religion of egalitarianism, liberation and wisdom. Its most outstanding feature is that those who do not cultivate or have no faith will discover their inherent wisdom once they encounter the Buddhadharma. Their thinking will expand and deepen, their horizons will be especially lofty, and their open-mindedness will be extraordinary. Therefore, each person should cultivate and learn to emu­late the Buddha. In other words, everyone can become a Buddha.
I sincerely hope that young people will be able to truly propagate Buddhism so that it flourishes and shines as the Venerable Master had wanted.
To be continued