中國哈爾濱之信眾寄來上人當初出家之三緣寺簡介及照片,並有「四眾弟子偈頌」一首,以示對上人之緬懷。本月適值上人涅槃五週年紀念,特此刊出,以茲紀念。
三緣寺簡介
始建於1933年前後,距今已有70多年歷史,1946年解放後該寺遭到嚴重破壞,至今未能恢復。
三緣寺在1933年前後,由當時的黑龍江省雙城縣系鄉紳們和眾佛教徒出資興建,道場區四層大殿,佔地面積約一萬七千平方米,出家僧人共有三十六單,是當時雙城縣內比較大的寺院。
現該寺址位於哈爾濱市南郊平房區平新鄉村外。
四眾弟子偈頌
悲乎!悲乎!千年菩提誰來繼
惜哉!惜哉!百年寶剎變荒田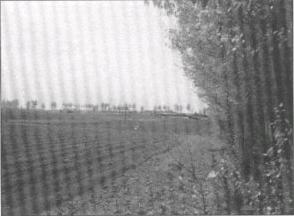 三緣寺舊址,現為空地
The original site of Sanyuan Monastery, now an empty lot.
Buddhists in Harbin, China, sent a brief introduction and photos of Sanyuan (Three Conditions) Monastery, where the Venerable Master had left the home-life. They also sent a "Verse by the Fourfold Assembly" in memory of the Master. We have published these for the occasion of the Fifth Anniversary of the Venerable Master's Passing into Stillness.
A Brief Introduction to Sanyuan Monastery
Originally built around 1933, the monastery has a history of over 70 years. After 1946, the monastery suffered heavy damage and has not been restored to date.
The construction of Sanyuan Monastery around 1933 was financed by the local philanthropists and Buddhists of Shuangcheng County, Heilongjiang Province. The monastic complex consisted of four large halls. Covering 17,000 square meters and housing 36 monks, it was one of Shuangcheng county's larger monasteries.
The monastery's original site is now in Pingfang District south of Harbin, outside of the village of Pingxin.
A Verse by the Fourfold Assembly:
How sad! How sad! Who will inherit the thousand-year legacy of enlightenment? What a pity!
What a pity! All that's left of the hundred-year temple is a barren field!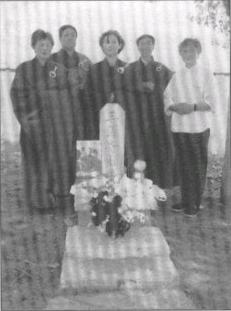 當地信眾設立石碑,上刻「三緣寺舊址」,供有上人照片及花果
Flowers and fruit are offered before the Venerable Master's photograph, placed in front of a stone tablet whose inscription reads, "The original site of Sanyuan Monastery."