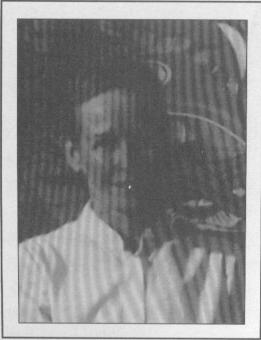 我出生於密蘇里州獨立市,可總是搬遷不斷,從未定居一處。在很早前我就注意到「無常、苦、病、老、死」的法則,貫穿在生活的各個層面中。在1970年代初的一天,我體悟到世的一切都是彼此相互依存的,從此我的生活方式改變了,成為素食者,辭了原來的業務主管工作,改教陶瓷藝術了。

我也研究過許多種藝術--陶器、攝影、版畫、詩等等,後來我住進一座禪坐中心,並在1990年受了五戒。不久我得知恆實法師是我從未見過面的表兄,碰面後得到他諸多教導。在我師父往生之後,恆實師介紹我到萬佛聖城。1998年1月,我和患有老人症的建築師丈夫懷特先生一同搬進了聖城。

去年四月懷特先生搬入了一所療養院居住;我則加入了聖城的沙彌尼先修班,準備出家。能在這兒修行我真是高興;我現在每日日中一食、工作、修行,盡力為道場,為西方佛教奉獻。我雖然沒有親自見過宣公上人,可我覺得冥冥中是上人把我帶到這裡來的。我從上人的弟子身上認識了上人。

我也為沙彌教課、錄影,還做飯,上梵文課、《梵網經》課,從事《華嚴經》的翻譯工作;能從事有關這部經的工作真是種福報!我覺得自己現在好像一個揹個經袋的皮包骨老太婆。
I was born in Independence, Missouri, but have always moved around a lot. Early on, I noticed that the doctrine of impermanence was woven into the fabric of my life, along with illness, suffering, old age, and death. One day in the early '70's, I suddenly realized the interconnectedness of all things and immediately changed my life, becoming vegetarian and changing professions from Account Executive to Potter.

I studied Taoism, ceramics, photography, printmaking, poetry and other arts, and eventually made my way to a Zen Center where I took refuge and received the Three Pure Precepts and The Ten Precepts in 1990. Soon after, I learned that Dharma Master Heng Sure, whom I had neither met nor known about previously, was my cousin and, eventually, we met. After my teacher passed away, Dharma Master Heng Sure introduced me to the City of Ten Thousand Buddhas, where I moved in January, 1998 with my husband, Walter White, an architect, who suffers from Alzheimer's disease.

Last April, Mr. White was moved to a care facility and I joined the program to prepare to become a novice. I really appreciate the practices here. I eat one meal a day, work and practice. This is my life now. Whatever I can do for this Way-place and for the Buddhadharma in the West–this is what I want to do. Even though I never met Master Hua in person, I feel that he has brought me here, and that I know him through his disciples in the community.

Presently, I am teaching in the Shami [novice] program; videotaping; working in the kitchen; attending classes in Sanskrit, and on the Brahma Net Sutra; and working on the Avatamsaka Sutra. it's such a blessing–working on this Sutra. Already, I feel like "Old Lady Bag-of-Bones with the Big Stack of Sutras!"