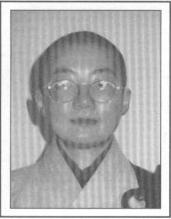 「親道:恭喜啊!……」錄音機裡傳來母親的聲音。這是最小姐姐在聞知親道師出家後,特地從臺灣來看她時帶來的母親的祝福。錄音帶中除了賀詞之外,母親還鼓勵她要好好修行,嚴持戒律。親道師,臺灣人,在家中十個孩子中是老么;12歲喪父之後,家中氣氛陡變,親友關係也起了微妙的變化,讓她小小心靈中嚐到了人情冷暖,也意識到人生的無常與無奈。母親悲傷之餘便常到各寺廟走動,帶回一些佛書和錄音帶,包括《觀世音菩薩普門品》,親道師在旁也得以聽聞佛理。有時覺得母親可能有不懂的地方,更是自告奮勇,為其講經說法,闡釋機要。如此同霑法理之後,親道師對人世的許多困惑也因而得以解除,且播下日後皈依佛門的種籽。
1993年上人返臺時皈依、受五戒;同年隨母親到長堤聖寺,母親勸她留下,但她難捨母親,沒想回臺後不久母親就與二姐出家了。「失母」後的親道師不禁悵然若有所失,但也若有所得--得知「緣份有盡;緣盡則散」的道理,因此96年放下萬緣,來萬佛聖城長住修行,並於98年剃度。
親道師畢業於臺灣輔仁大學德文系,來聖城後曾在君康真素齋當義工,並在女校當義務教師。現在聖城負責法界佛教總會佛經翻譯委員會歐洲語德文組翻譯工作,準備將上人的開示錄及經典淺釋譯成德文。
出家後的親道師除了上課學習佛學、戒律之外,餘時隨眾出坡。親道師學習精神充沛,待人謙恭有禮,堪為法門模範。
"Congratulations, Qin Dao!" her mother's voice came from the tape recorder. Qin Dao Shi's youngest sister, visiting her after she had entered the monastic life, brought her this tape from her mother in Taiwan. In addition to congratulating Qin Dao Shi, her mother urged her to cultivate well and uphold the precepts. Qin Dao Shi, who is from Taiwan, is the youngest of ten children. After her father passed away when she was twelve, the family was never the same again. The mysterious change in the attitudes of her relatives and friends made her realize how fickle relationships are. She was overwhelmed by a sense of impermanence and helplessness. At that time her mother frequented various temples, bringing home Buddhist books and tapes, including "Guanshiyin Bodhisattva's Universal Door Chapter." Qin Dao Shi listened to the Buddhist principles along with her mother. When her mother had difficulty understanding, Qin Dao Shi would explain the Sutras to her, revealing the essence of Dharma. In this way, the Dharma helped Qin Dao Shi resolve many of her doubts about life, and also planted the seed for her to eventually leave the home-life.
When the Venerable Master went to Taiwan in 1993, Qin Dao Shi took refuge and received the five precepts. That same year she accompanied her mother to Long Beach. Her mother urged her to stay, but she could not bear to leave her mother.
Soon after returning to Taiwan, her mother joined the Sangha. Although Qin Dao Shi in a sense "lost" her mother, she also gained the understanding that all worldly relationships come to an end. Thus, renouncing everything, she came to the City of Ten Thousand Buddhas in 1996 to cultivate, and joined the Sangha in 1998.
A graduate of the German Department at Fu Ren University in Taiwan, after coming to the City of Ten Thousand Buddhas she worked as a volunteer in Jyun Kang Vegetarian Restaurant and as a volunteer teacher in the Girls School. At present she is in charge of the German Translation Group under the European Languages Section of the Buddhist Text Translation Society (DRBA). She plans to translate the Venerable Master's Dharma talks and Sutra lectures into German.
Since leaving home, she has been attending classes on Buddhism and moral precepts and doing monastic chores. Humble and courteous, with an enthusiastic spirit for learning, Qin Dao Shi is an exemplary Buddhist.