萬佛聖城培德中學女校住宿生於十月二日在美國加州瑜伽市舉行義賣活動,爲臺灣震災救濟工作盡一分心力。
義賣活動自上午八時進行至中午。女校住宿生捐出她們的衣服、鞋子、玩具、音響等投入義賣,竭盡所能爲臺灣九二一大地震受難者及家屬籌款。這場地震造成兩千餘人死亡,傷者上萬,十萬人無家可歸。培德中學女校住宿生中有十六人來自臺灣,幸運的是,她們的親人都平安度過這場七點六級的地震及強烈餘震,但有一位同學的乾媽不幸在地震中喪生。
在得知這項義賣活動的目的之後,許多顧客紛紛捐款或比較認真地選購。義賣所得總計美金四百七十七元九角二分,將儘快送回臺灣幫助災民。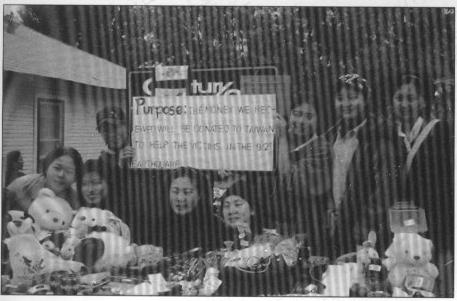 培德中學女校住宿生舉行義賣活動,幫助台灣九二一大地震災民
Developing Virtue Secondary School girls' dormitory students
held a yard sale to benefit earthquake victims in Taiwan.
On Saturday, Oct. 2, the dorm students of Developing Virtue Girls' Secondary School at the City of Ten Thousand Buddhas held a yard sale on State Street in Ukiah, to raise funds for Taiwan's earthquake relief effort.
The sale started around 8:00 am and ended at 12:00 noon. The girls sold just about everything they had donated—from clothes to shoes, toys, and stereos. The purpose of this yard sale was to raise as much money as they could and send the money to Taiwan for the victims and their families of this devastating earthquake on September 21, 1999, which killed more than 2,200 people, injured about 10,000 and left 100,000 people homeless. Sixteen of the dorm girls are from Taiwan. Luckily, their families all survived this 7.6 magnitude earthquake and its strong aftershocks. One girl's godmother was killed.
After hearing the purpose of this sale, customers started to donate or browse around with more interest. The yard sale collected $477.92. This amount will be sent back to Taiwan as soon as possible.