今年七歲的邱俊傑小弟弟在年僅四歲時,有一天問媽媽:「爲什麼你們都不吃肉,就只煮給我一個人吃呢?我也要像爸爸媽媽一樣吃素。」父母看他小小年紀卻意志堅定,也就讓他持素,並誠心請求觀世音菩薩加被他們孩子的健康。小俊傑開始持素時也遭遇了一些小障礙。有些人說:「你不吃肉就無法長肉,身體消瘦不健康。」但是在佛恩的感召下,持素短短兩個星期後小俊傑不但不消瘦反而臉色更紅潤,身體更結實健壯,見到他的人都忍不住地想在他那胖嘟嘟的小臉蛋上捏一把,更問邱媽媽到底給他吃了些什麼?邱媽媽的答案竟是簡單的「瓜果蔬菜」。
小俊傑出生於一九九二年一個佛化家庭,是家中的獨子。父母皆受英文教育不諳華文,家中主要語言是英語;和外婆則講廣東話。童眞未泯,近視眼鏡下的雙眼閃爍著智慧的光芒,在雙親細心的管教下爲人溫文有禮,友善好助。
四歲開始就跟著媽媽每星期到佛寺四次。邱媽媽常在家中或車上播放〈大悲咒〉,沒想到年僅四歲的小俊傑在三個星期內已會背誦了。在能背誦〈大悲咒〉後兩個星期,邱媽媽就播放《心經》,不會華語的小俊傑竟然也在兩個星期內已琅琅上口,而且還認得經文中的華文字呢!
在六歲多時,小俊傑每天都跟著父母做早晚課,邱媽媽也是從那時開始常常播放〈楞嚴咒〉。不久之後小俊傑對父母親說:「我會背〈楞嚴咒〉了。」這回邱爸爸和邱媽媽著實吃了一驚。一共長達五五四句的咒中之王,許多成年人看著咒文跟著讀誦都感吃力,何況是背誦呢?小俊傑當時就背給父母親聽。起初媽媽還偶而從旁提點一下,現今他已經背得通暢無阻了。看著大人吃驚的眼光,小俊傑還真不明白到底是怎麼一回事呢!
從小愛看書的小俊傑,在持素前已看完了《地藏菩薩本願經》漫畫版。現今小俊傑所看過的佛經計有英文版《上人事跡》—、二册及《上人開示》等。在一九九八年下半年,小俊傑在父母的帶領下參加了馬來西亞紫雲洞觀音聖寺的佛學班。友善的小俊傑很快地就和佛學班裏的小同學們打成一片。之前鮮少與人以華語交談的他,也很快地的學會了講華語。
現今小俊傑每晚臨睡前一定誦一遍《心經》、《大悲咒》及《楞嚴咒》,禮拜宣公上人後才上床睡覺。正所謂:
聰明乃是陰騭種,
陰騭引入聰明路;
莫道學佛容易事,
皆因累世種菩提。
全文完
Three years ago at the tender age of four, Khoo Jun Kit asked his mother. "Mommy, why is it that Papa and you do not eat meat? Why do I alone eat meat? I also want to be a vegetarian like you."
Jun Kit's parents, upon hearing their son's request, eventually allowed him to become a vegetarian. Meanwhile, they requested the Compassionate Guanyin Bodhisattva to look after their son's health.
After having been a vegetarian for a while, he had to endure remarks from friends such as, "If you do not eat meat, you will have no muscles. You will not be healthy, and you will be skinny." Nonetheless, after only about two weeks, he proved his critics wrong. Not only did he grow into a healthy, chubby boy, he also had a ruddy complex­ion. Everybody who saw him wanted to gently pinch his chubby, rosy cheeks. People would ask his mother what she fed her son. His mother's reply was: "Fruits, vegeta­bles, simple vegetarian food."
Jun Kit was born in 1992, into a Buddhist family. He is an only child. Both parents were English-educated and as such, they speak English with their son. The grandmother communicates with him in Cantonese.
At the age of four, he tagged along when his parents went to the temple to recite prayers four times a week. At that time his mother wanted to learn to recite Guanyin's Great Compassion Mantra and she would play the tape of the Mantra at home and in the car. Little did the mother know that while she was learning to recite the Mantra, Jun Kit himself learned to recite the Mantra fluently after hearing the tape intermittently for about three weeks. In the following two weeks, she played a tape of the Heart Sutra. Although he knew not a single word of Mandarin, Jun Kit was able to recite the Sutra with ease after two weeks and learned to recognize simple Chinese characters.
When he was about six years old, he used to sit beside his parents during morning recitation everyday. His mother had by then realized the significance of the Shurangama Mantra and would play the tape of the Mantra. After a short period of time, he remarked to his mother one day, "I know how to recite the Shurangama Mantra." His parents were astounded. That Mantra, the King of Mantras, had a total of 2620 characters! Even an average adult finds it difficult to read along. Looking at the number of pages already compels one to give up.
Under his mother's guidance, he recited the entire Shurangama Mantra with ease, without the slightest idea as to why the adults regarded him with envy and awe.
In early 1998, he enrolled in the Dharma School of Tze Yun Dong Temple of Malaysia. Gradually, he has come to know the other students well and has begun to learn and communicate in Mandarin.
Being a keen reader, even before becoming a vegetarian he had read the illustrated edition of the Sutra of Past Vows of Earth Store Bodhisat- tva, Records of the Life of Venerable Master Hua, Parts I and II, and Herein Lies the Treasure Trove, all in English.
Every night, he recites the Shurangama Mantra, the Great Compassion Mantra, and the Heart Sutra and respectfully bows to the Buddhas and Venerable Master Hua before going to bed.
It is said:
Intelligence is helped by hidden virtue.
Hidden virtue leads one to enter the path of intelligence
To have the opportunity to learn Buddhism is not easy.
One must have planted the roots of Bodhi in past lives.
The End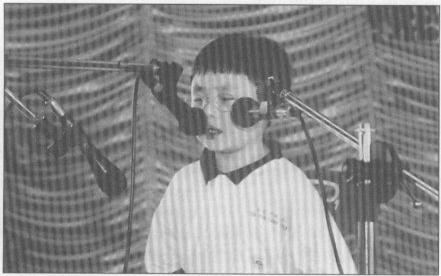 1998年懷少節上臺背楞嚴咒
Reciting the Shurangama Mantra on Cherishing Youth Day, 1998.