1975年8月19日星期二晚
最忙的人你怎麼樣唸呢?你要修「朝暮十唸法」。怎麼修「朝暮十念法」呢?就是早晨和晚間用十唸。怎麼叫十念法呢?每一唸是一口氣;唸十口氣這叫十念法。一早起來,把臉洗乾淨,把牙也都洗乾淨了,然後你面對著西方,要是有阿彌陀佛像更好。你們無論哪一位,如果希望請阿彌陀佛像,我有紙印的阿彌陀佛像,你們可以到金山寺來,我可以送給你一張。那麼你對著佛像合起掌來恭恭敬敬地先拜三拜,然後就唸「南無阿彌陀佛」,唸十口氣。這個朝暮——早晨與晚間都這麼唸南無阿彌陀佛、南無阿彌陀佛、南無阿彌陀佛,這麼一口氣。也不要故意叫這個氣長,也不要故意叫這個氣短,就是很自然的。這一口氣就為一念。唸十口氣:早晨唸十口氣,晚間唸十口氣,叫朝暮十唸法。你要能以天天不間斷,只用五分鐘,或十分鐘的時間就夠了。那麼平日是不是也可以唸呢?當然可以唸了。你唸得越多越好。這是朝暮十唸法;你要是用這朝暮十唸法的功夫,也可以往生到西方極樂世界去,所以這個唸佛的法門是最方便的法門。
這個唸佛的法門,今天曾經說過,有智慧的人也應該唸佛;愚癡的人也應該唸佛。有的人說:「我是很愚癡的,我唸佛恐怕沒有用。」這個唸佛的法門是越愚癡越好,越有智慧越好。你再有智慧也超不出去這個唸佛法門;你再愚癡也會在這個唸佛法門裡頭包括著,把你接引去。
佛的弟子裡頭有一個最愚癡的,愚癡到什麼程度呢?你叫他唸南無阿彌陀佛,他不記得這六個字;他只記得六個字都是什麼,他不記得唸。那麼最後佛就給他一個方法,說:「好了,你唸佛不記得,那麼我就給你兩個字。你啊!你唸這個『笤掃』兩個字。」
「笤掃」兩個字,他還記不住;唸「笤」字,他把「掃」字忘了:「哎!什麼來的?」念「掃」字,把「笞」字忘了:「哦!哦!笤?喔!那個字是什麼?喔!『掃』。那個字又是什麼?」「笤掃」兩個字:記得「笤」字,把「掃」字給忘了;記得「掃」字,「笤」字又忘了:笨得這個樣子。你們現在,我相信沒有一個人笨成這個樣子。就我最笨,也比他都覺得聰明一點。是不是啊?我自己相信我比他都聰明一點。那麼你們各位當然都比我更聰明囉!
這個法,就是一個方法。什麼方法呢?修道的方法。修道的方法因為時間一久了,人覺得這個法不新鮮了,他就不修行。本來這個法沒有正法,也沒有末法。法,是不動的,沒有正末;人,有勤修——精進,和懶惰。人精進就是正法;人懶惰就是末法。我們現在在這兒打佛七,叫精進七,就是正法。 那麼過了打七你不精進,不修行了,這就是末法。
這個人叫什麼名字?叫周利槃陀伽,翻譯的意思就叫繼道,他在道上生的。那他這樣笨,他以後也開悟了。開悟知道什麼呢?知道他母親是個女人,所以佛給他印證他開悟了,開悟了也就有神通了。你看那麼笨的人都可以開悟,都可以有所成就,我們這麼聰明的人,一定會更有所成就了。今天就講到這兒,因為有人打妄想說講得太多了,所以少講一點。
待續
Tuesday, August 19, 1975 (evening)
How do you practice recitation when you are very busy? You practice the "Morning and Evening Dharma of Ten Recitations." In the morning and the evening do "ten recitations." Recite for the length of a single breath, "Na-mo A-mi-to-fo," and that is one recitation. Ten such "breaths" is called " ten recitations." In the morning when you get up, wash your face and brush your teeth. Then face the West, or better still, face an image of Amitabha Buddha. If any of you would like to have an image, I have some paper images at Gold Mountain Monastery that I can give you. Face the Buddha image, join your palms together very respectfully and bow three times. Chant "Na-mo A-mi-to-fo" for the length of ten full breaths. Do this in the morning and in the evening. Recite "Na-mo A- mi-to-fo, Na-mo A-mi-to-fo, Na-mo A-mi-to-fo..." until you run out of breath and that counts as "one recitation." Do this ten times in the morning and ten times in the evening. Don't deliberately stretch out the length of your breath or cut it short. It should be very natural. This is called the "Morning and Evening Dharma of Ten Recitations." Do this every day without interruption; it will only take five or ten minutes. Can you recite at other times during the day? Of course you can. The more you recite, the better. With the skill derived from your practice of this Dharma you can be reborn in the Western Land of Ultimate Bliss. This method of Buddha Recitation is the most convenient Dharma-door.
As I said, "Those with wisdom should recite the Buddha's name, stupid people should do it, too." Suppose someone says, "I'm very stupid. Probably it's useless for me to recite." In using this technique, the more stupid you are, the better! The wiser you are, the better! No matter how wise you are you cannot exhaust the method of Buddha Recitation. No matter how stupid you are, you are still included within it and it can be your guide.
Among the Buddha's disciples, one in particular was ex­tremely stupid. How stupid was he? When you taught him how to recite "Na-mo A-mi-to-fo"—a mere six syllables—he could not remember them. Finally the Buddha thought of a plan.
"Fine," he said, "since you can't remember the Buddha's name, I'll give you two words. Just recite 'sweep clean.'" But he still forgot! He would say "sweep" and forget "clean," and then he would say, "clean...uhh...what was the first word again? Oh! Sweep! Sweep...sweep...Just a minute now; don't tell me, ah'..what was the second word?" He'd remember one and forget the other. He was that dumb. None of us here is quite that stupid. Even me. I'm a bit more intelligent than him. Don't you think so? I do. You are all, of course, much more intelligent than I am. Anyway, what was his name? Little Roadside (Shuddhipanthaka). He got that name because he was born by the side of the road. Although he was very stu­pid, he later became enlightened when he found out--What did he find out?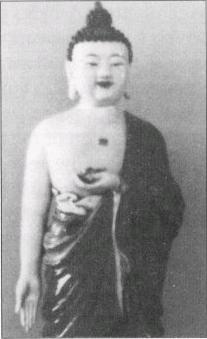 上人珍藏的阿彌陀佛瓷像。
The Venerable Master's cherished

porcelain
Amitabha Buddha image.
He discovered that his mother was a woman! He didn't know that before. The Buddha certified his enlightenment and he gained spiritual powers. See, if such a stupid person can get enlightened, we who are so intelligent will certainly have even more success. Okay, that's all for today because someone is thinking the idle thought that, "You know, the lectures are really too long."
To be continued