首位行三步一拜的前美國比丘恆具,法名果逾(Timothy J.Testu),於1998年12月15日,5 4歲往生,他生於 1944年 11月  14日。
前比丘恆具(Timothy J.Testu),因敗血症療程致使免疫系統功能削弱,引起耳部感染,於1998年12月15日往生。最使人難忘的,就是他為比丘時從1973年10月至1974年8月所行的,從加州三藩市至華盛頓州Marblemount(大理石山)市的三步一拜。他與同伴前比丘恆由的日記中都曾逐日刊登於佛教印經會出版的〈三步一拜〉書中。以下節錄自是他的自傳與〈三步一拜〉書。
 *               *               *
這次朝拜以獨特的經驗豐富了美國佛教。自三藩市金門大橋起始(應橋上官員的要求,兩位比丘「如常人般」地步行過橋),恆具與恆由拜過了Sausalito(紹沙利多)市,再沿著太平洋西北海岸線行了一千多哩。恆由拜了一段路程,當恆具拜時,他就照料他們的少許物品——睡袋、帳篷、日記、食物。恆具忍受著風雨、寒冷、背部的傷痛、膝蓋的潰爛,乃至誤將毒橡樹葉用做衛生紙的苦果。他們住在滿浸雨水的帳篷裡,在與老鼠、死動物為伴的棄置建築物中,在下有羊群的草棚中。警察、卡車司機、基督徒給他們帶來騷擾,也帶來支持和鼓舞。在經過加州Tomales(多馬利)鎮時,當地人為了看他們朝拜而將舉行中的「歸來」遊行停了半小時。許多剛結識的朋友供養他們食品、金錢,提供住處與衛生紙。孩子們來學功夫;記者來採訪;教師們請他們去教室給學生們開示、回答問題,愛思想的人與他們探討生活的意義。有時在家佛教信徒;有時是上人親自來為他們送物品,察看他們的進展,偶爾也參加三步一拜。恆具為了世界與內心的和平,持續地朝拜著。
後來他還俗,回到家鄉華盛頓州,可他仍是法界佛教總會的常客,慷慨熱心地支持法總。當他不朽的精神面對病魔的挑戰時,他的菩提心更堅固了。臨終時,他曾安排回到聖城,與大眾共同工作,共同修行,一起生活。
以下節自<三步一拜>一書。
恆具的序言:
1973年末,一系列的因緣使我決定進行朝拜。以前我曾聽說虛雲老禪師曾於本世紀初,在中國行三步一拜。六年中,他拜了三千華里,這大約是整個中國的寬度。他所經歷過的困苦,難言難說;饑寒交迫,可他從不退心。最後他達到了所謂「一心」的境界,他止息了一切心行過程,體驗到從未證到的清明。同時,對他所遇到的人,朝拜也產生了深刻的影響。
虛雲大師的事跡使我有了這樣的想法,這想法持續著。我過去總喜歡探險,在家多年後出家,生活在寺院裡,我想要變化一下。我開始嚮往在美國朝拜了。
在世界史上曾有過許多宗教朝拜,其中多數是出於對戰爭、道德敗壞的感慨。人類需要表達其宗教情感的方式,當人類逐漸達到和平與相互理解時,又有需要傳播慈愛的途徑,因此就發生了無數次的朝拜:騎馬、徒步、乘車。世界各處的朝拜,有集體的,有個人的。我覺得為這大事因緣——世界和平,做貢獻的條件成熟了。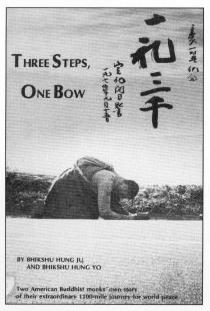 這也是我促進自己修行的絕好機會。當我在路上拜時,我以身體的每一個動作祈求世界和平,內心也同時努力把握菩薩的六個波羅密多:布施,持戒,忍辱,精進,禪定,智慧。我越這樣想,決心就越堅固。
First American Three-Steps-One-Bow Monk Dies. Timothy J. Testu, November 14, 1944 — December 15, 1998, 54 years.
Timothy J. Testu, formerly Bhikshu Heng Ju, died on December15, 1998, of an ear infection after his immune system was weakened by treatment for leukemia. He is most remembered for a pilgrimage he took as a Buddhist monk from San Francisco, California, to Marblemount, Washington, from October 1973 to August 1974, bowing every third step. His journals from that journey and those of his companion Heng Yo are chronicled in the Buddhist Text Translation Society publication, Three Steps, One Bow. His autobiographical introduction and other excerpts from that book appear below.
* * *
The pilgrimage made Buddhism an American experience in a unique way. Starting in San Francisco at the Golden Gate Bridge (which, at a bridge official's insistence, the two monks walked across "like normal human beings"), Heng Ju and Heng Yo bowed through the city of Sausalito and then followed the coast for a thousand miles along the edge of the Pacific Northwest. Heng Yo did some bowing, but also took care of their few supplies-sleeping bags, tent, journals, some food--while Heng Ju bowed, enduring severe wind, rain, and cold, as well as a wrenched back, sore knees, and the consequences of using poison oak for toilet paper. The monks stayed in their rain-soaked tent, in abandoned buildings with mice or dead animals, and in a hayloft with goats below. Police, truckers, drunks, and Christians harassed them; and police, truckers, drunks, and Christians supported and encouraged them. The town of Tomales Bay, California, held up their homecoming parade for half an hour as the gathered crowd watched the two monks pass by. Many newfound friends offered food, money, shelter, and toilet paper. Children sought kung-fu lessons. News reporters often interviewed them; teachers brought them into their classrooms to give talks and answer students' questions; and thoughtful people explored the meaning of life with them. Buddhist laypeople, and sometimes Master Hua himself, brought supplies, checked on the monks' progress, and occasionally joined in the bowing. Heng Ju continued to bow for peace for the world and peace within.
He later left the monastic life and returned to his home state of Washington, but Tim became a frequent visitor and a generous supporter of the Dharma Realm Buddhist Association centers. His resolve for Bodhi was further strengthened when illness confronted him with his own mortality. At the time of his death, he had been making arrangements to live at the City of Ten Thousand Buddhas and to share again in the work and cultivation of the community.
Excerpts from Three Steps, One Bow
Heng Ju's Introduction
In late 1973, a series of circumstances led me to decide to make a religious pilgrimage. Previously, I had heard the story of an elder Chinese Buddhist Meditation Master, the Venerable Hsu Yun, who at the turn of the century made a walking pilgrimage across China. As he walked, he bowed his head to the ground after every third step. In six years, he bowed a total of three thousand miles, or what amounts to the entire breadth of China. During his trip, he encountered incredible hardships, suffering from hunger, thirst, and the cold, but he never gave up. Eventually, he was able to attain a state of mind that can only be described as "single-mindedness." That is, he was able to halt all of his thinking processes, and he experienced a radiant clarity of mind that he had never been able to attain before. His pilgrimage also had a very profound effect on the people he encountered.
Master Yun's trip had given me an idea that began to grow and develop. I had always thrived on adventure, and after so many years as a layman and then a monk inside a Buddhist monastery I was ready for a little change. I began to entertain the thought of making a bowing pilgrimage across America.
In the history of the world there have been many religious pilgrimages. Most of these came about as a response to the fighting and moral decadence of the times. People always need ways to express themselves: ways to display their religious feelings. As people gradually attain peace and understanding, they need ways to share them with humanity. Consequently, there have been countless pilgrimages: pilgrimages on horseback, on foot, in buses; pilgrimages all over the world, by large groups, by individuals. I felt that the conditions had become ripe for me to contribute this way to a great cause: the cause of world peace.
This would also be an excellent opportunity to improve my own cultivation of the Dharma. While I bowed along the road praying for world peace with the actions of my body, I would also be praying in my mind and simultaneously striving to master the six perfections of an enlightened being (a Bodhisattva): giving, morality, patience, vigor, concentration, and wisdom. The more that I thought about it, the more I became resolved on doing it.
To be continued