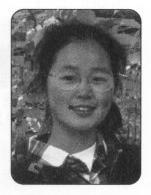 陳彥君來自於臺灣,十歲那年與哥哥來聖城參加夏令營;結束後請求父母准許他們皈依上人。父母當時不清楚皈依是什麼,但認為在上人的道場是不會錯的,所以也就答應了。皈依後,陳彥君兄妹留下讀書。當年冬天他們父母也來聖城皈依。去年六月陳彥君畢業於培德中學女校,並得到學業優秀總統獎。她熱衷於科學,因此進入麻省理工學院就讀。
陳彥君寒假回聖城探望母親,談起讀大學的心得與感想時說,課程非常具有挑戰性;老師很幽默,也很關心學生;同學都很聰明友善,好學不倦。雖然他們大都主修科學,很多人認為科學所能解釋的是有限度的。陳彥君覺得佛教對美國青年將來會有很大的影響力,因為只有佛法才能提供這些大學生所尋求的道理。
在回憶自己成長的經過時,說:「唸了一年大學,我覺得自己很幸運,能在聖城長大。雖然我不是一個好學生,也不是一個好佛教徒但在聖城這些年,我學會了判斷是非正誤,知所抉擇,有所遵循。我如果沒在聖城受教育,處於今天這麼樣複雜的社會中,我一定會覺得很迷惑。」陳彥君也說她的同學們沒有宗教信仰,對她常構成挑戰,逼得她得重新作一番思考,再肯定她自己的信仰。她認為這是必須經過的困難。在大學生活安定下來之後,她在打算參加學校裡的佛教社團。
她打算主修數學系或環境工程系;至於將來,她想從事教育工作,當一位教師,然後回到聖城,回饋所學來幫助學校,以表示她的一點感恩之心。
Stacy Chen, who is from Taiwan, came with her brother to attend the summer program at the City of Ten Thousand Buddhas when she was ten years old. At the end of the summer, they asked if they could take refuge with the Venerable Master. Their parents did not really understand what taking refuge was all about, but they consented, thinking that their children could not go wrong in the Venerable Master's Wayplace. After taking refuge, Stacy and her brother enrolled in school at the City. That winter, her parents came to the City and took refuge as well. Stacy graduated from Developing Virtue Girls Secondary School last June, receiving the Presidential Award for Academic Excellence. With her keen interest in science, she chose to attend Massachusetts Institute of Technology (M.I.T.).

Stacy returned to the City for the winter holidays to visit her mother, after her first semester at M.I.T. She speaks of challenging classes, witty and caring professors, and classmates who are intelligent, friendly, and intellectually curious. Although most of her peers are science majors, many of them recognize the limitations of science. Stacy feels there is great potential for Buddhism, because it can provide the answers that college students are looking for but not finding in science.

Reflecting on her own upbringing, she says, "After a semester at M.I.T., I feel very lucky to have grown up at the City. Although I was not a good student or a good Buddhist, I feel the years I spent here have given me a clear sense of right and wrong; they have given me a set of principles to hold onto and a sense of direction. Without my education in the City, I would feel lost and confused in a world as complex as today's society." She adds that, at college, she has been forced to rethink and reaffirm her own beliefs, which are constantly being challenged by her classmates, most of whom are not religious. This has been a painful but necessary process for her. She plans to join the Buddhist club on campus next term when she is more settled in.

Stacy plans to major in math or environmental engineering. Asked about her future plans, she says she would like to teach, and ultimately, to come back and help the schools at the City of Ten Thousand Buddhas, to which she feels greatly indebted.