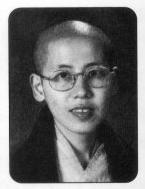 比丘尼恆田師出生馬來西亞,精通中英文、馬來文及多種方言。1985年皈依三寶。第一次閱讀上人事蹟時,便非常仰慕;此後訂閱萬佛城月刊,每天誦持楞嚴咒,發願要到萬佛城出家。
1988年上人到新加坡弘法,因工作合約未滿,且正攻讀碩士學位,是以覺得出家還言之太早。雖上人告以:「我願意帶任何人走的話,不會有問題的。」她不敢接受上人的幫助。這一蹉跎,可說是「差之毫釐,失以千里」,讓她枉繞了一個大圈子。
1989有位法師在法席上招生,說要訓練弘法人才。恆田師有天走路時,一個念頭突然閃過,彷彿說她將來講經說法就會像這位法師一樣。
當時恆田師執著幻相,於1993年依止這位法師出家。此後三年,看盡末法中光怪陸離的現象。最後終於像《法華經》中捨父逃逝的窮子,又回到大富長者的家中——萬佛城來。
經此一波三折,她立志要做一個眞正的出家人。緬懷上人志業,不論是弘法利生、翻譯經典,或是辦教育、建道場,恆田師都願意盡心盡力的把本份做好。正是:
恆求知識為依歸,田園將蕪春又回;
師承若正法脈純,願繼弘誓永追隨。
Bhikshuni Heng Tyan Shi was born in Malaysia. She is fluent in Chinese, English, and Malay, and is comfortable speaking many dialects. In 1985 she took refuge with the Triple Jewel. The first time she read the Venerable Master's biography, she was filled with admiration and started subscribing to the monthly journal Vajra Bodhi Sea. She also began reciting the Shurangama Mantra daily and vowed to come to the City of Ten Thousand Buddhas and enter the monastic life.

In 1988 when the Venerable Master went to propagate Dharma in Singapore, she was in the middle of a job contract and was also studying for her Master's degree. She felt it was still too early to consider entering monastic life. The Master told her, "If I take anyone back with me, they will not have any problems." However, she refused the Master's offer of help. As a result, she ended up making a big detour. It was truly a case of, "Off by a hairsbreadth in the beginning, you miss by a thousand miles in the end."

In 1989 a certain Dharma Master announced during his lecture that he was seeking students to train for propagating the Dharma. Then one day as Heng Tyan Shi was walking, a thought flashed through her brain, suggesting that she could one day lecture on the Sutras like that Dharma Master.

Clinging to her fantasy, Heng Tyan Shi entered the monastic life under that Dharma Master. Three years later, having witnessed the gamut of the peculiar manifestations of the Dharma-Ending Age she finally returned to the City of Ten Thousand Buddhas like the poor son who ran away from his father and in the end returned to the wealthy elder's welcoming arms (a parable in the Lotus Sutra.)

After the trials and tribulations she has been through, Heng Tyan Shi is resolved to be a genuine member of the Sangha. Ever mindful of the Venerable Master's missions, she is ready to devote herself to the task at hand, be it propagating the Dharma, translating Sutras, teaching, or establishing temples. A verse says:

Constantly seeking a teacher upon whom she could rely,
Her fields were neglected, but then springtime came.
If the teaching is proper, the Dharma lineage will be pure.
She wishes to carry out the Master's magnificent vows and follow him forever.