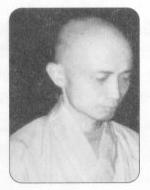 親峰師是上人圓寂後,法總第一批由僧團剃度的沙彌。他是中國福建人,書香門第,中英文造詣俱佳。
1989年來美就讀大學;1993年到萬佛聖城準備出家,上人不置可否。一等四年,上人入了涅槃,備受考驗。
何以好事如此多磨?原來親峰師當時熱衷氣功,仰慕能玄能醫的古道士之風;對佛法認識不深,信願不強,因緣未熟,上人未滿他的願。雖無心插柳,卻也來到了這座他所稱的「天上人間,極樂縮影」的萬佛城。
在聖城他感受到上人默默地為他承擔病苦,化險為夷,境界微妙不可言說;也體會到上人「大慈悲普度,流血汗不休息」的偉大精神。多次誦《普賢行願品》時,感動淚下。上人的關懷體貼,讓他深感溫暖,出家之心日益堅定。
知恩圖報,四年來親峰師執教男校,不眠不休,以校為家;為本月刊的翻譯工作,亦不辭辛苦,趺坐竟夜。
宿願得償,親峰師過著忙碌充實的沙彌生活。他的清晨打板聲,暮鼓晨鐘聲,聲聲似乎都在喚醒迷夢中的眾生,早日反迷歸覺,發菩提心。正是:
親履聖地識寶珠,峰迴路轉出迷途;
師恩當報捨身命,願轉法輪濟眾苦。
Chin Feng Shi is among the first group of novices to enter the monastic life under the Sangha's sanction since the Venerable Master passed into stillness. A native of Fujian Province, China, he comes from a family of scholars and is fluent in both Chinese and English.

He came to the United States in 1989 to attend college. In 1993, he came to the City of Ten Thousand Buddhas preparing to enter the monastic life. At the time, the Venerable Master did not definitively give his permission, so he waited—for four years. By then, the Master had already entered Nirvana and he had gone through many ordeals.

Why were there setbacks? Well, it turns out that Chin Feng Shi was a fan of qigong and admired the Taoist style of understanding both esoteric and medicinal arts. At that time his understanding of Buddhism was not deep and his faith was not strong. The Master saw that the conditions were not yet ripe, and so did not grant his wish. However, it was his interest in non-Buddhist teachings that brought him to the City of Ten Thousand Buddhas, which he calls, "a miniature paradise on earth."

At the City he felt that the Venerable Master was suffering sickness on his behalf and protecting him from danger. It was truly an inconceivable state. Chin Feng Shi gradually became aware of the Master's magnificent spirit of "rescuing everyone with great compassion, sparing neither blood nor sweat, and never pausing to rest." Many times he was moved to tears while reciting the "Chapter on Universal Worthy's Conduct and Vows." He could feel the warmth of the Master's kind concern, and his resolve to become a monk increased day by day.

In hopes of repaying the Master's kindness, Chin Feng Shi devoted himself to teaching in the Boys School during the past four years, often spending the night at the school. Translating articles for this journal, he sat in lotus posture all day long , yet he did not find it hard.

His wish fulfilled, Chin Feng Shi now lives the busy yet fulfilling life of a novice monk. The sound of his wake-up boards, the drum and the bell seem to be calling living beings to wake up from their dreams and resolve to seek Bodhi. A verse says:

Personally treading the holy ground, he recognized a precious pearl.
Running in circles on twisted paths, he found a way out of confusion.
To repay his Teacher's kindness, he's ready to renounce his life.
He vows to turn the Dharma wheel to save the suffering multitudes.