致編輯部:
十月十一日,達摩鎮萬佛聖城舉辦一年一度的敬老節。我們很榮幸地應邀參加了慶祝活動。
聖城雖有名,但我從未登門,加上我也是剛到這一地區,我就邀了幾位本地居民一同前往參加。一到山門口,首先恭迎來賓的是一條大大的橫幅。接著由笑容滿面的學生們熱情地陪伴著我們去慶祝會場,讓我們有著貴賓般的感受。
方丈和尚、庫西醫師、與幾位地方政府及社區的代表首先向大家祝福。接著學生們為老人家們歌舞、演唱、奏樂。表演之後,還有午齋;那可真是塵世間難享的佳餚。
方丈和尚致辭之後,青年學生就一盤盤地將色香味俱全的齋菜了送上來,精彩的表演也開始了。方丈致祝福辭後,每一位老人家又收到一份包裝精美的禮物,並由學生們護送上車。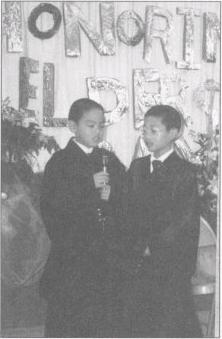 所有與會的老人家們都感受到此次盛大慶祝活動所洋溢出的愛敬之情;那種發自肺腑,動人心弦的真誠實意,尤其是最後那句:「請您明年再來!」更是深深地打動了我的 心。
我知道我與這裡的居民已經在盼望這一天了。謹在此對聖城的方丈與住眾致以由衷的謝意!
瑜伽市社會服務處及愉園主任
麗泰‧卡鳳
To the Editor:
We had the honor to be invited on Oct. 11 to the annual celebration of Honoring Elders Day at the City of Ten Thousand Buddhas here in Talmage.
Having never been to this famed place and being new to the area myself, I took the opportunity to attend with several of our residents. We were greeted at the main gate by a huge banner welcoming the elderly and accompanied by the students to the event hall with a warmth and smiles which made us truly feel special. The neatly uniformed students took turns entertaining us with songs, dances and instruments which were complemented by an address by the Reverend Abbot, Dr. Cruise, MD and several local government and community representatives, followed by an out-of-this-world sumptuous lunch.
After the Abbot gave the blessing the young students served course after course of delicious and colorful dishes while the entertainment continued. With a final blessing from the Abbot the students accompanied everyone to their cars, giving each guest a lovely and beautifully wrapped gift.
I was deeply touched by the respect and love which was showered on all the elderly attending this function, by the deep reverence and personal touches and the final farewell stating: Please come back next year!
Well, I know our residents and I are already looking forward to it. With a heartfelt thank you to the Abbot and the community of the City of Ten Thousand Buddhas.
Rita S. Karvonen
Director of Social Services and
The Residents of Pleasant Care of Ukiah