十月十一日星期日,法界佛教大學在聖城迎來了第三屆長青社活動。前來參加的十四位老人家,年齡從六十八至八十九不等。整整一週,從早七點至晚九點,課程表充滿活力,大家沉浸在各種活動之中。露西‧路易斯和史蒂文‧譚納導引大家進行活動。露西教自我料理;史蒂文教禪坐;來自臺灣的潘老先生教太極拳。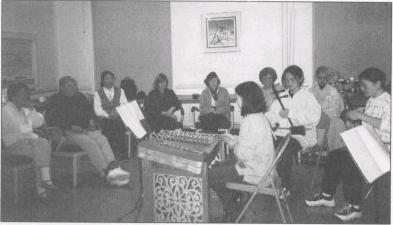 維荷文博士以「佛教在美國」為題講演。比丘恆順、恆全做了關於持誦「南無觀世音菩薩」名號的開示。比丘尼恆音、恆日、恆奘向大家介紹了大悲咒並贈送了持咒的錄音帶。
其他課程包括插花、烹飪、書法。李居士講老人營養學和思辨寫作課程。
對許多老人家而言,參觀聖城男女校是此行中最為精彩的節目。來自亞裏桑那州吐桑市的魏德邁說:「與學生相處,實在是太愉快了。」
告別儀式上,女校國樂團做了表演。李居士生動地敘述了一個佛陀的故事。比丘尼恆莊向老人們贈送了紙花和五色線編製的項鍊。
住柏林根市的仙杜拉女士開車接送了老人,隨時相機協助應付特殊情況的需要。
來自加州戴斯維爾的瑪莉‧菲利浦說:「對我而言,此行中最有意義的就是與萬佛城的人相處。」
On Sunday, October 11, Dharma Realm Buddhist University welcomed 14 elders who came to participate in the third Elderhostel at the City of Ten Thousand Buddhas. The elders, ranging in ages from 68 to 89, maintained a vigorous schedule and were immersed in lectures and activities from 7 am to 9 pm for one whole week. Lucy Lewis and Steven Tainer led the program. Lucy taught a course in Self-care and Steven gave instructions on Meditation. Mr. Pan from Taiwan taught Tai Ji.
Some of the keynote speakers for the evenings were Dr. Martin Verhoeven on Buddhism in America and Bhikshus Heng Shun and Heng Quan on recitingNamo Guanshiyin Pusa—the name of the Bodhisattva of Compassion. Bhikshunis Heng Yin, Heng Re and Heng Jhuang introduced the Great Compassion Mantra and presented the elders with tapes of the mantra.
Other classes included Flower Arrangement, Vegetarian Cooking, and Chinese Brush Painting. Upasika Rebecca Lee held a class on Nutrition for the Aging and Reflective Writing.
A visit to the Girls' School and Boys' School was a highlight for many elders. "It was wonderful interacting with the students," said Joe Wiedman from Tucson, Arizona.
At the farewell celebration the Girls' School Chinese Orchestra played music and Upasika Lee told a vivid story of the life of the Buddha. Another Bhikshuni Heng Jwang presented the elders with paper lotus flowers and a lariat made from seven-colored strings.
Upasika Sandra Miner from Burlingame provided transportation for some of the elders and attended to their special needs while they were here.
Marie Philips from Delseyville, California, said, "What I value most about my visit was participating with members of the community."