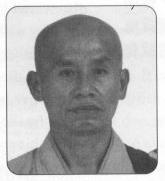 恆閣師是臺灣人,少時因好奇查看姓名學筆劃,赫然有「……六親疏,出家唯上策」之句,沒想到卻應驗了。一次聽到爐香讚,頓覺法喜充滿。恆閣師說:「許是宿世因緣,因曾經夢到自己以前是出家人。
一日看「雲水記」,深受廣公老和尚一生行誼的感動,遂興起學佛之念。一年後搬入六龜法界聖寺學習正法,並在道場住了一個月。上人來臺時,很親切地和恆閣師打招呼,關照他的生活起居。上人平易近人的風範,令恆閣師如沐春風。
恆閣師在道場期間,病痛不斷;又因母親過世,鄉中長老泰半凋零,哀傷之餘,感嘆人生無常,苦多樂少,不可執著。有偈說得好:「若見他人死,我心熱如火;不是熱他人,堪堪輪到我。」更深悔往昔所做盡非,便放下一切,於1991年請求上人披剃;次年受具足戒。
恆閣師說:「這是此生中唯一做對的一件事。」當沙彌時,心裡竟莫明其妙地責怪上人。一天鼓起勇氣到上人跟前懺悔。上人和悅地說:「我們以前是好朋友。」拉著他的手,在他頭上打了三下,就沒事了。
恆閣師現住萬佛聖城,每日勤勞工作,早晚禮拜華嚴經,以期深入經藏,智慧如海。問他怎麼樣才是上人的好朋友?恆閣師答得好:「肯依不爭、不貪、不求、不自私、不自利、不打妄語,這六大宗旨修行的人,都是上人的好朋友。」正是:
恆依六大宗旨修,
閣下宣公成好友。
法門殊勝禮華嚴,
師記汝等得解脫。
Heng Ge Shi is from Taiwan. When he was very young, out of curiosity he looked up the number of strokes of his name in a divination text, and the counsel given was, "All relatives have drifted apart; leaving the home life is the best way." It all came true. Once when he heard the Incense Praise, he was filled with joy. He says, "Perhaps these are conditions from past lives, for I have dreamed that I used to be a monk."
One day he read Like Clouds and Water, Elder
Master Guangqin's biography, which inspired him to study Buddhism. A year later he moved into Dharma Realm Sagely Monastery in Liugui, Taiwan, to study the Proper Dharma and lived there for a month. When the Vener­able Master went to Taiwan, he greeted Heng Ge Shi kindly and inquired after his well-being. The Master's fatherly concern touched him deeply.
At the Monastery Heng Ge Shi was constantly ill. His mother had recently passed away, as had the majority of the old folks in his hometown. This made him realize that life is short, with much suffering and very little happiness, and that we cannot be attached. As a verse aptly says, "When I see others die, my heart burns like fire. It's not burning for their sake, but because it will soon be my turn." Deeply regretting his past wrong behavior, he renounced everything and requested the Master to shave his head in 1991. He was ordained the following year.
Heng Ge Shi says, "That's the only right thing I have done right in this life." As a novice monk, he happened to silently blame the Master in his heart without knowing why. When he repented in front of the Master, the Master took his hand and gently said, "We have been good friends before," and tapped his head three times. After that he no longer had that problem.
Heng Ge Shi works hard everyday. He bows day and night to the Flower Adornment Sutra, hoping to gain wisdom like the sea some day. Heng Ge Shi said that to become the Master's good friend one must be willing to follow the Six Guidelines of no fighting, no greed, no seeking, no selfishness, no pursuit of personal advantage, and no lying.
Constantly relying on the Six Guidelines in practice,
You, sir, become Venerable Hua's good friend.
With the supreme Dharma of bowing to the Flower Adornment,
The Master promises you will all attain liberation.