各位善知識,我叫朱逸飛。今天我想講「覺」。「覺」字在佛學上有兩層的意思,一個是開悟以後的正等正覺,我不敢去講這個境界。第二個,就是悟以前的覺,我們就是依覺而悟的。這個覺也可以稱為是妄覺,但是真妄不二,要覺悟就離不開妄覺。所以我在這裡談一下什麼是這個悟前的覺,然後如何從修行中把握這個覺。
我開始探討覺,是在我按照南傳的精進慧觀禪修法修了幾先天之後,當時我將心得請教了一位南傳的法師,他跟我說:「你的觀照在時間上落後。」他說:「你應當抓住當下的時刻,如果有外來干擾你的所緣。你可以暫時離開那個所緣,但不要離開當下的時刻。」他這個說法,與我以前修禪定的知識,就有了出入,以前我一直認為要緊守所緣的。那天,我就不斷地思考這個當下和禪定的關係,頭腦也有點混亂了。後來在打坐中,忽然間有一個念頭閃過,當下就是覺;離開當下就是念,修行修定應該定在覺上。這時,我感到心裡的混亂消失了。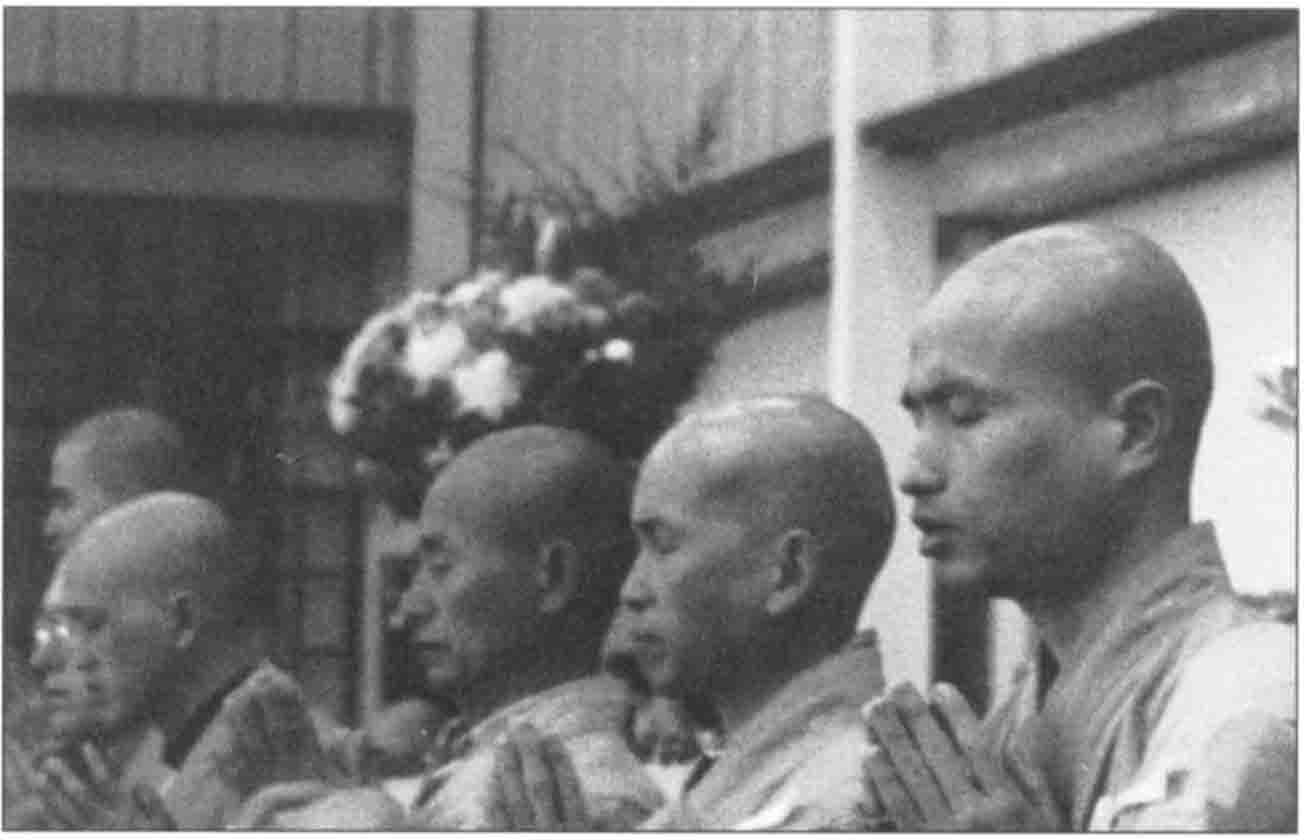 修行修定應該定在覺上。


In cultivation, we should abide in mindfulness.
針對這個「覺」,來到聖城以後我就參看了很多經書,並且配合自己打坐。我現在的理解是:這個「覺」是我們每個想要真修行的人,必須具備的。沒有這個「覺」,修行沒有辦法深入,了生死也不可能。這裡我對這個「覺」下一個定義。什麼是「覺」呢?「覺」就是清晰的,連續不斷的,當下的覺知。離開了這三個條件中的任何一個條件都不成為覺。譬如你離開了當下時刻的覺知,那就成為念了,就有執著。因為你的意識停留在已過去的事件當中;離開了清晰這個條件,覺知就暗鈍麻木了;離開了連續不斷這個條件,覺就沒有力量,不能透視事物的實相,沒有法子產生智慧。所以說修慧的本質是在於覺;只有定在覺上才是定慧等持。
建立這個覺,實際上是每一個佛教法門當中由定發慧基本的功夫,並不分南北傳。那麼如何從修行中去把握這個覺呢?我想講講我自己的體會。從覺的這三個特徵上,我們就可以知道應該如何去修。
第一個,我們應該時時觀照,保持當下,要經常留意觀照自己是不是從「覺」滑到「念」上去了。當我們說話大聲的時候,就常常會從「覺」滑到「念」上去了。說話應該比較輕聲一點,比較慢一點,並且要保持一種輕度的覺照,這樣就可以不使覺失掉了。沒有事的時候,就不要多說話。走路快了,也很容易從「覺」滑到「念」上來。你打一個瞋念,那就滑得很遠了。
第二點就是要連續不斷地修,因為「覺」要求連續不斷。最好整天連續修,行住坐臥都應該在覺當中,這樣才能夠建立起來有力量的覺。因此建立覺的功夫是在平常,並不只在禪七。如果你每分每秒都保持在覺當中,那就是一心不亂,修行也就可以說是上路了。禪宗大德都說過,如果能一心不亂,那很快就會開悟了。
第三就是你要保持充分的體力,使覺知非常清晰。修覺是非常費精力的,通常要比打坐還費精力。因此你就要比較好地調整你的睡眠和飲食,來維持充分的精力,否則就很容易產生昏沉,那修行起來就很困難。因此在這當中就應該保持中道,當昏沉比較重的時候,可以在動中來修,也就是說你可以修步行禪。實際上從動中修出來的覺,那是更有力量。
總而言之,修覺的方法應該要柔,不要剛,是由平時綿綿密密去做的,這樣才會出真功夫。
All Good Knowing Advisors! My name is Yifei Zhu. Today I will talk about mindfulness. In Buddhism mindfulness usually carries two meanings: first, mindfulness after enlightenment, which is Samyaksambodhi; and second, mindfulnessbefore enlightenment. I'd like to discuss the second one here. Because of this mindfulness, we have the chance to get enlightened. This mindfulnessalso can be called 'false enlightenment'. But the 'true' and the 'false' are not totally separate from each other. We cannot reach true enlightenment without understanding false enlightenment. So, I will discuss what mindfulnessbefore enlightenment  is and how we can maintain mindfulnessin our cultivation.
I was led to investigate mindfulness because after I had practiced intensive insight meditation in the Theravada tradition for several days, I reported my experience to a Theravada monk. He told me, "Your awareness lagged behind the event. You should always be in the present moment. If you are disturbed by something else, you may leave the object of mindfulness temporarily, but you should not leave the present moment." His instructions were different from what I had learned about meditation before. I used to believe that I should never be apart from my object of investigation. I felt confused as I considered this problem after our conversation. Later, while I was sitting, a thought suddenly arose: "Being in the present moment is mindfulness; being away from the present moment is thinking. In cultivation, we should abide in mindfulness." My confusion disappeared at that time.
After arriving at the City, I read many Sutras and meditated seriously in order to understand mindfulness. My understanding now is: mindfulness is very critical for anyone who truly wants to cultivate. Without mindfulness, our cultivation cannot reach high levels, much less end the cycle of birth and death. Here, I'd like to give a definition of mindfulness: What is mindfulness? It's the awareness that is clear, continuous, and in the present moment. These are the three conditions for mindfulness. If any one of them is missing, mindfulness loses its meaning. For example, without being in the present moment, mindfulnessbecomes thinking. There is attachment because the consciousness dwells on past events. Without the condition of the clear awareness, mindfulness becomes dull. Without the condition of continuity, mindfulness does not have power. It cannot see the reality of phenomena, and wisdom will not arise. Therefore, the essence of meditation is mindfulness. Only in mindfulness can we have both concentration and wisdom.
In any Buddhist practice, the establishment of mindfulness is the basic skill for giving rise to wisdom from concentration. It does not specifically belong to either Theravada or Mahayana. How can we establish mindfulness in our cultivation? We can learn this from the three characteristics of mindfulness.
First, we should contemplate all the time and be in the present moment, and pay attention to see if we slip away from mindfulness. When we talk loudly, we often slip from mindfulness into thought. It's better to speak slowly and softly and maintain a certain level of mindfulness at the same time. We should not talk too much. When walking fast, we often slip away from mindfulness. Angry thoughts also make us slip far away from mindfulness.
Second, our cultivation should be continuous. Ideally, we should maintain it all day long. Walking, standing, sitting, and lying are all times to cultivate mindfulness. In this way, we can establish a powerful mindfulness. To establish the skill of mindfulness, the important thing is to do it in everyday life, not only during a Chan session. If you are able to be mindful all the time, being single-minded without confusion, you can say that you have found the right path of cultivation. According to several great Chan Masters, if one can maintain one's Chan investigation single-mindedly without any false thinking , one will be enlightened soon.
Third, we should maintain good health and energy so that our awareness can stay clear. Cultivating mindfulness consumes more energy than ordinary meditation. Therefore, we need to adjust our sleep and food to avoid drowsiness, which is not good for cultivation. Keeping the middle way is very important. When you feel sleepy, you can cultivate mindfulness while walking or moving. Usually the mindfulness gained from walking is more powerful than that from sitting.
Generally speaking, cultivating mindfulness requires a gentle method. Do not push too hard. Genuine skill comes from applying effort in every second of your daily life.