自小,父母師長都告誡我們要「站有站相,坐有坐相」;那麼,怎樣才是站相?怎樣才是坐相呢?關於這行住坐臥,古人形容得很妙,即是:
立如松,坐如鐘,
行如風,臥如弓。
我們若能站得像松樹一樣挺拔,坐得像一座大鐘那樣四平八穩,自然英姿爽然,氣概非凡。可是很多人不論坐著、站著,就喜歡懶散地東倚西靠,或者彎腰駝背;尤其喜歡斜斜伸出一足,單單靠另一腳站著來支撐全身的重量;躺著時,又是四腳朝天寫「大」字。人總以為這樣才是舒服;其實,莫說這樣的姿態醜陋而沒精神,久了,脊柱、都還會變形。不正確的姿勢,不但難看,而且會導致百病叢生。
現代人生活緊張,工作壓力很大,頭痛眼花、腰痠背疼已是慣性疾病;止痛藥常吃了也就不見效,更加上一層苦惱。後來研究報告證明了:一切毛病源出在不健康的脊椎骨上;而不健康的脊椎骨,又源出於不正確的躺臥坐立,或取物、搬貨姿勢。於是乎,腳底按摩或指壓等物理治療就大行其道,脊骨神經科醫生也十分吃香。可是許多人發現,效果不是沒有,症狀總是時好時壞,不能根治;那就是因為自己沒有從根本下手,沒有把不正確的姿勢改正過來之故。所以,行住坐臥的姿勢若不正確,不但沒有威儀,也損害健康。
但是,即便坐立挺直,若是動作生硬或莽撞,也不能稱得上彬彬君子。這兩句「揖深圓,拜恭敬」,說得真好!「深」,表示行禮的誠敬程度,並不是隨便拱拱手、卯卯腰就算的;「圓」,形容行禮的優雅姿態,絕不是做作或粗魯的。古人用「玉樹臨風」來描繪身量修偉英挺、舉止溫文有禮的人物,真是再貼切也不過了!一個人若走起路來不疾不徐,行禮進退又自然合度,那就有如微風徐來,舉手投足間,自見清涼意態。好一個玉樹臨風輕揚,多麼儒雅!又多麼自在!這才是真正的「酷」!至於時下不少青少年,非但言語間蔑視規矩,進退間亦且十分輕浮散漫,這真是大大地錯解了「酷」的真義!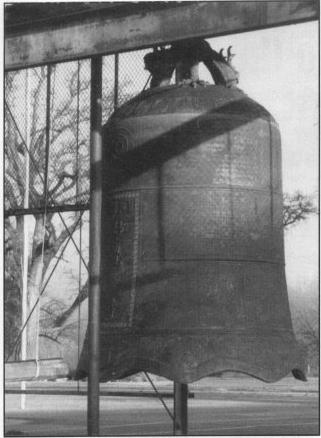 孔子老年時,有一回去看他童年一起長大的老朋友原壤。這原壤究竟是怎麼樣的一個人呢?他自小就是個四六不明(所謂「四六」,就是隱喻父母;因為中國字「父」是四劃,「母」是六劃)的小混混,大了又不事生產,弄到母親死了也沒法好好安葬;孔子去幫他修治棺具,他看孔子的手修長白皙,居然還會想入非非,忘了母喪,大唱其小調來。這樣的人,自然一生也沒什麼出息,到老更沒人愛理他。可是孔子還是眷戀故情,偶而去看看他。那回,原壤就懶散地叉開兩條腿,活像承接垃圾的畚箕似的,蹲坐在門口等孔子;孔子真的生氣了,就用手杖敲敲原壤的腳脛,罵他道:「你啊!你!小時不知孝順父母,友愛兄弟;大了,也沒什麼值得人稱說的作為;到老還是這麼副賊德性。你活得這麼久幹什麼呀?你!簡直就是個老不修!」像孔子這樣有情有義的人,都忍不住要罵人罵得這麼難聽,可見箕踞而坐,說多難看就有多難看了!箕踞而坐不好看,扭腰擺臀的,也不見得好看;有些女孩子卻以為這樣很吸引人,總故意學模特兒在伸展臺上走路的樣子,卻不知自己活像老母鴨或火雞似的。唉!愚癡使人目盲,真可憐憫!
Ever since we were little, we were told by our parents, teachers, and elders to "stand and sit properly." Well, what's the proper way to stand and sit? The ancients had a marvelous verse to describe how we should walk, stand, sit, and recline:
Stand like a pine;
Sit like a bell;
Walk like a breeze;
Recline like a bow.
If we can stand as tall and erect as a pine tree and sit as firmly and steadily as a great bell, then we'll have a natural air of dignity and vivacity, which gives us an extraordinary presence. However, most people, whether they are sitting or walking, love to lazily lean to one side, slouch over and hunch their backs, or stand with their weight supported on one leg so they can extend one foot out sideways. When they lie down, they sprawl with their four limbs out in the shape of the Chinese character for "big" (大). People think these are comfortable positions, but actually, not only do they look unpleasant, they end up with deformities of the spine and buttocks. Incorrect posture is not only unsightly, but is the cause of all kinds of disorders.
Due to the stress and work pressures of modern life, headaches, dizzy spells, and backaches have become habitual ailments; the pain killers people take soon lose their effectiveness and only add to the suffering. Later, research indicated that all these ailments stemmed from an unhealthy spine, and that an unhealthy spine was due to incorrect posture in reclining, sitting, standing, or picking up or carrying things. That's when foot massage and acupressure became very popular, and spinal nerve specialists were widely consulted. However, many people soon discovered that while the results were not nil, their condition would sometimes improve and sometimes regress; they hadn't cured the root of the problem, because they hadn't corrected their bad posture. Therefore, if one's posture in walking, standing, sitting, and reclining is not proper, not only will one have bad comportment, but one's health will suffer.
However, if one only sits and stands erect, yet one's actions are clumsy and rough, one cannot be considered a refined person. The next two lines really put it well:
Your half-bows should be deep and full,
and your full bows be made with respect.
The word "deep" refers to the depth of our sincerity when we bow; bowing is more than just putting our hands together and bending at the waist. "Full" refers to the elegance of our bowing; it should neither be affected nor rough. The ancients used the phrase of "a jade tree in the breeze" to describe a person who is tall, stately, and handsome, and whose movements are gentle and gracious. Truly an apt description! Someone who is neither hasty nor slow when he walks and whose gestures are always naturally just right, like a gentle breeze, will give people a cool and refreshing feeling, like a jade tree waving gently in the breeze--how refined and carefree! This is what it really means to be "cool." Today many young people not only hold the rules in contempt, but are very casual and sloppy in their manners; this is a total misconception of what "coolness" really is!
When Confucius was advanced in years, he once went to visit an old friend, Yuan Rang, with whom he had grown up. What kind of person was Yuan Rang? Ever since he was young, he was a rascal who had never listened to his parents; when he grew up he didn't do anything to make a living, and so when his mother died he could not afford to give her a good funeral. Confucius went to help him prepare things for the funeral. When he noticed Confucius' hands, which were white and delicate, he started thinking of improper things and humming a frivolous tune, totally forgetting about his mother's death. Being that kind of person, he of course had not achieved anything worthwhile in his life, and was not loved by anyone in his old age. Yet Confucius didn't forget his old friend and would visit him occasionally. That time, Yuan Rang had lazily stuck out his two legs and looked like a live dustpan waiting for some trash as he squatted by the door waiting for Confucius. This made Confucius really angry, and he knocked Yuan Rang on his shins with his staff, scolding him, "You! When you were little you didn't know how to be filial to your parents or kind to your siblings. When you grew up, you didn't do anything praiseworthy. In your old age, you're still as rascally as ever! What's the point of living so long? Have you no shame at all?" Even Confucius, as kind and affectionate as he was, couldn't keep from giving him such a round scolding, which goes to show how ugly it is to sit with one's legs spread apart. Squatting with one's legs apart doesn't look good, and neither does wriggling and squirming when one walks. Some girls think moving their hips back and forth as they walk makes them look seductive, so they are always trying to imitate the way a model walks on stage. They don't realize that they really look like ducks and turkeys! How pitiful these people are, blinded by their ignorance!