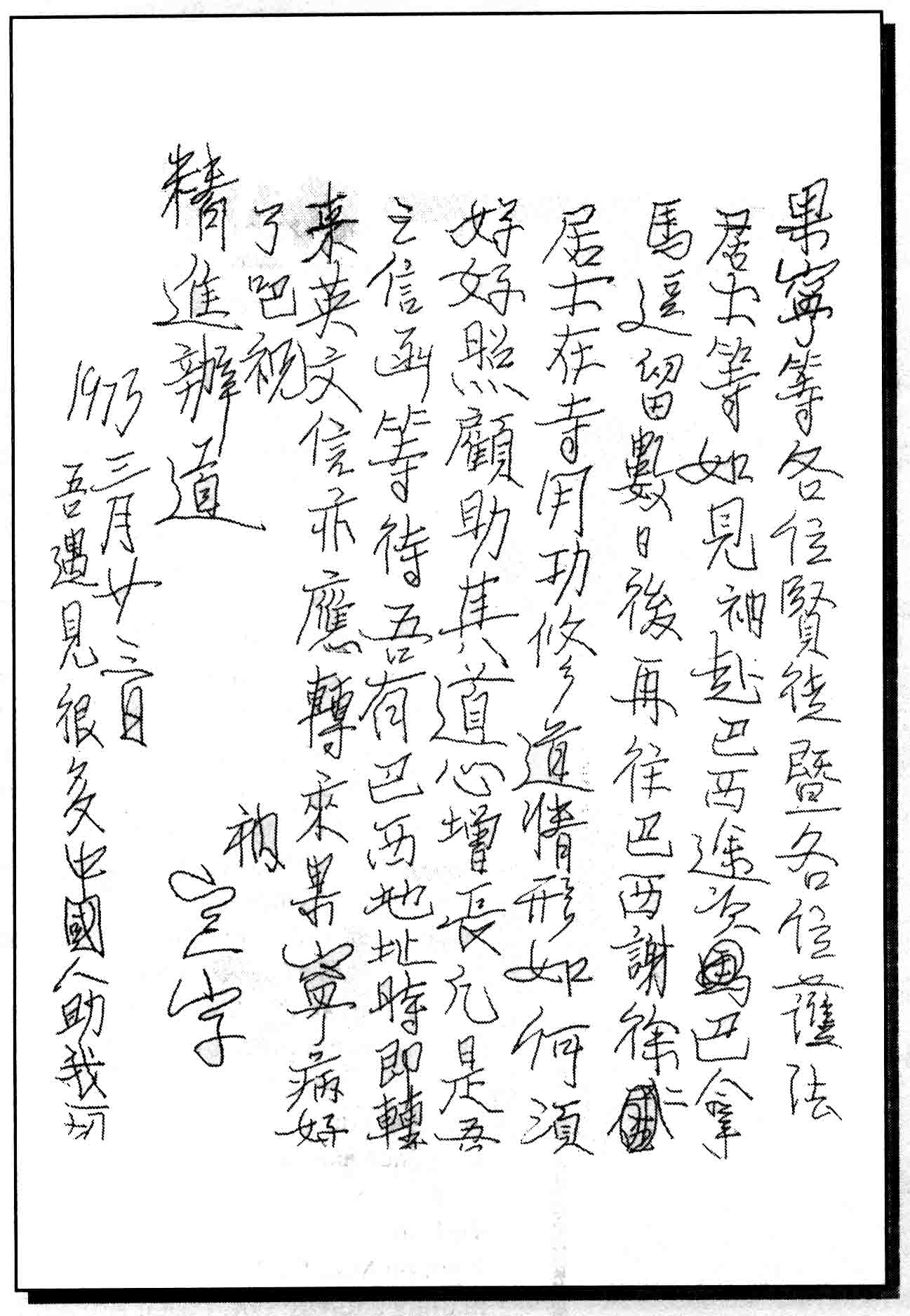 果寧等各位賢徒暨各位護法居士等如見:
衲赴巴西,途次巴拿馬逗留數日後,再往巴西。謝徐二居士在寺用功修 道情行如何?須好好照顧,助其道心增長。凡是吾之信函,等待吾有巴西地址時即轉來,英文信亦應轉來。果寧病好了吧? 祝
精進辦道
衲 宣字
一九七三年三月二十三日
吾遇見很多中國人助我
---
果寧果瞻等暨各位護法居士、賢徒如見:
衲昨已安抵巴西,聖保羅城。暫住旅店,待休息數日,再接見各佛教人士。看情行如何,有無因緣。發展佛教。再為函告。賢徒等,需各努力,勇猛精進,為法忘勞,作西方佛教先覺。為法界眾生津樑,發大菩提心,早成無上道,勿把寶貴光陰空過。當念無常迅速,其各勉旃。謝徐兩居士,功夫如如何?是否仍住在寺裡?有無其他事項?來信告知。                                  此祝
精進法喜
衲 度字
一九七三年三月二十七日下午二時
信箱地址 CX. Postal No. 6017, São Paulo, Brazil
---
諸位善來者如晤:
後面菩提樹長有多高了?是否每日培養灌溉?諸位菩提心是否增長發大了?甚為念
念。六月十四日函計當收悉。吾在巴拉圭或多逗留幾日,遊觀各省風俗習慣。大約七月十日前後赴阿根庭。故收此信後,若有信件仍可直寄至巴拉圭旅店轉交。最好在每一個星期日及星期三,在三藩市的時間下午二點半鐘打電話來聯絡,吾在店中等電話,三位比丘尼均可打電話來。 祝
精進
衲 度 
手諭內赤紙二張。
佛歷三千年六月二十日HOTEL IPOA AZARA 1161 TEL:23-276
謝、徐二位居士:
用功進境,如何? 念念。
衲扺巴教日。天氣甚熱。一切尚好。祝
精進   度輪
To Kuo Ning and other disciples, and to be shared with all Dharma-protecting laypeople:
On the way to Brazil I stayed a few days in Panama before reaching Brazil. How are Upasika Xie and Xu doing in their cultivation at in the monastery? Take good care of them and help their resolve for the Way grow. As to my mail, wait until I have an address in Brazil before you forward it to me. Letters written in English should also be forwarded to me. Is Kuo Ning's illness better?
Wishing you
Vigor in your progress in the Way
Hsuan    
March 23, l973
P.S. I have met many Chinese people who help me with everything!
---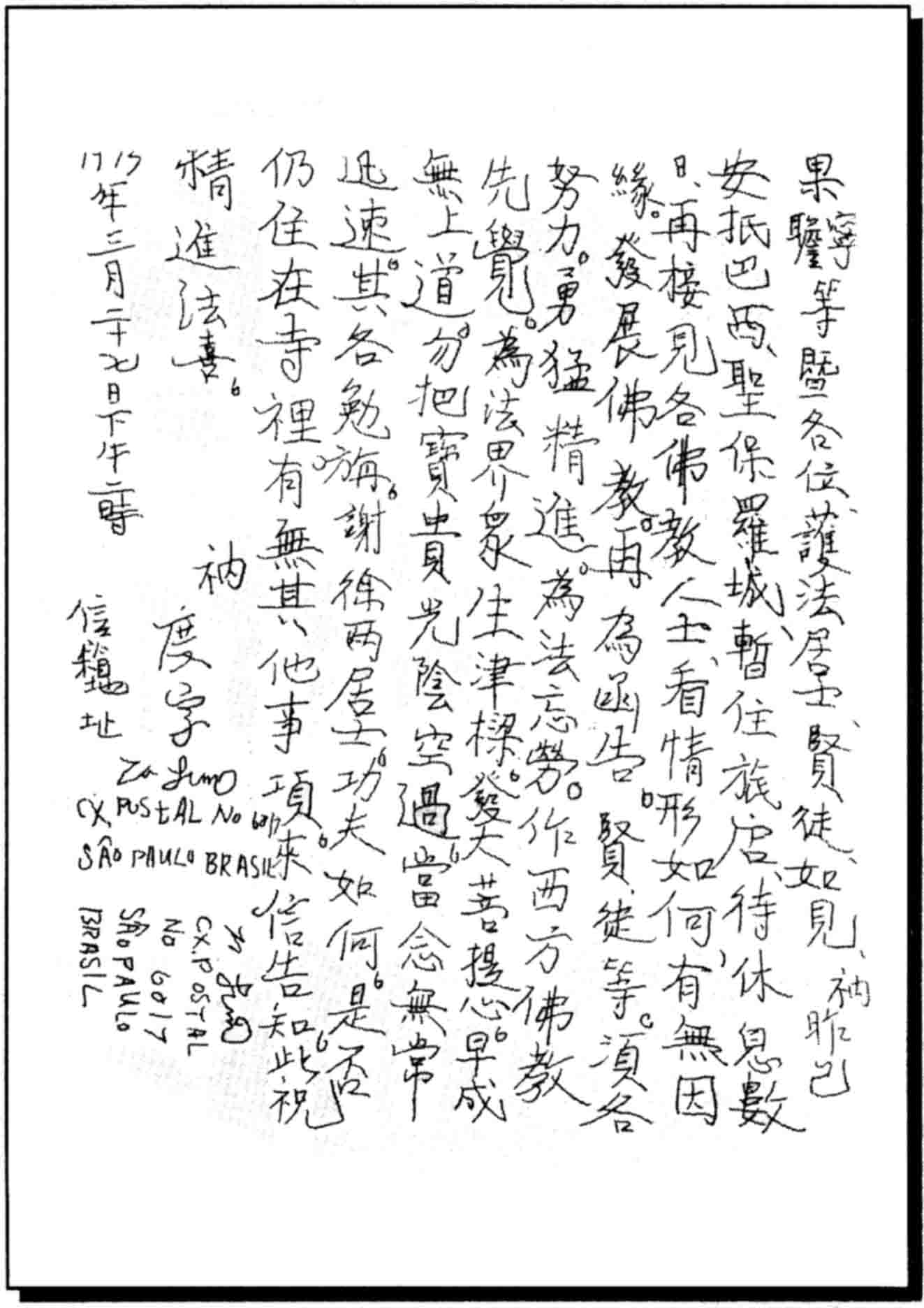 To Kuo Ning, Kuo Chan, and others, and to be shared with the Dharma-protecting laypeople and disciples:
I arrived in São Paulo, Brazil yesterday. Temporarily, I am living in a hotel to rest for a few days before I meet Buddhists here. After doing that, I will write again. Disciples, you should all continue to work hard, to be courageously vigorous, and to forget yourselves for the sake of the Dharma, so that you can become the first ones in the West to become enlightened. In that way you will become vessels to rescue living beings throughout the Dharma Realm. By bringing forth a great resolve for Bodhi you can quickly realize the Unsurpassed Way. Don't let precious time go by in vain. Be mindful of how swiftly Impermanence arrives. Urge each other on! Are Upasika Xie and Xu working hard to develop their skill? Are they still living at the Monastery? Is there any other news? Write and let me know.
Wishing you
Diligence and joy in the Dharma
To Lun
2 pm on March 27, l973
mailing address: CX. Postal No. 6017
São Paulo, Brazil
---
To all disciples:
How tall has the Bodhi tree behind the monastery grown? Does someone water it every day? Are your Bodhi minds also growing larger? These matters are always on my mind.

By now you must have received the letter I sent you on June 14th. I will probably stay a few more days in Paraguay to observe more of the customs. Around July 10th I will go to Argentina. Therefore, after receiving this letter, if there are letters to forward to me, you can mail them to this hotel address in Paraguay. In addition, let's set either Sunday or Wednesday at 2:30 pm San Francisco time as a time when you can call me so we can communicate from the main phone in the hotel. All three Bhikshunis can call me.
Wishing you
Diligence
written by To
Enclosed are two red packets.
June 20th, 3000th year of the Buddha
HOTEL ÎPOA AZARA 1161
TEL: 23-276