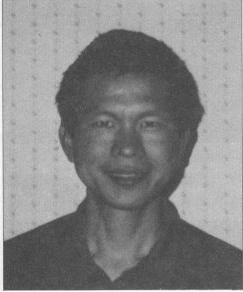 居士·劉果福
Upasaka Guo-Fu Liu
一九八三年,劉果福居士因為對師父宣公上人警示「業障很重」四個字,心裡非常不服氣,因此執意不進萬佛聖城;但在一九九三年,他卻歡歡喜喜地攜家帶小,回到「成就萬尊活佛」的聖地,決心親近大善知識,徹頭徹尾地改惡向善。
幸虧一九八八年在萬佛寶懺法會期間,承佛恩澤被,讓他看到自己的過去,就像似一捲快速倒帶的記錄影片;從事行銷業時,利慾薰心、口出誑語、與人爭長論短、吃喝玩樂……等的影像,歷歷如繪,令他醒覺,否則真不知還要荒唐到何等田地。果福居士說,無知是最大的不幸。在那以前,他的胃已嚴重出血四次,可怕的皮膚病更是惡化成了藥石罔效的頑疾,唯一的對治法,是在潰爛的部位「拷漆」,一層一層地把藥塗蓋上去。這好比人總是愚昧地覆藏自己的過失,不管它有多嚴重,還自鳴得意。怪不得好幾次趨前求師父開解,未及開口,師父即稱:「沒有答案。」原來不是佛菩薩不慈悲,也不是師父不眷顧。實在是自己的「業障很重」,又不肯坦誠認錯所致。
從那時起,劉居士慎重其事地將自已的過錯一一記在紙上,在佛前發露,逐條改進。並立誓孝順父母,依教奉行,戒殺茹素,同時遠離貪染世事。每天虔誠禮拜普門品,叩謝師恩,勤加諦聽師父淺釋經教。皇天不負苦心人,終於師父有了「答案」:「誰願意學好,我都歡迎!」
When the Venerable Master warned Upasaka Guo Fu ("Fruit of Blessing") Liu in 1983 that he had "very heavy karmic hindrances," Upasaka Liu was not pleased and resolved never to set foot inside the City of Ten Thousand Buddhas. But in 1993 he happily brought his family and children to this holy place where "ten thousand living Buddhas will be accomplished." He had made up his mind to draw near a great spiritual teacher and thoroughly reform himself.
Fortunately during the Jeweled Repentance Ceremony before Ten Thousand Buddhas in 1988, he saw his life flash before his eyes like a film being played backwards--scenes of his doing business with a greed-filled mind, talking crazily, arguing, eating, drinking, and having fun...and he woke up. If he hadn't, who knows how much farther the dissipation would have gone on. By that time he had suffered four cases of stomach bleeding and his skin disease was so bad that no medicine had any effect. The only way to treat it was to "spray-paint" the medicine on layer by layer. It was like a person who foolishly covers up his own mistakes; no matter how serious they are, he thinks he is getting the benefit. No wonder each time Upasaka Liu went to seek the Venerable Master's advice, the Master would say, "No answer," before he could even open his mouth. Actually, it wasn't that the Buddhas and Bodhisattvas were uncompassionate or that the Master didn't care. It was simply that his karmic hindrances were very heavy, but he wasn't willing to admit his faults.
From that time on, Upasaka Liu solemnly wrote down all his mistakes and faults, confessed them before the Buddhas, and resolved to change them one by one. He also vowed to be filial to his parents, to practice in accord with the teaching, to stop killing and become vegetarian, and to distance himself from the greed and defilement of worldly matters. Finally the Master gave him an answer: "I welcome anyone who wants to learn to be good!"