前期提示:如寶蓮香比丘尼。墮無間獄……
「猛火燒然」:猛火著得消防隊都沒有辦法了。消防員哪,消防隊救火車,也沒有辦法了,因為什麼呢?她火是從她自己淫欲太重而起的,所以消防員、防火車,多少水龍也救不了這個火了。救不了,你說怎麼樣啊?沒有第二條路走,「墮無間獄」:墮地獄了,墮無間地獄了!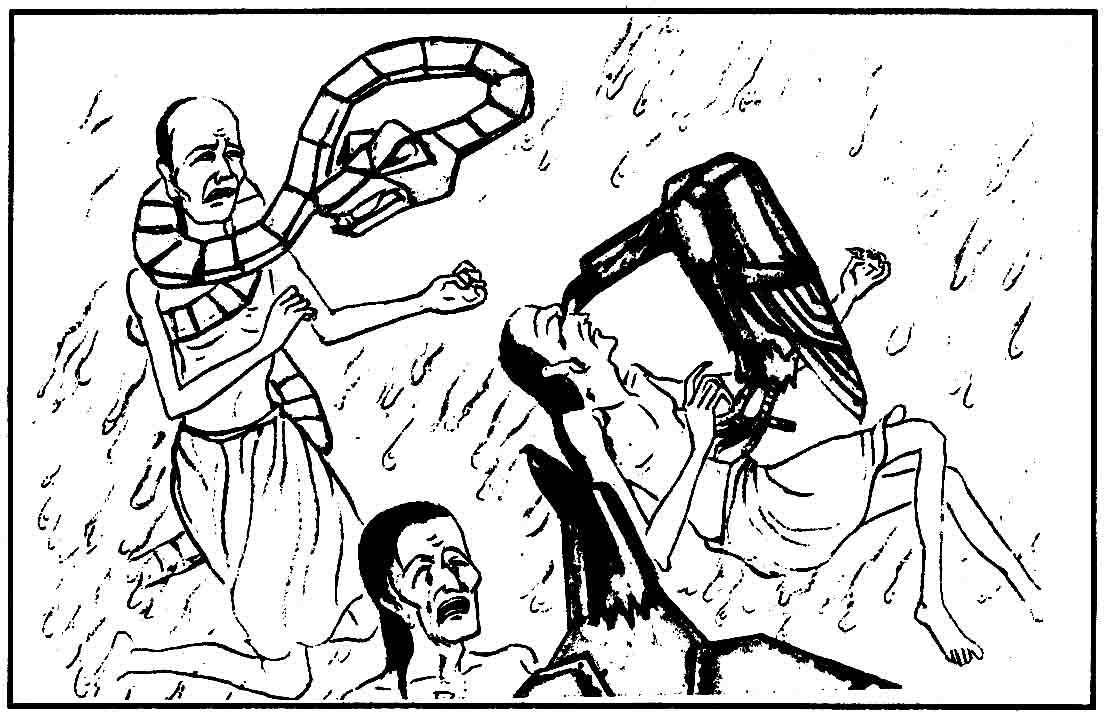 無間地獄,時候沒有間,一點也沒有空間的時候;身在這個地獄裏頭,一人也滿,多人也滿,也沒有空間。一受無間地獄,不知道經過多少個大劫,所以時間和空間都沒有間;罪苦也無間,生死也無間。她墮地獄你猜怎麼樣啊?每一天,都有鐵嘴的鳥和鐵嘴的蟲子,從她骨節裏,鑽進去又鑽出來,鑽進去又鑽出來。最要緊的就是,從男女根,從女根那兒,鑽進去又出來,鑽進去又出來,一鑽一咬的時候,就把她咬死了;咬死了,地獄裏有那種巧風,一吹她,她又活了。那麼一日一夜,萬死萬生啊!說不上死了多少次,生了多少次,死過去又活過來,死過去又活過來,就這樣子。
我告訴你,好淫的人哪,到地獄裏有一個銅柱,裏邊是用火燒的,把這個人就放到銅柱頂上,就又叫炮烙。這個人看銅柱,他看的不是個銅柱,男的看銅柱,就是個女的;女的看見銅柱呢,就是個男的。那麼他看見,以為是自己在生的時候,或者女朋友,或者男朋友,啊!他就去和她親近去了。他不認為它是銅柱,就到那兒就抱上了,這一抱怎麼樣?本來銅柱裏頭是火呀,就被銅柱燒得把身上皮都烙焦了。這樣子,他身上痛了,往旁邊一看,又有一張鐵床,這鐵床上頭呢,也有一個人,要是男人看鐵床上,就有女人;要是女人看鐵床,就有一個男人在那個地方。所以他又往地方跑,跑到那個地方,鐵床也是火燒紅的。怎麼這樣子呢?這就因為她淫業太重了,所以到處都受這種果報,這是在地獄受這種果報。
寶蓮香比丘尼,也就是受這種果報,生陷地獄。你看!你再講啦!再講說淫欲不是殺、不是偷,沒有業報。這時候她知道有業報,也來不及了,所謂「後悔遲」,後悔遲了。這是在佛住世的時候,比丘尼也有這樣不守規矩的,不是說現在的比丘尼不守規矩,過去的一樣不守規矩的。
琉璃大王。善星比丘。琉璃為誅瞿曇族姓。善星妄說一切法空。生身陷入阿鼻地獄。
「琉璃大王」:琉璃大王滅釋種。那麼以前在華盛頓University (大學),聽過琉璃大王滅釋種這個公案沒有?(答:沒有。)現在我給大家講一講。這琉璃大王,他和釋迦牟尼佛是親戚,什麼親戚呢?本來不是什麼真正的親戚。這琉璃大王的父親,也是一個國的國王,就向瞿曇種族求婚,要娶一個皇后。瞿曇種族比琉璃大王父親的種族,是尊貴一點,就不歡喜把自己的女兒配給琉璃大王的父親;又不敢拒絕他,為什麼呢?他有勢力,如果拒絕他了,恐怕就惹出麻煩來。於是乎,就用一個婢女──婢女就是工人,做奴婢的,大約生得也很美貌,就冒充瞿曇的種族去了,配給琉璃大王的父親,就生了琉璃大王。
待續
Sutra text from last issue: Bhikshuni Precious Lotus
Fragrance fell into the unintermittent hell alive...
The blaze was raging so that fire extinguishers and even the entire three-alarm crew, with their fire engines and hoses, would have been useless. Why is that? It's because the fire came from her own heavy sexual desire. No amount of water could quench it.
What happened to her then? There wasn't any other road to take at that point. She fell into the unintermittent hell alive. In the unintermittent hell, there are no lapses in time at all. There are no breaks. Also, its space is uninterrupted, in that one person fills it, and many people fill it. It's not roomy there, whether you're alone or in a crowd. Further, one knows not how many great aeons pass by while one continuously experiences bitter suffering there. There are no interruptions in time or in space. The extreme suffering is unintermittent. Birth and death are uninterrupted.
When this Bhikshuni got to that hell, what do you suppose she found? There were iron-beaked birds and iron-mouthed worms that burrowed in and out of her limbs and joints. The place that received special attention was, of course, her female organs. These creatures would drill their way in and then drill their way back out. Each time they did this, their attack would kill her. But then a clever wind would blow-that wind is a special feature of the hells-and revive her. So in a single day and night she would experience tens of thousands of births and deaths. She would die and be revived, die and be revived, again and again, uncountably many times.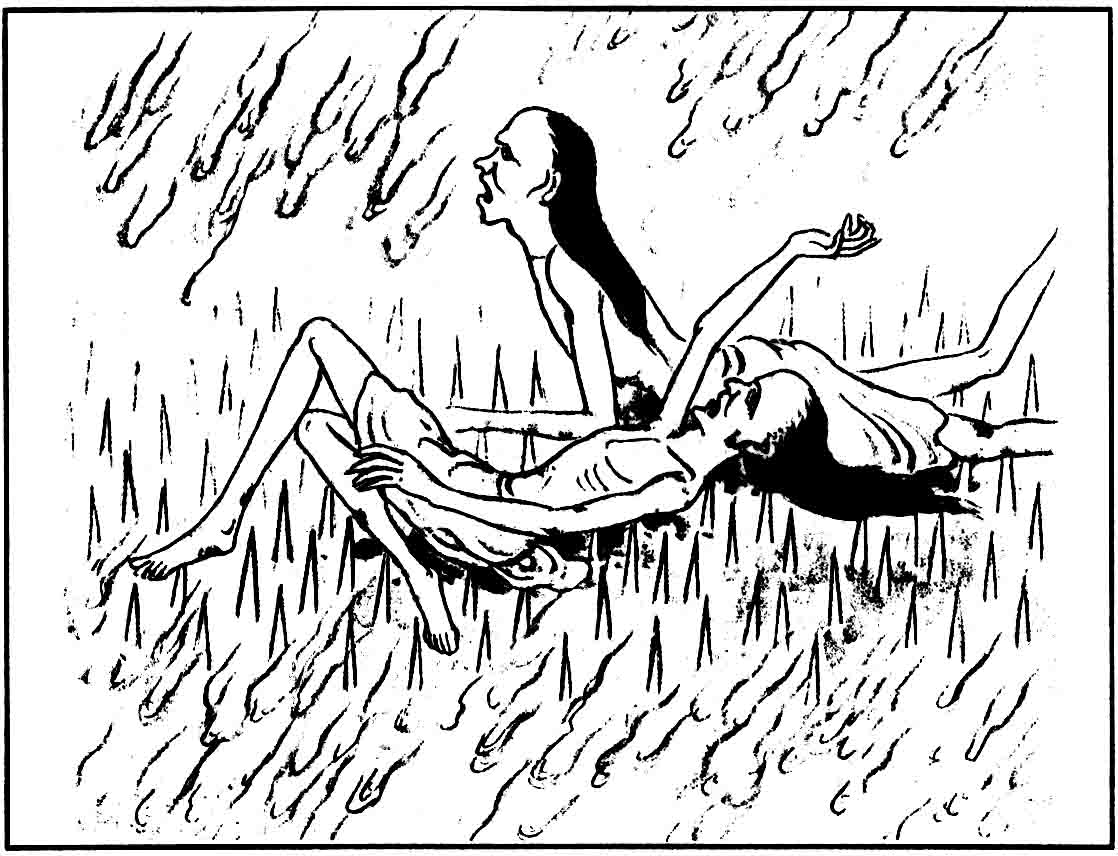 In addition, the hells are specially equipped for people who are fond of sexual desire. One of the implements is a copper pillar. It is red-hot because a fire blazes within it. However, when one who is fond of sexual desire looks at that hot pillar, one does not see it as such. When a man looks at the pillar, he sees a woman. When a woman looks at the pillar, it is a man. In fact, they see that pillar as their former boyfriend or girlfriend. So they race towards it and, unaware it is a copper pillar, they madly embrace it. The red-hot copper pillar then fries them to a crisp. As if that weren't enough, out of the corner of their eye they see a bed. Actually, it's an iron bed which is also red hot. But what the person sees is a former boyfriend or girlfriend on the bed. They run to the bed and get burned again. Why? Because their sexual karma is so heavy that every way they turn they must undergo this retribution. This is the kind of retribution the Bhikshuni Precious Lotus Fragrance had to undergo. She experienced the hells while still alive. Could she have continued to state that the sexual act did not involve killing or stealing and that it incurred no retribution? Once she began experiencing the retribution, it was too late. She wasn't sorry soon enough. This happened at the time when the Buddha was in the world. There was a Bhikshuni who was this unruly. It's not just nowadays that Bhikshunis are sometimes lax; it happened even during the Buddha's time.
SUTRA:
"And there were the mighty King Crystal and the Bhikshu Good Star. Crystal exterminated the Gautama clan and Good Star lied and said that all dharmas are empty. They both sank into the unintermittent hell alive.
Commentary:
And there were the mighty King Crystal and the Bhikshu Good Star. Crystal exterminated the Gautama clan. King Crystal and the Buddha were supposedly relatives, though in fact they were not. King Crystal's father, also a king, wanted to marry into the Gautama clan. Since the Gautama clan was a more honorable one then the King's, the Gautama people did not like the idea. No one wanted to give a daughter to the King in marriage, but they didn't dare refuse outright, because the King was powerful. A refusal might have resulted in big trouble. Finally they decided among themselves to send one of their servant girls, a particularly beautiful one, and pretend she was of the Gautama clan. King Crystal was an offspring of that marriage.
To be continued