我最初見到上人是在一九六六年一月或二月時,那時我住在紐約的一座公寓裡,並且在公園大道的一間出版公司上班。有一天,是在星期五早上七點,我接到一通電話,是一位我從未謀面(我認為)的中國人打來的。這個人說他要來看我。那時上人的英語沒有後來那麼好,對一個不懂中國話的人來說,是很不容易聽得懂他的話的(後來上人的英語說得蠻可以),我不知他要幹什麼,也不知道他是誰,但是我還是給了他我的地址讓他來。他正在車站,剛剛坐了五天的長途巴士橫越美國到東部。
不一會兒,他就到了我的住處。我不是生在基督教的家庭,對其他的宗教也不了解,更沒見過佛教中的出家人。我也沒有中國朋友,一個中國字也不認識。所以初次見到上人時,我以為上人是從月球上落下來的人......!
上人來的時候,我正在吃早餐,然後要去上班,我請上人和我一起吃早餐,上人說「No, I no eat.」(我不吃),使我很困惑!因為我搞不清楚他是從來不吃?或是只是不吃這一餐?但是他絕對不會吃我所吃的東西!後來我明白了為什麼?因為,我那時正在吃煮蛋,你想得出我竟敢請上人吃雞蛋!
總之,那時上人所要的是想找個地方休息,因為他坐了五天的車,十分疲憊。我幫他安頓在一間基督教青年會休息後,就去上班了。我以為事情就了結了,認為這不過是在紐約這個大都會裡發生的千百樁奇事中的一件。
可是第二天,上人又打電話給我,說他找到一家在勿街的廟,那是紐約市唯一的一座廟,座落在舊的唐人街中心。上人叫了計程車到我這兒來,然後我們一起去勿街那座廟吃午飯。在座的還有其他的法師們,比丘、比丘尼都有,西方人則只有我一個人。住持和尚懂英文,他替我翻譯,我這才第一次真正和上人交談。我最記得的是,這是我一生中第一次在一座廟上吃飯,那些飯菜太奇妙了,我感覺自己好像在天上吃聖餐。我吃得很高興,在那以前我從沒吃過素齋。當時我也不知道我到底在幹什麼,只知道這樁事情對我很有啟導作用。
上人很慈悲地在我愚癡的腦子裡種下了這一粒種籽。後來,雖然經過了幾年之久,但在我繼續留在紐約的那段生活中,這幕插曲不時出現在我腦際;也因此,我終於決定搬到加州來學習佛法。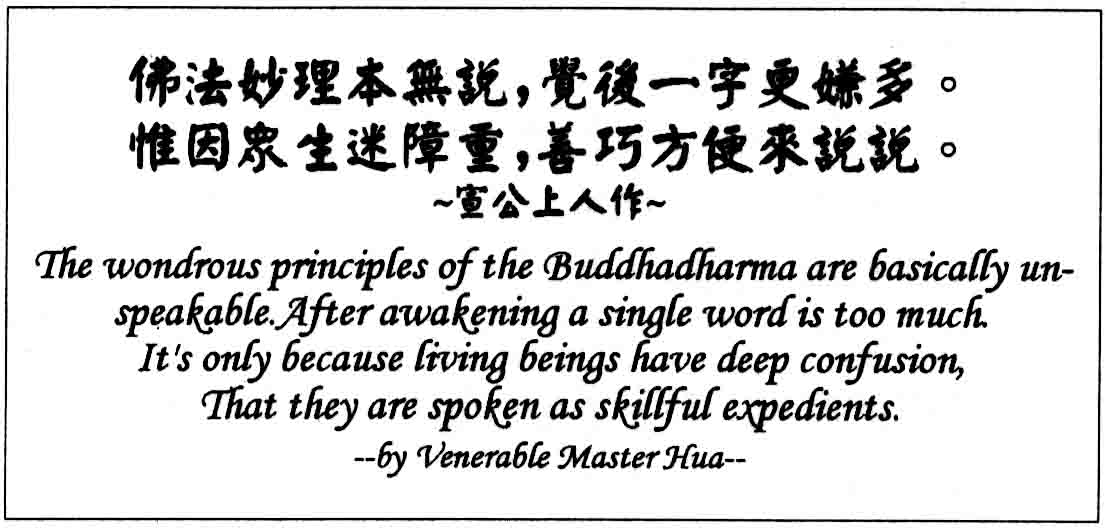 It was in New York City in January or February of 1966. At that time I was living in an apartment and working in a publishing company on Park Avenue. One Friday morning at 7 o'clock in the morning I received an unexpected phone call from a Chinese gentleman whom I'd never heard of (or so I thought). He told me he was going to come and visit me. At that time the Master's English was not yet developed and it was quite hard to understand him if you didn't know any Chinese. (Later on his English became quite adequate.) I didn't know what to expect or who this was, but I told him to come ahead, and I gave him my address. He had just made a grueling five-day bus trip across the country, and he was in the bus station.
There he was at my doorstep a little bit later. I'd never seen a Buddhist monk before. I hadn't been brought up as a Christian, so I really didn't know very much about religion, and nothing whatever about Buddhism. I didn't have any Chinese friends and I didn't know a word of Chinese. He might as well have stepped off the moon as far as I was concerned.
He arrived at the time when I was having breakfast before going to work, so I offered him some breakfast. He astonished me by saying,"No, I no eat." I didn't know whether this meant that he never ate or what, but he certainly didn't want what I was eating! Later on I realized why...I think I was eating a boiled egg. To think that I had the cheek to offer the Master a boiled egg to eat!
Eventually I realized that the person who was sitting at my breakfast table was actually the monk my friend Ron Epstein had been writing me letters about. The Master didn't know Ron's English name and just called him by his Chinese name, which I didn't know. I think there was a little bit of the Master's magic going on here, because at some point I realized that my friend Ron was involved and I suddenly realized who this was. And yet there was really no way for the Master to tell me [that he was Ron's teacher].
At any rate, what the Master really needed at that point was a place to rest, because he had been on the bus for five days, and that's extremely tiring. I found him a place to stay at the East Side YMCA, and then I went to work. I thought that would be the last I would hear of it, and I just put it down to one of the many strange things that happen to people in New York City.
But the next morning he called me again. He had found his way down to the Mott Street temple, which was the only Buddhist temple in New York City then. It was in the center of the old part of Chinatown. The Master came by in a taxicab and we went down to Mott Street to have lunch at this temple. There were some other Chinese Dharma Masters there, both Bhikshus and Bhikshunis, but I was the only Westerner there. The monk who was in charge of the temple knew English and translated for me, so for the first time I really had a conversation with the Master. What I remember most of all was the experience of eating a meal in a monastery, which was something I had never done before. The food was very magical. I felt like I was in the heavens eating ambrosia. I'd never eaten vegetarian food before, and I was delighted. The whole scene was really inspiring to me, although I had no idea what I was encountering.
This was the seed that the Master compassionately planted in my stupid brain. Somewhat later--it took several years--but slowly this incident kept recurring to me as I continued my ordinary life in New York, and eventually it made me decide to move to California and study Buddhism.