我從阿拉伯搬來美國的。我很高興能在這裡上學,特別是長得快又壯。
以前在幼稚園的時候,我是很小很小的。常常喜歡跟同學打打鬧鬧,追來追去。就像我的弟弟現在的樣子。每天唱唱歌,不然就是讀一讀:「大象的鼻子長又長……」或者「天上的星星多又亮……」。
自從我升上二年級,我開始會做很多事了。有時候要上台在黑板上寫幾個中文字,有時候輪到我當班長了,要負責每天把同學帶到佛殿參加午供;吃過中飯後,再把同學帶回教室。我已經有一點忙了,但是我還是有時間在校園裡跑一跑,和同學一起踢踢球,爬爬樹。這就是一天中最自由的時候,差不多有二十分鐘的樣子,老師也常常順著我們變一變不同的遊戲。這一節叫做課閒活動,有四十分鐘。後二十分鐘是很特別的課:打坐。打坐可以幫助我們把剛才跳動很快––咕咚咕咚個不停的心,請它安靜下來。一開始,我很不喜歡這種只能坐著發呆的玩法。我就常常假裝上廁所,或故意繞著校園跑,讓老師找不到我,那就可以在教室外玩一下下。後來,有一天,老師說我的打坐進步好快哦!突然我就真的跟大家一樣打雙盤––是金塔,坐得很舒服了。每年冬天,我會有氣喘咳嗽的問題,要吃很多藥才好。今年,我的腿變軟變長了,氣喘咳嗽也很少了。我想,課閒活動是很神奇的。
I came to the United States from Saudi Arabia.
I'm very happy to go to school here, especially since I've grown a lot taller and bigger.
When I was in kindergarten, I was very small in size. I liked to fight playfully and chase my friends around, just like my little brother now. Every day we would sing songs or read, "The elephant has a long, long trunk," or, "The stars in the sky are many and bright..."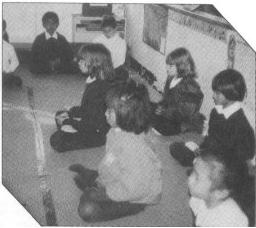 When I reached second grade, I learned to do many things. Sometimes I went up to the board to write some Chinese characters. When it was my turn to be the class leader, I took our class to the Buddha hall for the Meal Offering and led them back to the classroom after lunch. Although I'm busier now, I still have time to run around the playground, play ball, and climb trees with my friends at recess. This is the time of day when we have the most freedom. During the first twenty minutes, the teacher gives us different games to play. The second twenty minutes of recess is very special: we have meditation to help our hearts calm down after playing so hard. In the beginning, I hated this kind of "playing" in which we had to sit still. I would pretend I had to use the restroom, or else I would run around the playground so the teacher wouldn't be able to find me. That way I could play outside a little longer. One day, the teacher said that I had made a lot of progress in meditation. Suddenly I was able to sit in full lotus just like everyone else--representing a golden pagoda--and it felt very comfortable. Every winter I used to suffer from coughing and asthma, and I had to take a lot of medicine. This year, my legs are more flexible and longer, and I hardly have any coughing or asthma. I think that recess is very wonderful.