我不能知道這個世界到底有多大?我猜想,可能是很大大的地方。在這大大的地方裡有很多不同形狀的小小地方,各 自成了一個一個小小世界。像天,天很大,星星很多,大小不同,每顆星都放光,有強、有弱。天是大世界,星星是小世界。像學校,是一百多人的大世界,這個大 世界裡有不同班級;每個班級是小世界,這麼比喻,似乎不合邏輯。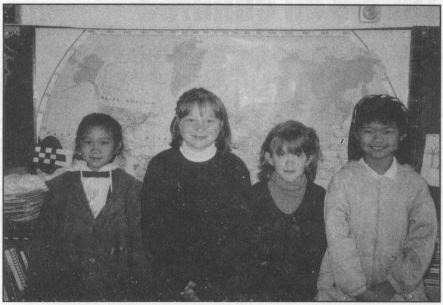 在育良小學二、三年級那一班,一共有十一人。由六個女生、五個男生組成的小小世界裡,是七個國家的主人翁(約 七、八歲),在一間十塊榻榻米大小的教室碰面了。說世界大,實則不大;那麼說它小,卻也不小。這七個國家是美、英、中、巴勒斯坦、馬來西亞、臺灣、印度尼 西亞。他們年紀雖小,但是隨身攜帶的故事,可真是琳瑯滿目,新奇有趣。相互間光是翻閱一本本「活教科書」就夠熱鬧了。每天除了編制內的四位老師固定分擔常 態教學,更有家常們踴躍支援參與教學活動。他們各自又帶來一籮筐一籮筐生活化教材,有吃的,穿的,日用品,不一而足,沒人吝捨。所以在雙語互用下,即令天 生特有的腔調亦沒有阻隔其間的友誼發展,反而使在場的人,像大家庭一樣融洽地做了寬廣的文化交流。師生都過足了教學相長的癮。
小故事有大啟示。小教室,一雙雙小小的手正帶動了生命之輪,在宇宙間,隨時轉動著。
I don't know how big this world is, but it must be pretty huge. In this big world, there are many smaller worlds of various shapes, just as in the vast sky, there are many twinkling stars, some larger and brighter than others. The sky is a great world, and the stars are small worlds. Our school is also a world with over a hundred people in it; in this big world there are different classes, each of which is a small world. Perhaps this analogy does not make much sense to you. Let me give an example.
At Instilling Goodness Elementary School, there are eleven students in the second and third grade class. This small world of six girls and five boys (seven to eight years old) includes the future leaders of seven nations. They have come together in a classroom whose area is ten tatami mats. One might say the world is big, but it's not really that big; say it's small, but it's not really small, either. They come from America, England, China, Palestine, Malaysia, Taiwan, and Indonesia. Despite their young age, they are full of interesting stories to tell. Each one is like a living textbook, and just reading each other's "books" keeps them very busy. They have four teachers who teach them the ordinary curriculum, and they also participate in learning activities led by enthusiastic parents. The children themselves also bring their own learning resources—baskets of food, clothing, and other daily necessities—which they generously share with one another. In the bilingual environment, their varied accents present no hindrance to the development of close friendships. The family-like atmosphere of the classroom is a cultural melting pot in which mutual learning takes place between teachers and students.
A little story contains a significant teaching. In a small classroom, little hands continuously turn the wheel of life in the universe.