壹、開宗明義章
弟子規,聖人訓。首孝悌,次謹信。
泛愛眾,而親仁。有餘力,則學文。
弟    子    規
弟弟     子女     規矩、標準
年輕的學子
聖    人    訓
品德特優的人       訓示、教訓
在此指孔子
這套為人子弟的規矩,是根據古代聖人的遺言編成的。
什麼叫規矩?規是畫圓用的圓規,矩是畫直線用的尺,沒有圓規和尺做為工具,也就畫不好直線,更畫不成圓。所以凡是可以用來做依據和標準的,都叫規矩。這套規矩是依據什麼來的呢?是中國古代的孔聖人的理論。在《論語》〈學而篇〉的原文是這樣的:
子曰:「弟子入則孝,出則弟,謹而信,
泛愛眾,而親仁。行有餘力,則以學文。」
我們當在下文中一併解釋。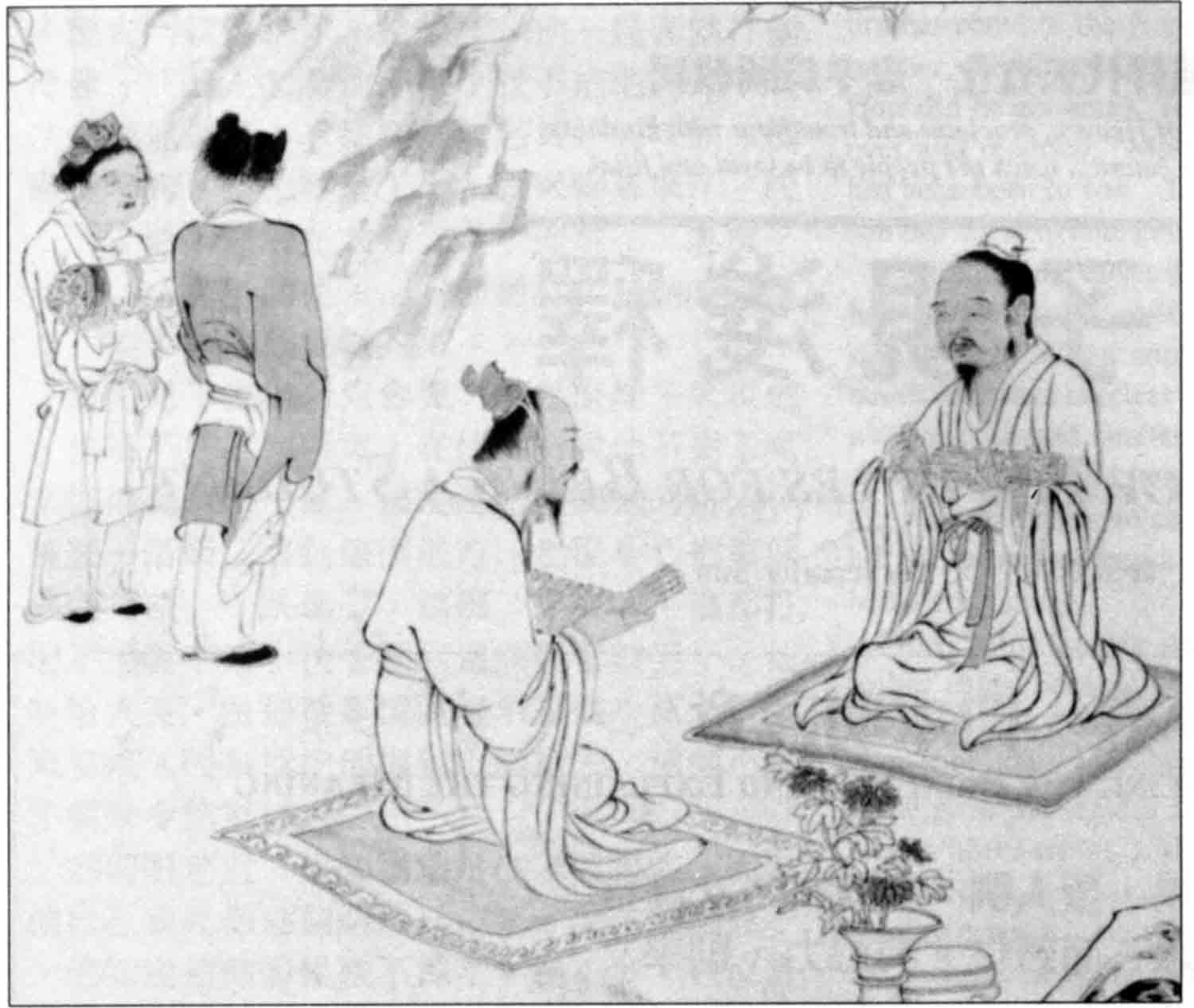 ◆弟子規,聖人訓。
The rules for being a student are instructions given by sages.
圖:江逸子提供Artist: Jiang Yizi
聖人,不但是學問很好就夠了,品德尤其重要。人若是聰明有學問,卻沒有道德,那麼他的聰明和學問,就成了造惡的工具,如虎添翼。好像那老虎,本來就已夠兇猛的了,再添上翅膀會飛了,豈不是更能來去自如,為所欲為了嗎?所以好的道德是遠比豐富的學識、技能更要緊的,這也就是為什麼在這個開宗明義章,要把道德放在學識和技術之前。因為聖人教化人,也是希望人人都能成為聖人,成為有品德的人。所謂「眾生皆有佛性,皆堪作佛」、「人皆可以為堯舜」,佛是大智慧的人所成的,而這個大智慧是眾生本具的,只是自己不知道,被無明障蔽了;現在我們只要能依教奉行,按照佛智慧的教導,就能夠開發本有的智慧,也變得像佛一樣有智慧,那就是成佛了!而堯和舜,是古代兩個有名的聖王,仁慈又孝順,我們只要按照他們的標準去學習、去實行,我們也可以和他們一樣有道德,這不就是成了聖人了嗎?所以孔子把這一套道德的標準流傳下來,好讓我們根據它來學習。
孔子又是誰呢?在中國他可真是無人不知、無人不曉的聖人,也是一個最偉大的教育家。他出身貧困,父親又早死,自小跟著母親做工,因此也學會了很多技能。他又十分好學,不管是生活上的或書本上的知識,他都十分勤勉地去學習、實行,所以才能成就他偉大的人格和無所不知、無所不能的豐富學識和技術。他又不單自己好就好了,還願意成就別人,所以他收了很多的學生,「有教無類」,一點也不去分別學生們的家庭背景、本身智力或能力,凡是願意來學習的,只要按照禮節,準備一個小小的見師禮,他沒有不收的。他教化學生是「因材施教」,按照每個人根性的利鈍,心量的大小及境遇的不同,而做深入淺出的不同教導;「誨人不倦」,從來也不感覺厭倦、不耐煩,也不知道要休息。所以他的學生成材的很多,代代傳衍下來,他的儒家思想,就成為中國文明的主流,因此後代的中國人就尊稱他為「至聖先師」,說他是過去最偉大、最有品德的一位老師。我們現在能讀到〈弟子規〉,接受他的這種教育思想,也等於是他的學生一樣的。所以我們要珍惜這種的機緣,好好地向這位老師學習怎麼樣成為一個聖人;而首先,我們要學習怎麼樣來鍛鍊自己的品德,充實自己的學識和技能。所以這一章叫「開宗明義」章,就是把所要強調的宗旨提示出來,把所需明白的道理講明了它。
待續
CHAPTER ONE: REVEALING THE PRINCIPLE AND EXPLAINING THE MEANING
The rules for being a student are instructions given by sages.
First, be filial to your parents; second, be trustworthy and cautious.
Universally cherish all mankind, and draw near to those who are humane.
In whatever time you have left, devote yourself to learning.
di zi gui sheng ren xun
di zi: young students, young children
gui: rules or standards
sheng ren: those of superior character, here referring to Confucius
xun: teachings or instructions
This set of rules for young people was compiled from the instructions given by the ancient sages.
What is meant by rules (gui jü)? Gui is a compass used for drawing circles; jü is a ruler used for drawing lines. Without the tools of a compass and a ruler, it is not possible to draw a straight line or a perfectly round circle. Therefore, anything that can serve as a basis or a standard can be called a rule (gui jü). What is this set of rules based upon? It is based upon the teachings of the ancient Chinese sage, Confucius. Book One Xue Er of the Confucian Analects says:
The Master said, "A youth, when at home, should be filial, and abroad, respectful to his elders. He should be earnest and truthful. He should overflow with love towards all, and draw near to those who are humane. When he has time and opportunity, after the performance of these things, he should employ them in the study of the six arts."
This quote will be explained later on.
A sage (sheng ren) not only has great learning, but he also has a lofty character. If a person is intelligent and learned but lacks virtue, then his intelligence and learning become tools for committing evil; he would be like a tiger with wings. A tiger is already fearsome to begin with, but if it has wings and is able to fly, then it will be able to fly freely and do whatever it wants. Therefore, being virtuous is far more important than having great scholarship and skills. That is why, in the introductory chapter, it is necessary to place virtue and morality before scholarship and skills. When sages teach and transform people, they also hope that each person can become a sage and a virtuous person. There is a saying in Buddhism: "All living beings have the Buddha-nature and can become Buddhas." There is another saying in Chinese: "All men can become like Yao and Shun." The Buddha was a person of great wisdom who realized Buddhahood. This great wisdom is inherent in all living beings, but we don't realize this because we are covered by ignorance. If we can put the Buddha's teachings of wisdom into practice now, we will develop our inherent wisdom, and when that wisdom becomes the same as the Buddha's wisdom, we will have realized Buddhahood. Yao and Shun were two famous sage-kings in ancient China who were known for being humane, kind, and filial. If we could learn from them and follow their standards, we can also become as virtuous as they were—and won't that make us sages as well? And so Confucius handed down the standards of virtue, giving us the chance to learn from them.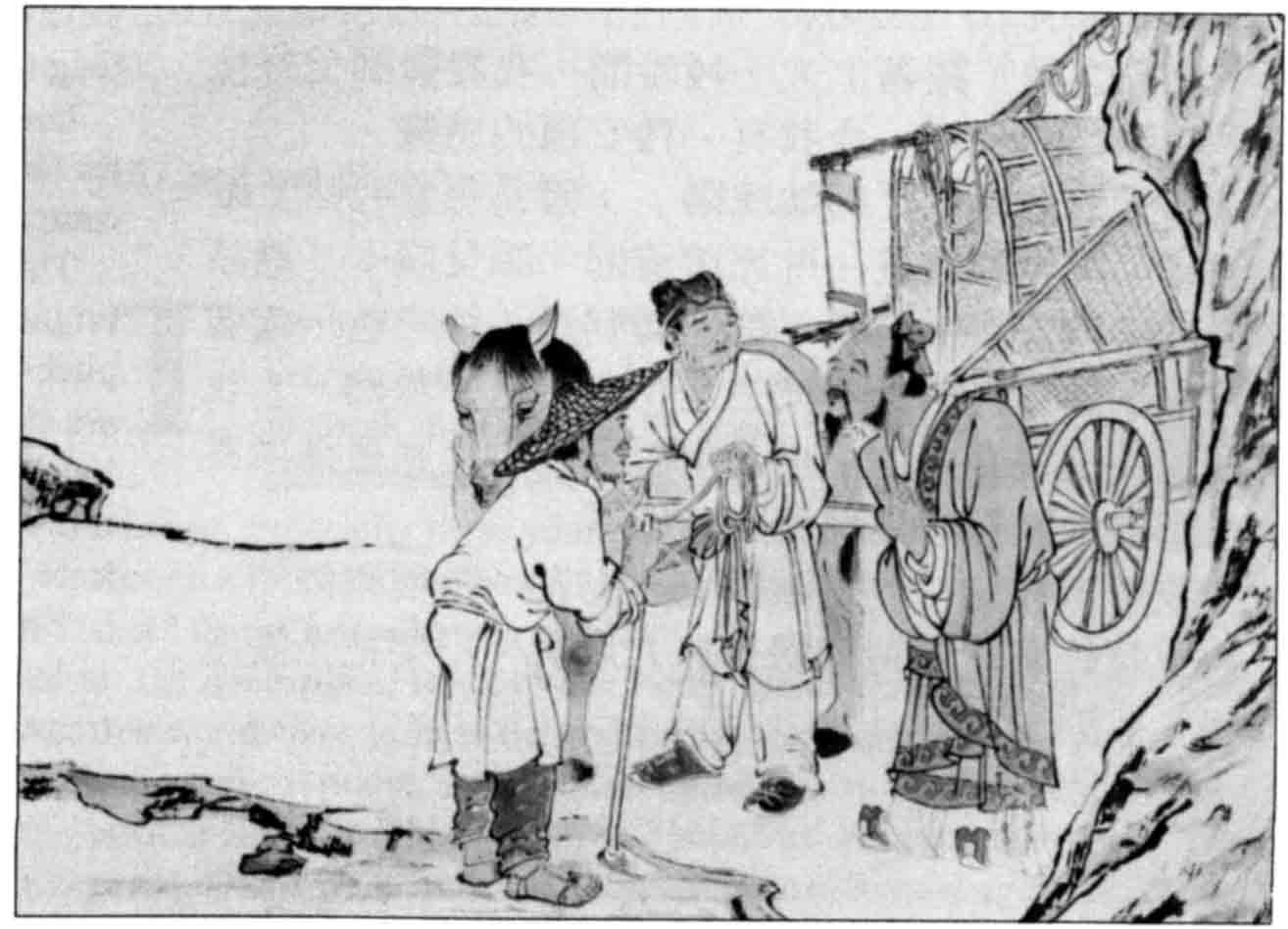 ◆我們要學習怎麼樣來鍛鍊自己的品德,充實自己的學識和技能。
We should cherish this opportunity to learn from him how to become a sage. First of all, we should learn how to develop our virtue and how to enrich our knowledge and skills.
圖:江逸子提供 Artist: Jiang Yizi
Who was Confucius? He was a sage whom everyone in China knows; he was also the greatest educator. Since he was born in a poor family and his father died when he was very young, he always helped his mother with the chores and learned various skills in the process. Moreover, Confucius pursued knowledge with great diligence. Whether it was practical knowledge from daily life or knowledge found in books, he would actively study and seek to practice what he learned. In this way he developed his extraordinary character and attained the wealth of knowledge and skills that enabled him to accomplish and be familiar with just about everything. Confucius was not only concerned with self-cultivation, he also wished to help others cultivate their character. That was why he accepted a great many students based on the principle that "in education there should be no distinctions of class." He never indulged in the slightest discrimination based on the backgrounds, intelligence, or abilities of his students. Anyone who wished to study with him, as long as he prepared a token gift for the teacher according to etiquette, would be accepted. He taught students according to their dispositions. Based on the sharpness of their faculties and the measure of their minds, as well as on their various backgrounds and situations, he would give them individualized teachings that were easy to understand but contained deep meaning. He taught without weariness. Confucius never felt tired, never became impatient, and never thought about taking a rest. Therefore, many of his students became capable and productive people, and the Confucian school of thought has been handed down through the generations, becoming the mainstream of Chinese civilization. Later generations have honored Confucius as "the greatest sage and teacher," meaning that he was the greatest and most virtuous teacher of the past. Now we have the chance to study The Rules for Being a Student and to absorb his educational ideals—this is equivalent to being students of Confucius. Therefore, we should cherish this opportunity to learn from him how to become a sage. First of all, we should learn how to develop our virtue and how to enrich our knowledge and skills. That is why the first chapter is called "Revealing the Principle and Explaining the Meaning"; it brings out the principle that we need to emphasize and explains the reason why we need to understand it.
To be continued