師父上人、各位法師、各位老師、各位貴賓、各位同學,阿彌陀佛:
今天我非常榮幸能代表畢業生家長在此向師父上人、法師及老師們致謝。
首先,我覺得我們的子女非常有福報,能夠在上人辛辛苦苦創辦的道場及學校,圓滿地完成他們的高中學業。
同學們不但能在這良好的環境下學習到高中應有的知識。同時,最主要的是還提昇他們的中文程度,使他們對中國的倫理道德及歷史文化有了深刻的了解;更重要的是他們能對佛學知識、靜坐及生活教育的歷練有了正確的認識。這些都是讓他們一輩子受用不盡的。
也許同學們現在沒有特別的感受,但一旦離開聖城後,這些薰習將在大學中,在為人處事中,甚至在未來的事業發展中,會有更深的體認。
因為他們已在聖城打下了良好的基礎。尤其是在待人處事這一方面,我相信他們會比別人更懂得忍耐、更懂得包容、更懂得辨別事理。這都要感恩師父上人、法師及老師在花了很多很多心血來成就他們。我在此代表所有的家長向師父上人、法師及老師們至最深的謝意。
第二點,我要談的是雖然他們離開了聖城,但是,我們家長還會繼續鼓勵及督導他們進入大學後,不但要認真的求學,同時也要隨緣盡分來度化大學的同學,可以組織佛學社,讓更多的人來學習佛法。
如果有這樣的機緣,我相信我們家長會盡最大的心力來支持他們,到時也希望各位法師及老師給他們更多的指導及幫助。
我們最難過的是:在他們畢業前夕,師父上人圓寂了。但我相信師父的體性是無來亦無去,以願力故遍世間,他老人家隨時隨地都在引領及保佑著我們。希望同學們能將師父的精神發揮到每一個角落。有機會多回聖城來探望師長及鼓勵學弟們。大家要繼續保持聯絡,要和諧,要團結,要合作,要積極奮發。
更希望大家化悲傷為力量,振作精神,同心協力將師父的如來家業(老人家一生的願力)繼續發揚光大。這才是我們為人弟子應盡的責任,也是紀念上人最有意義的方式。
也希望今日他們以培德中學為榮,未來培德中學也以他們為榮。
最後,我們家長除了感謝還是感謝。祝福各位身體建康,精神愉快,光壽無量。
阿彌陀佛!
Venerable Master, Dharma Masters, teachers, guests, and students:
Amitabha!
Today I am honored to represent the parents of the graduates in expressing our gratitude to the Venerable Master, the Dharma Masters, and all the teachers.
First, I feel that our children have special blessings that enable them to study in the schools that the Venerable Master has put so much effort into establishing and to have been able to complete their studies and graduate.
Not only have the students gained the knowledge needed to enter higher institutes of learning, they have, more importantly, been able to improve their Chinese skills and to gain a deeper understanding of Chinese ethics, history, and culture. Even more important, they have been able to learn Buddhism and meditation and have gained deep insight into how to conduct themselves in daily life. They will be able to use what they have learned here throughout their lives.
Perhaps you students don't feel anything special right now, but after you leave the Sagely City, you will gradually come to appreciate what you have learned here as you attend universities, as you conduct your affairs in daily life, and, in the future, as you pursue your chosen professions. You will come to realize what a good foundation you have established during your years at the Sagely City.
Especially in dealing with people and handling situations, I believe you will be more patient, more willing to accept others, and more capable of distinguishing principles and specifics. For this you should all feel grateful to the Venerable Master, the Dharma Masters, and all your teachers who have spent so much time and energy in helping you progress and succeed. Once again, I represent all parents in expressing our deep appreciation to all of you for all you have done.
Second, I want to say that although these graduates will leave the City of Ten Thousand Buddhas, we parents will continue to encourage and guide them, once they enter universities, to not only vigorously seek knowledge but to also accord with conditions in doing all they can to explain Buddhist principles to their fellow university students and to set up Buddhist groups in order to enable even more people to recognize the Buddhadharma.
If such opportunities arise, I firmly believe that we parents will support them; and at that time I hope all you Dharma Masters and teachers will also instruct and aid them.
It is most difficult for us that just prior to this graduation, the Venerable Master passed away. I believe that the Venerable Master's substance and nature neither come nor go and that his vows pervade the world. The Elder Master is always at all times and in all places guiding us. I hope you students will be able to carry the spirit of the Venerable Master's teaching to all corners of the world. At every opportunity I hope you will return to the City of Ten Thousand Buddhas to pay respects to your teachers and elders and to encourage the younger students. Everyone should keep in touch, remain in harmony, unite and work together, and pursue your chosen courses with optimism!
Further I hope you will all turn your grief into strength, strike up your spirits, unite your hearts and help each other and strive to continue the Venerable Master's work for Buddhism. May you all help the vows that he guided his life by to continue to grow and prosper. As disciples, this is a responsibility we should all try to fulfill and this is also the most beneficial way to commemorate the Venerable Master.
I also hope all you students are proud of Developing Virtue School and that you will make Developing Virtue School proud of you in the future.
Finally, we parents have no way to express our gratitude. I wish all of you good health, peace of mind, and long life.
Amitabha!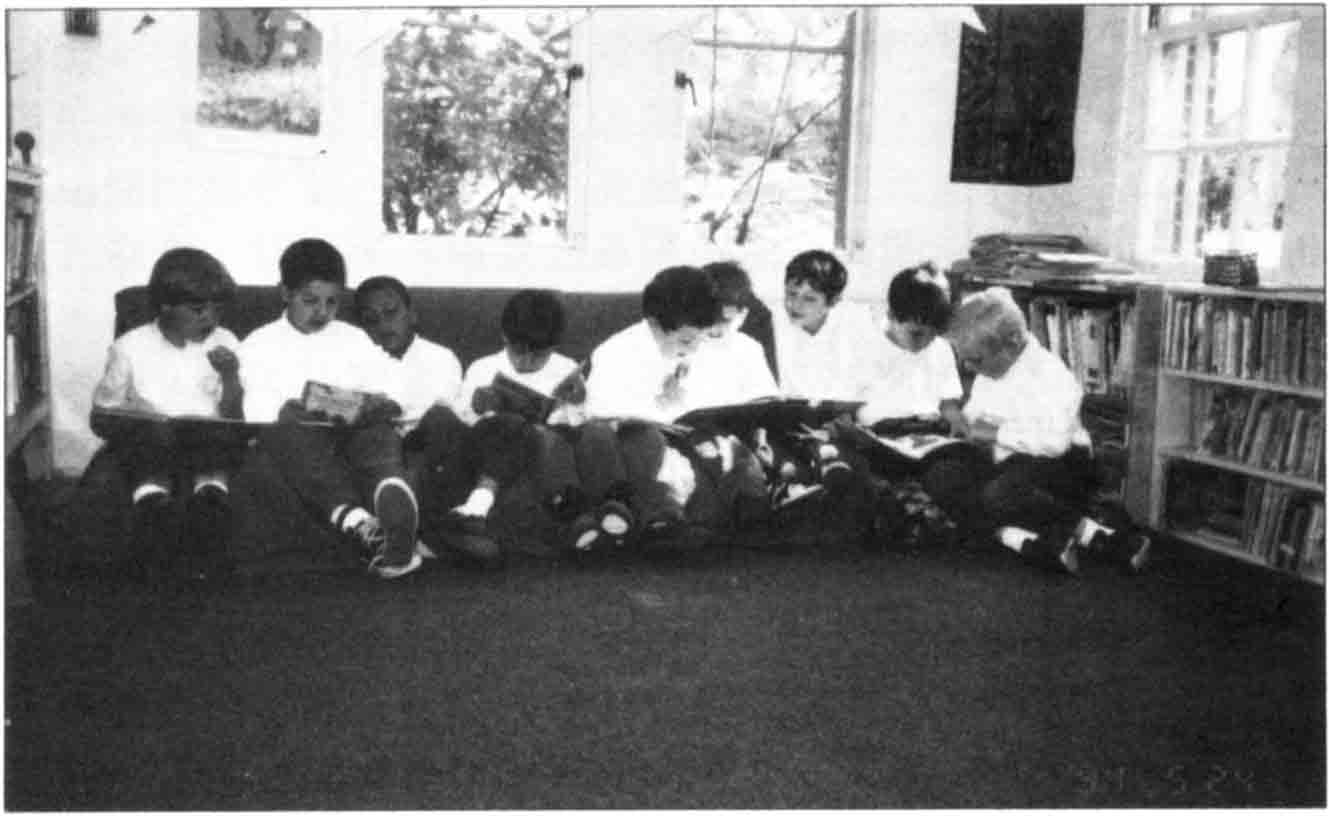 ◆教育就是要往下紮根Education must be solidly rooted.