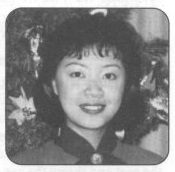 我在香港長大,自幼在教會學校唸書。但自己心中常想為什麼要來這個世界。長大後看見眾生富貴貧賤懸殊,因而感覺到人生關係的錯綜複雜,並非單是唯神主義,就能找到滿意的答案。
後來移民加拿大,遇到一位居士常說佛教的道理,甚感興趣,但礙於兒子還小,未能進一步多學。過了幾年,在機緣巧合下,經朋友介紹,帶兒子去金佛寺學中文,我就非常喜歡寺中的清靜,對於法器及法師的誦經聲,都留下不可磨滅的印象。
之後,慢慢了解到佛教著重因果,而且教人明白「生從何來,死往何去」,對於宇宙、人生及科學、哲學都有十分圓滿的解釋。閱順治皇帝出家時寫的偈頌:
「未曾生我誰是我?生我之後我是誰?長大成人方是我,合眼朦朧又是誰?」
後,更使自己多年的疑問得到一些啟示。
我以前覺得吃素念經是老太太的事,但自從在《楞嚴經》看到:
「汝負我命,我還汝債,以是因緣,經百千劫,常在生死。汝愛我心,我憐汝色,以是因緣,經百千劫,常在纏縛。」
感歎人生確是如此,經藏所言不虛!我慚愧地,承認:自己是個很愚痴而業障相當重的人。鼓勵大家要常讀《阿彌陀經》及《地藏經》。
佛法貴乎能知能行,我希望自己能夠學習將佛法應用在生活上,去惡遷善,重新做人;進而影響他人認識佛法,自利利他。印光大師曾說:「只看好樣子,不看壞樣子,看一切人都是菩薩,唯我一人是凡夫。」
I grew up in Hong Kong and attended Catholic schools. I had always wondered why I came to this world. After I grew up, I saw that living beings are greatly differentiated by their wealth and poverty, and thus I felt the complexities of human relations in life, which cannot possibly be satisfactorily explained by the principle of God Only.
Later, I immigrated to Canada and met a Buddhist who often told me about the principles of Buddhism. I was quite interested. However, since my son was still very young, I could not pursue further study of Buddhism. A few years later, I had the opportunity to bring my son to Gold Buddha Monastery to learn Chinese. I liked the pure tranquillity in the monastery. The sounds of the Dharma instruments and the Dharma Masters reciting Sutras left me with unforgettable impressions.
Gradually, I came to understand that Buddhism emphasizes cause and effect. It teaches us about where we came from and where we are going. It has perfect explanations for the universe, life, science, and philosophy. When Emperor Shunzhi left the home-life, he wrote:
Who was I before I was born? Who was I after I was born?
The one who has grown up into a man is "I." Then who is the one who will shut his eyes and slip into darkness?
Reading this verse shed some light on the questions I have had for years.
I used to think that being vegetarian and reciting Sutras were things that old ladies did. However, ever since I read in the Shurangama Sutra,
You owe me my life. I pay you my dues. With such causes and conditions, we are constantly born and die through hundreds and thousands of kalpas. You love my mind, and I adorn your beauty. With such causes and conditions, we are entangled through hundreds and thousands of eons.
I deeply lamented that life is truly so. What the Sutras say is absolutely right! I have to admit with much shame that I am a stupid person with heavy karmic obstacles. I encourage everyone to often recite the Buddha Speaks of Amitabha Sutra and the Earth Treasury Sutra.
What is valued in Buddhism is learning and practice. I hope I can apply the Buddhadharma I have learned in my daily life, to change what is evil and make it wholesome, to reform, and to further influence others to acquaint themselves with the Buddhadharma, thus benefiting themselves and others. The Great Master Yinguang said, "See only the good models; do not look at bad models. Regard all people as Bodhisattvas and oneself as the only ordinary person."